Game 5: Canucks 7, Kings 2
The Kings have now experienced the wide range of emotions that the playoffs bring. The soaring feeling of winning in overtime from Game Two. The feeling of invincibility of completely dominating Game Three. And now the crushing feeling of humility of being blown out in Game Five.
The Kings played their worst game of the Stanley Cup quarterfinals against Vancouver, and now face elimination Sunday when they skate into Staples Center for Game Six. Could there be enough time for these young, carefree kids to mount a Hollywood-style comeback?
There wasn't much that went right for the Kings Friday night. They had less shots, won less faceoffs and gave up the puck more, all the while taking more penalties.
Their problems were up and down the lineup. They got away from their gritty gameplan for the second game. Their defense was aggressive, but didn't get much more support from the rest of the squad. The offense looked stagnant, and struggled playing with the man (and men) advantage, as well as playing five-on-five.
Things were chippy right out of the gate. After play had been stopped early when Kevin Bieksa cross-checked Richard Clune in the first period, many people on the West Coast went to commercial. But the people who were watching the Canadian feed were treated to seeing Bieksa shove Kings defenseman Drew Doughty from behind during the team's jawing at one another, causing his helmet to fly off his head. It was a cowardly play by Bieksa, who should've gotten more than just the two minutes.
That put the top-ranked PP unit of Los Angeles on the ice. For eight seconds. That's when Ryan Smyth got called for "interference." A questionable call? You could say that, but I'm not one to blame wins and losses on officiating. The fact was it kept L.A.'s only effective offense off the ice.
Fans who were watching the Canadian feed were also treated to another injustice. When CBC cut to Smyth in the penalty box, the ever-present Green Men were there, mocking Ryan and dry-humping the glass. And the guy gyrating on the glass was… ahem, excited. Guess the broadcast standards up north are more lax than here in the States. Put it this way, you could tell the guy was catholic. I almost threw up a little in my mouth after seeing that.
The Kings kill off the penalty, but Vancouver had all the momentum. Pavol Demitra skated behind Jonathan Quick, then threw it in front to Kyle Wellwood. His one-timer missed the net, but bounced off the boards to Steve Bernier, who scored his second of the playoffs. The goal wasn't a power play goal, but Ryan Smyth barely got into the play, so it might have well been.
The chippy play continued, and the refs had enough. Sean O'Donnell and Rick Rypian were called for roughing, in the refs' attempt to reel in both teams' enthusiasm. That meant four-on-four action, which found the Kings spending a lot of time in the offensive zone. But they come away with nothing.
Smyth is able to draw a hooking penalty on Alexander Edler, and the Kings finally capitalize. Michal Handzus skates in behind Roberto Luongo, and tries to pass it in front to Anze Kopitar. But the puck somehow got caught under Luongo's skates, and he put it in for the Kings to tie the game. It was the Kings tenth power play goal of the series.
But the Kings' momentum was short-lived, as Edler was able to snap one past Quick stick side to put Vancouver up by one again. It was noted on the Canadian broadcast that the goal was the fifth time Stick in a Box had scored stick side on Quick. They asked Bill Ranford if it was something the Kings should be concerned with, to which he replied no.
Which was true, because the next two Vancouver goals came glove side. First, Daniel Sedin scored Vancouver's next goal later in second period, followed by Mikael Samuelsson scored his sixth of the playoffs five minutes later. Quick was as porous as Spongebob Squarepants, and coach Terry Murray had seen enough.
So out went Quick, and in went Erik Ersberg. The Kings' blogosphere was not amused: The Royal Half's Chris Kontos tweeted Luongo and Quick arenow tied in Pulls for the playoffs. Matthew Barry , from HockeyBuzz.com added: Thanks Jon Quick, we needed you to be great tonight.Guess you weren't channelling Roy or Hasek tonight.
Ersberg looked like Jesse Ventura when Fireball was dispatched by Ben Richards in Running Man. Could the Swedish goaltender stem the tide of the mounting Vancouver attack? Uh, no. He let in two goals on four shots, as the raucous General Motors Place exploded with Nelson Muntz laughs.

Demitra tallied one early in the third period, followed by Samuelsson's second of the game less than two minutes later. Nothing was going L.A.'s way. And in a bizarre turn of events, Quick replaced his replacement, as Ersberg retired to the dressing room, allegedly to pack his bags.
Now before I stand coming off as putting the whole blame on the goaltending, let me point out the Kings' failure with a two-man advantage earlier in the second period. After play had stopped, Dustin Brown gets depostied into the Kings' bench by Bieksa, right in front of the referee. The ref has no choice but to call interference on Bieksa, since it happened less than a foot from him. ThenBrown is able to draw another penalty, this time on a questionable tripping call on ChristianErhoff.
But the Kings' success on the power play earlier in the series had completely unraveled Friday night. AlexanderBurrows even lost his stick, but is still effective, as he cleared the puck with his hand. That play alone sums up theKings' PP this game.
Fredrik Modin pots his third goal early in the third, but it was too little, too late. Not much else to point out here. There were two fights, a spirited fight between Wayne Simmonds and Shane O'Brien, and an awkward scrap between Richard Clune and Rick Rypien.
The attempts to jump-start the Kings all failed, and if there was any positive to be taken away from this blowout, it's this: to win in the playoffs requires a constant intensity. The team must fight through exhaustion and rely on their game plan, which is effective when they adhere to it.
The Kings need to find their second wind when they return to the friendly confines of Staples Sunday, and force Vancouver to win a Game Seven. It may seem that the Kings are in the unenviable position of having to win to stay alive, but really it's on Vancouver to try and keep their foot on the Kings' throats. If there's one thing these Kings are known for, it's for surprising everyone.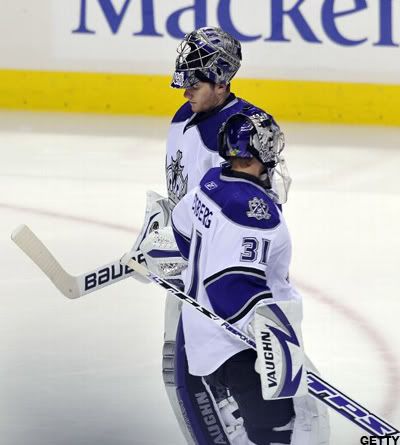 • AP: Samuelsson leads Canucks past Kings
Henrik Sedin, who led the NHL in regular-season points, set up both second-period goals to knock Quick from the game after 17 saves. He won an offensive zone faceoff to Samuelsson, who fed Daniel Sedin behind the net for a wraparound that Quick stopped. But Daniel lifted the rebound over his pad at 8:26.

• LA Times: Canucks deliver a crushing blow to the Kings
Their 7-2 loss to the Canucks on Friday at GM Place was an abomination of bad goaltending and bad defensive play, a deplorable effort by a team that had, rightfully, prided itself on its cohesion and resilience.

• LA Kings.com: Kings Canuck-led over by Vancouver
Anyone looking to point fingers in the Kings' locker room Friday, after a dismal 7-2 loss to Vancouver in Game 5, would encounter one significant problem. Only two hands. Only 10 fingers.

• NHL.com: Canucks rout Kings to take 3-2 series lead
Samuelsson is a zone that most players can only dream about. He's scored his seven goals on 22 shots, a shooting percentage that Kobe Bryant is likely to put up on a bad night for the Los Angeles Lakers.
• NHL.com Stanley Cup playoff blog: Brown says Kings can bounce back from blowout loss


Q: Has the team played as badly all season as it did tonight?
Brown: This is definitely one of the worst. It's one of those things where it's out of our system now and we have to move forward. It's one of those things where it's unfortunate timing for us not to be able to perform, especially in the second period.
They said it
"Terry didn't have to say anything after the game. At this point of the year, regardless of whether you lose 7-2 or 3-2, it's not what we wanted. We didn't have a lot of things tonight, but we can't sit here and analyze or feel bad for ourselves or dwell on it. We have a game in two days, and if we win it we're right back where we are right now. So that's our attitude." – Dustin Brown, on whether players talked after the game, or what Terry Murray said.

"I would love to throw it all on the goalies' lap, but our lack of structure and discipline and team play gave them those chances. That cannot happen in the playoffs. You have to play disciplined. As boring as it might seem sometimes, you have to do it, because when you give up those chances, to the type of talent they have over there, it's only a matter of time before it's in the back of your net." – Rob Scuderi, on the rising goals-against totals in this series.

"The big difference is that our goaltending was giving us some big stops. You can't sugar-coat that. The goaltending wasn't good enough here tonight. He had a tough night. I think we screened some of those shots that were coming through. I think there were a couple that were deflected. We've got to be better in front of him, and he has to be better himself. He's got to get himself ready for Game 6. Quick is going to go. He's been our guy all year long, and the one thing that I've always liked about his attitude is the mental toughness part of it, that he can move through bad games and get himself prepared to play." – Terry Murray , on whether anything stood out to him as a difference from previous games

Related links
• Around the Kingdom, Game 5 blogs
• Across the Aisle, the Vancouver viewpoint
• Peeping the dailies: Game 5 videos