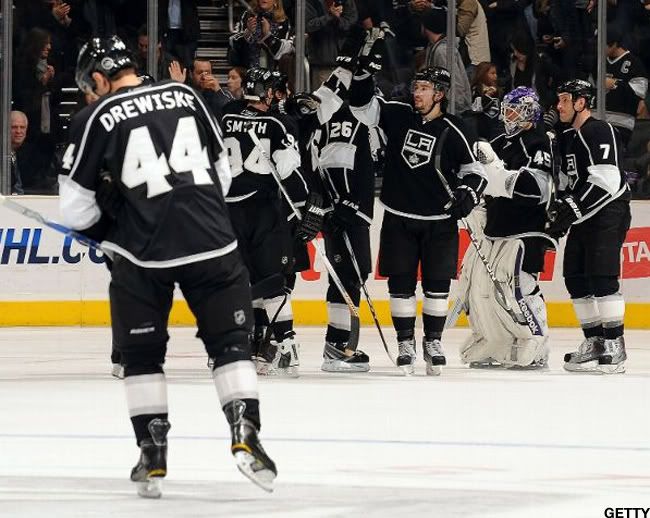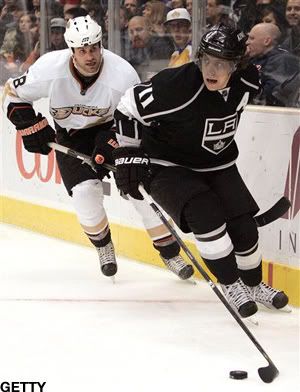 Game 34: Kings 4, Ducks 1
• For the Hockeywood Dailies, click here .
When the Kings last met the Ducks , L.A. was at the end of a brutal stretch in November, losing seven out of eight. Things were so bad, the Kings were at the bottom of the Pacific Division, after starting the season near the top of the league.
The game in November wasn't bad, the team had actually played good enough to win. The thing that the Kings couldn't do was score.
To address that, Dean Lombardi went out and traded for Marco Sturm for a box of stick tape on Dec. 12th. On Dec. 21, Strm was cleared to play, and last game, he was elevated to the top line.
If Sunday night is any indication, the Kings have solved their scoring problem. Zee German was able to energize the top line of Dustin Brown and Anze Kopitar, both of which scored in the second period to lift the Kings past the Ducks.
Both teams came back from their Christmas holiday rested. It wasn't until the second period, when Wayne Simmonds scored his eighth of the season 15 seconds in off a Michal Handzus rebound. Staples Center erupted as Simmonds slapped hands with the bench, and was still riding that high when Matt Beleskey scored his first of the season.
It had happened again, the Kings came out flat and allowed a goal less than a minute after they had scored. It's always a frustrating situation to let a team back in the game right after the Kings score. Fortunately for the Kings, they built on their momentum in the second, and reeled off three more goals to chase Jonas Hiller from goal.
Back in the linenup and patrolling the blueline was defenseman Matt Greene, who had missed five games due to a concussion he had gotten playing the Blackhawks. All he did was dole out punishment, hitting five Ducks and blocking a shot in the victory.
Also, Jonathan Bernier got the nod over Jonathan Quick, another calculated move by coach Terry Murray to build the youngster's confidence. Considering the Ducks had lost three of their last four games, it was a safe bet to start Bernier in net. He only had to make 18 shots and got a huge lead to play with, so Bernier was set up for success. He now has only allowed one goal in his last three wins.
No rest for the Warrior Kings, as the December to Dismember grinds on. The Sharks await at the Shark Tank for the Kings Monday night. San Jose has been enjoying the fruits of their sixth-ranked power play, but will it be enough to crack the Kings' strong defensive front, which currently has the fourth best penalty kill and the allowed the second least amount of goals?
• AP: Brown leads Kings to 4-1 win over Ducks
Anze Kopitar and Dustin Brown scored and Sturm earned an assist in his third game with his new team, leading the Kings to a 4-1 victory over the Anaheim Ducks on Sunday night in the second installment of the "Freeway Faceoff."

• LA Times: Kings enjoy a feast with the Ducks as the main course
It gave the Kings (21-12-1) a good launch to a tough stretch. They'll finish a back-to-back sequence Monday at San Jose and will play four games in five nights, but they feel ready — and certain the problems behind their 1-7 November slump have vanished.

• LA Times: Kings, Ducks are on different levels
The Kings are doing their part to make that happen, occupying sixth place in the West with games in hand on most of their rivals. But the Ducks are ninth entering the teams' second meeting this season and have played a league-high 38 games, one more than they had played at last year's Christmas break in a schedule that was condensed to accommodate the Olympic hiatus.

• LAKings.com: Kings go Duck-hunting

It started with another one of those "here-they-go-again" moments. It
ended with a series of goal celebrations and two big points, at the
beginning of a difficult stretch of games.

• OC Register: Kings make it look easy against Ducks
The Ducks didn't generate anything beyond Matt Beleskey's goal, and goalie Jonas Hiller couldn't bail them out as he was pulled after Dustin Brown's power-play goal that gave the Kings a three-goal lead.

They said it
"Every time you play against a line like Getzlaf's, you want to make sure you don't give a whole lot. You want to shut them down first and, at the same time, you want to take it to them. Obviously nobody wants to defend all the time. You want to make them defend as much as you can." – Anze Kopitar, on playing against top opposing lines.

"I think over our past 10 games we've been playing pretty well. After our little slide, we had a little meeting and we talked about it. You can't do things like that. We have another one of those we're out of the playoffs, and I think it's crucial now to get every two points we can." – Wayne Simmonds, on the game.

"I think it wasn't my greatest game for the rebounds. I felt like I gave away a lot of rebounds. But guys were there for me in the right spot there, and I was just trying to make that first save." – Jonathan Bernier, on the game.

"I hadn't lost confidence in him. We just had a tough time getting some wins for him. He made some corrections in his gam. Our goalie coaches were around for a while and he spent some time with them and he made some adjustments technically. He had a big win against Nashville and he had a big win here again tonight. So I will get back to looking at him more, to get back in our rotation." – Terry Murray, on the play of Bernier.