Five years running, and the question among Kings fans remains the same: why can't we be in a Winter Classic? My answer: Why not? And the best place has to be the L.A. Coliseum.
It brought to mind just how many historic events have taken place in the 86 years since the turnstiles opened. It has hosted two Olympic Games, the second one etched in my memory as Rafer Johnson lit the Olympic Torch. It hosted the first Super Bowl, between the AFC champion Kansas City Chiefs and the NFC champion and eventual winner Green Bay Packers led by Bart Starr. The L.A. Dodgers played there from 1958 to 1962, winning the World Series in 1959. The Rams, Raiders, UCLA Bruins and USC Trojans have all called 3911 South Figueroa home.
As I watched the Lakers championship ceremony from two years ago, I was flabbergasted to see the Lakers floor from Staples Center erected on the field, and instantly thought how cool it would be to see a basketball game there. As I drove to work that day, I heard Lakers VP of Business Operations Jeanie Buss say on KLAC570 that the organization had approached the NBA and asked if they could hold an exhibition game there. The league balked, stating it wasn't enough time to bring everything together.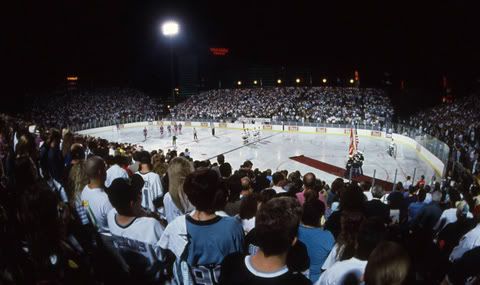 I instantly thought how cool it would be to see the Kings play a game at the Forum. But then, I started thinking… seeing the Kings back at the Forum would be nice… but why not an outdoor game at the Coliseum? Sure, making ice in 70 degree weather might be a logistical nightmare. But that's not my concern.
Remember, the Kings played the Rangers at Caesar's Palace in 1991… in 80 degree weather on REAL ice (See pic at right). Play it on synthetic ice, and make it an exhibition. Check out the video from this site. Even Alexander Ovechkin took to the synthetic ice on in 2009, in Las Vegas for that matter. There's no excuse why this couldn't work. Not sure how much that would cost, but again… not my problem.
What better team to play the Kings but their cross-town rivals, the Anaheim Ducks. Sorry, Colorado. Hockey needs to do something to garner more interest here in Los Angeles. And since both teams are on the cusp of being competitive for a long time, why not take advantage of this and provide fans to a remarkable and historic event?
Enough of this Original Six talk for the Winter Classic. We're entering a new decade now. It's time to start thinking differently. Bring the Winter Classic to Los Angeles, Gary Bettman. You won't be let down by the fans. Who knows, maybe we'll eventually see a game by the beach…
Related links
• LA Times: Stage the NHL Winter Classic in LA? Why not!