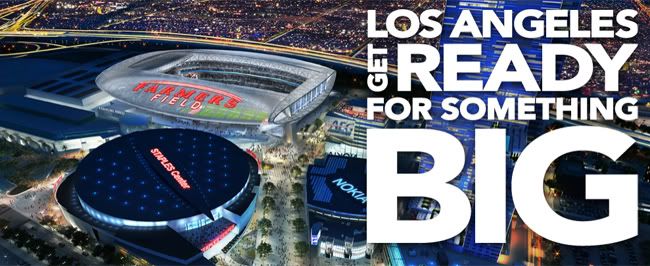 On Tuesday, AEG unveiled plans to the world of the new name of their stadium project, Farmers Field, complete with a splashy website, complete with photos, news and videos, as well as a chance to register for personal seat licenses. In one video, Al Michaels talks about covering the NFL for over 25 years and never broadcasting "a home game." There's even an impressive video that they chronicle the NFL leaving L.A.
In the video, they show events that can conceivably be staged at Farmers Field. From the obvious (football, soccer, concerts), to other uncommon selections (Indoor Track championships, Final Four, Olympics, World Cup). What caught my eye was the inclusion of the NHL's Winter Classic in the presentation.
I know I have mentioned in the past that the NHL should play their now annual Winter Classic in Los Angeles, but that was always sort of an impossible dream. After all, unless there was a definite push for inclusion, how could Los Angeles be seriously included in the conversation?
If AEG is serious enough to include playing the Winter Classic in their presentation to garner support for Farmers Field, does this make it just a matter of time before we see the Kings playing another outdoor game? Let's hope so…