Happy National Video Game Day! The release of Electronic Arts' latest hockey offering, NHL 14 is finally here, and many hockey fans have been clamoring for more video puck.
The reviews of the game, which features the likeness of Devils goaltender Martin Brodeur, have been scattered. The game boast three improvements: a new physics engine (meaning more realistic movements on the ice), better fighting (cue obligatory Fight Club reference) and a simpler way to deke (which I always had a hard time with).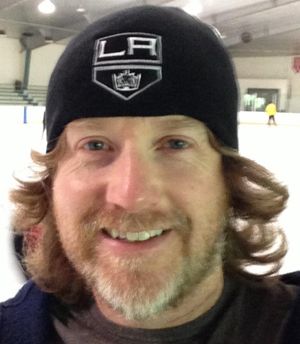 But one of the main draws for this game is the virtual celebration of the 20th anniversary of NHL 94. This Anniversary mode has been salivated over ever since they announced it. Now having played it I can say it's kinda disappointing.
The game touted the inclusion of being able to play the game with all the bells and whistles of the original. But when they say "bells and whistles" it"s just that. Bells and whistles. Or should I say goal horns and organs.
According to Gamespot, it's just NHL 14 "dumbed down and sped up," with the camera in the classic over ice camera angle, blue ice, stars under players, simplified controls and the same goal horns. Again according to Gamespot:
The result is barely a passing nod to this legendary hockey game, with the most standout detail being the bleepy-bloopy music you might remember well from long-ago marathons on the Sega Genesis.

Bleepy bloopy music? I guess. I mean I'd rather listen to Brass Bonanza than the Dropkick Murphys singing "I'm Shipping Off To Boston" when I'm playing, but maybe that's just me.

Turns out though that there's a Hockeywood connection when it comes to the "bleepy-bloopy" music of the original. Dieter Ruehle, the Kings' music director high above the ice at Staples Center, was tapped back in the day to provide the organ music that was played in between goals and puck drops in the game.
Because of his substantial involvement in NHL 94 and his long attachment to the Los Angeles Kings, I have decided to induct Dieter into the very exclusive Hockeywood Video Game Hall Of Fame.
I caught up with the Hall-Of-Famer earlier this summer to ask him about his experience with his brush with video game greatness.
1) How were you approached to do the organ playing on NHL 94? What was the process like?
Wow, it was such a long time ago, I don't remember the details. All I do remember is this: I was in my first season as organist for the San Jose Sharks (after working Kings games from 89-90 thru 91-92). The folks at Electronic Arts approached me – through the Sharks – to record the organ music for NHL 94.


Q: One of the cool things about the game was each arena had specific music. Did you have a say in which songs were used? Do you remember which team got what?
A: Yes, I did have a say in which songs were used. I remember trying my best to emulate the organ songs that were heard in each specific NHL arena. Years of listening to other team's organists in the background of hockey telecasts since I was a kid came in handy. I remember playing "Brass Bonanza" for the Hartford Whalers, "Here Come the Hawks" for the Chicago Blackhawks and "The Sabre Dance" for the Buffalo Sabres. Each of those songs were staples in their home arenas. I also remember playing other little organ cheers/prompts. "Lets Go Pens" for the Penguins, "Let's Go Caps" for Washington, "Go Leafs Go" for Toronto , etc. 


Q: Out of all the songs you played, which one do you think was most obscure?
A: Well, there were probably a bunch. I think it's all relative. "Here Come The Hawks" might be very obscure for a fan of another team that's never heard it. Yet, it's very familiar to a Chicago fan.
Q: A lot of those songs are arena specific. For the Kings you played The
Beatles' "Birthday" when they score a goal. Any significance to that
selection?
A: When I worked Kings games from '89 thru '92, I actually used
to play that song on the organ as a fan prompt. The decision to use
that as the goal song wasn't my idea (I think the guys at EA Sports
picked that one).
Q: Did you ever consider playing the song at
the end of the periods that's played now?
A: Ah…"The Kings March". I don't remember
why I didn't play that on NHL '94. Again, that might have been a case of
where the folks at EA Sports made that decision.

Q: You have been part of the L.A. Kings family off and on since 1989.
You were obviously excited like everyone else in Staples when LA
finally hoisted the Cup. As the music
director, what song would you select as THE song for the franchise?
A: As
far as there being an ultimate song for the Kings franchise, I wouldn't
feel comfortable only pointing out one song. Here's why: From the 1960s
thru the 1970s, the Kings March was probably "the" tune. That song was
played when the team took the ice, left the ice, scored goals and was
even heard at the beginning and end of Kings' television and radio
broadcasts. Yet, that changed in the 1980s, and has changed several
times in the last 25 years or so. Due to the changes, I can't say there
is a single "Kings" song for the franchise.
Q: Are you a gamer? (not like you have a lot of time.) But did you ever play the game and sort of have an out-of-body moment like "Hey, I did that!"
A: For sure! I'm not a "gamer" now, meaning I don't play video games at home like I used to. But back in the 90s, I had a Super Nintendo. And yes, I played NHL 94 ('95 &'96 too) quite often. It was really cool playing those games and having those moments of "hey, I did that!" LOL
Q: 

There's been some teams that have have been created since the game hit shelves 20 years ago. What songs would you consider for these four teams?
A: Well, I didn't need to come up with songs for the NHL teams that were in existence for NHL '94. Meaning, I was basically playing "cover tunes" of their pre existing themes and fan clappers. What I'd simply do now is try to recreate what's played at these four teams' home rinks. But IF I had to…


The Blue Jackets – Maybe some songs with "blue" in the title? 


The Wild – Born to Be Wild
The Predators – I have no idea! Maybe something country? Or Barracuda!


The Coyotes – Werewolves of London (their first goal song after arriving in Phoenix in 1996 from Winnipeg ). I'd also play "Let's Go Kai-yotes" which is their main chant.
Thanks again, Dieter!
If you want to relive some of his work in the original game, check out some of these tunes.