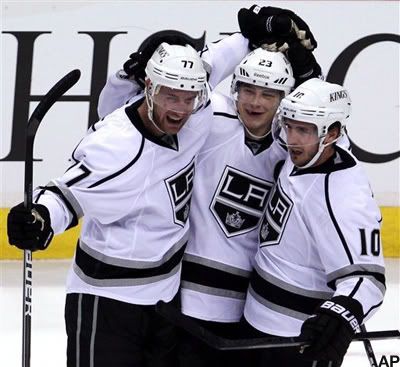 The Vancouver Sun coverage
• Kings hardly feeling the pressure of first loss to Canucks

The pressure in this series — if that is the fear of losing — is still all on the Canucks, who had two chances to win one game for the Stanley Cup last June and are among the favourites again this year after winning the Presidents' Trophy.

• Canucks coach Vigneault has twin reasons for embracing three-day break between games

While L.A. Kings coach Darryl Sutter bemoans the three-day break between games in his playoff series with the Vancouver Canucks, Alain Vigneault has two reasons to embrace it. The first one is Daniel Sedin. And the second one is Henrik Sedin. In other words, oh brother.

• Five storylines flying under the radar

Neither Carter nor Richards has recorded a point in the last three games and both are a combined minus-6 in that span. Making matters worse was that Richards inadvertently deflected Bieksa's point shot past Quick to give the Canucks their first lead of the series since the first period of Game 1.

• Canucks' Daniel Sedin talks … and talks — so he's more than okay

For more than 13 minutes, Daniel stood at a podium and answered every question Vancouver hockey journalists could throw at him. Thirteen minutes! Why, that's almost a lifetime of interviews for some. Imagine 13 minutes of Todd Bertuzzi. (On second thought, don't.)

• Secondary scoring a must for Canucks

The scoring numbers are, overall, pitifully low for a Canucks team that prides itself on strong offensive ability. That the team began playing better only when Daniel Sedin returned says a great deal about the Canucks: they essentially leaned on Daniel for confidence as much as offensive support.

• Roberto Luongo, Cory Schneider downplay any goalie controversy

Both downplayed the ongoing hullabaloo about who belongs in the Canucks crease next season, and who will be unceremoniously escorted out of town when 2011-12 concludes, all of which has become all the talk around Vancouver hockey circles since Schneider started Games 3 and 4 of the Western Conference quarter-final against the L.A. Kings, ahead of Luongo, the gold-medal winning goalie for Canada in the 2010 Olympics and the Canucks No. 1 guy since 2006.

• Ex-Canuck, now-King Willie Mitchell feels for sidelined Roberto Luongo

"It's been a tough road for him up there," Mitchell said Friday. "A lot of things outside of the game have happened, like being the captain and then they take that away. Before Cory came in for Game 4, who were their two best players? Louie and Cory. It was surprising that they sat their best player, but Cory came in and did a tremendous job, too, so you can't fault them. But I really do feel badly for him. I'll talk about it [more] after the series but not during the series."

• Canucks benching Roberto Luongo 'most difficult decision' Alain Vigneault has had to make: Rick Bowness

"There was no question that was probably the most difficult decision Alain has had to make in our tenure here," said Bowness, the tenure being six years. "That's what it was. You have no idea how incredibly difficult that was because of the amount of respect we have for Roberto, not only as a goalie and as a professional, but as a man."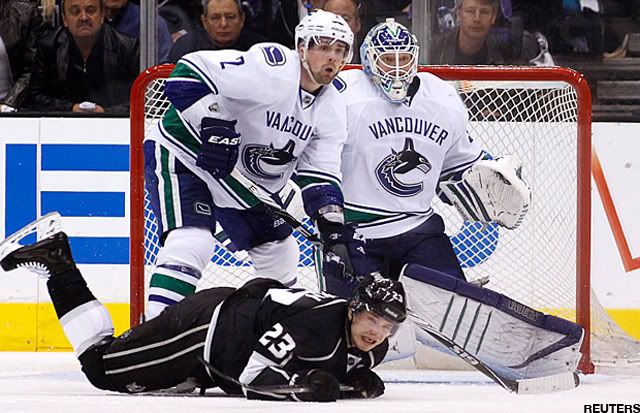 The Province coverage
• Canucks build momentum with Game 4 win over Kings
Wednesday night, understudy Cory Schneider stepped into the hottest part of the spotlight and gave the Vancouver Canucks a world-class goaltending performance.
Not to be outdone, the recently concussed Daniel Sedin sent a massive jolt through the first line and a moribund power play as the Canucks, get this, beat Jonathan Quick three times. And the defence, which had been turning over pucks at an awe-inspiring rate, settled down and began, comparatively at least, to look composed and efficient.

• Keith Ballard a rock on Canucks' blue-line

The Vancouver Canucks defenceman averaged 58 seconds of ice time a game with his team short handed during his 47 regular season appearances. On Wednesday, with the club's season very much in harm's way, he played two minutes, 33 seconds with Vancouver killing penalties, the most of any player on the squad.

• Canucks' Schneider and Vigneault mum on Luongo future

"I don't want to get into the reason why I made that call, but we've got two great goaltenders, two quality individuals, two people who want to play, one who has all the records that a Canuck goaltender can have, he's been here a long time, but as a coach you have to do what's best for the team," said Vigneault following the Canucks' workout on Friday. "I knew Schneids would be real happy and Roberto would be disappointed but real supportive and that's what he was."

• Canucks' Roberto Luongo won't comment on trade

"To be honest, I don't really read or listen, so I don't know exactly what's going on. I think right now is not the time to be thinking about that stuff," said Luongo, who's been the uncontested No. 1 goaltender in Vancouver since he arrived six seasons ago. "We want to be playing hockey for a little while here and that's what I want to focus on."

• Canucks' Kassian, Bieksa no-shows at practice, Raymond on 4th line

And so it appears Raymond, who skated with the Black Aces Thursday — most likely punishment for some poor play Wednesday during Game 3 — has been moved to the fourth line. And Lapierre will play with Kesler and Burrows on the second.