Prediction Panel: Feb. 2 Kings at Ducks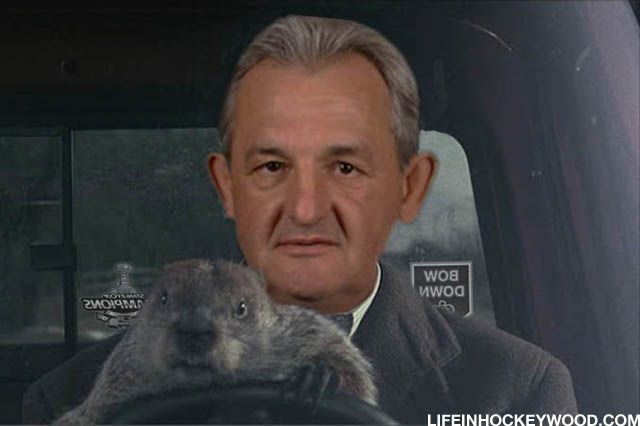 The last 10 days has played out like the movie Groundhog Day. Three of the four games went to overtime, two of those went to the shootout. Every game, the scoring chances fail to materialize, the power play unit trudges on, and Jonathan Quick continues to keep this team in the hunt.
Over. And over. And over. It's almost enough to make Kings fans roll over in bed and eye the clock, much like Bill Murray's character in the 1993 movie.
So now, the team travels down the 5 to meet up with their "rivals," the Anaheim Ducks. And I'm sorry, but I still won't refer to the Ducks as legit rivals. The Sharks are the Kings rivals. The Coyotes are the Kings rivals. The Canucks are the Kings rivals. Even Detroit more worthy to be called rivals than Anaheim.
The Ducks are more like Ned Ryerson, also from Groundhog Day.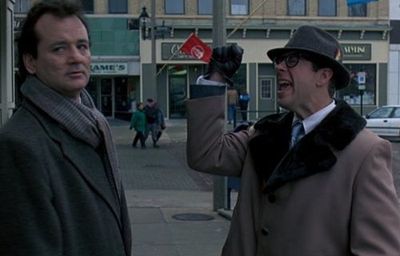 Anaheim: Kings? Hey Los Angeles Kings? Is that you?




Los Angeles: Hey, thanks for watching us on Fox Sports West.




ANA: Hey, hey! Now, don't you tell me you don't remember me because I sure as heckfire remember you.




LA: Not a chance.




ANA: Anaheim... The Anaheim Ducks. Used to be "The Mighty Ducks?" Come on, buddy. The Ducks: We used to have a logo of a Disney character on our jerseys? Bing! The Ducks: We went 16-5 back in 2007 to win the Stanley Cup? Bing! The Ducks: We got the shingles real bad senior year, almost didn't graduate? Well?




LA: The Ducks?




ANA: Bing!




LA: Bing.
Until the teams meet in the postseason, it will never feel like a true rivalry. Last season, LA hammered Anaheim in the season series, 5-1, so it seems like this should be a no-brainer.
But this is a hungrier Ducks squad than in the past. And the Kings haven't found their scoring touch. Mike Richards, who led L.A. against the Ducks with five goals and eight points last season, hasn't found the back of the net this season. But he will tonight. As will Justin Williams.
And for the third time in five games, L.A. will go the distance. And by distance, I mean the shootout. The sheer willpower of the Kings fans heading down to the Honda Ponda for their own victory lap will lift this squad to a shootout victory, 3-2.
How did our other Kings Prognosticators see tonight's result? Observe...
Score: Kings 4, Ducks 3
Reason: Kings fans' invasion of the Ponda Center will spark the team after a loss they didn't deserve, and will finally uncork some scoring. The Quacks have been scoring lately though so don't expect them to get blanked. Also Ryan Getzlaf now rocks a full Homer Simpson dome
Record: 3-1
Score: Kings 4, Ducks 2
Reason: A far more entertaining game awaits. The Kings will give up some
Grade A chances in this wide-open affair but Quick will make enough big
stops to allow the Kings to hang on when they add an empty netter with 42.2
seconds remaining. Yes, I'm from the future.
Record: 3-1
Score: Kings 0, Ducks 0
Reason: Shootouts suck.
Record: 2-2
Score: Ducks 3, Kings 1
Reason: Reason: If we can't beat the Preds, we're in deep trouble without smart playing, much less even shooting at the net. I can only hope for a decent scrap without watching an exhibition of cycling the puck in the Ducks end.
Record: 2-2
Score: Kings 4, Ducks 3
Reason: Dustin Penner scores 4 goals and kills 3 Ducks players in a vicious on-set of rage that has been building the last week and a half.
Record: 2-2
Score: Kings 6, Ducks 4
Reason: Warfare.
Record: 2-2
Score: Ducks 3, Kings 2 (OT)
Reason: Reason: Kings simply cant score. The rivalry and hoards of Kings fans at the Pond will serve as inspiration but not enough to reach
the vaunted and ever vexing 3 goal marker. Penner notches a goal against his former mates as does Jordan Nolan.
Record: 1-3
Score: Kings 4, Ducks 2
Reason: Getting back on the road and in Anaheim against their hated rivals with give the Kings a bit of a spark. The Ducks will have some firepower up front (I see Selanne scoring) but LA's defense will be good enough to bail Quick out and win the game.
Record: 2-2
Score: Kings 3, Ducks 2
Reason: The Ducks are riding on a wave of good fortune. The Kings are riding on a wave of misfortune. It's time their fortunes changed for the better.
Record: 2-2
Score: Kings 2, Ducks 0
Reason: I'd like to think that the Kings can score more than two, but it seems too ambitious.
Record: 1-3
Score: Kings 4, Ducks 2
Reason: So much for my reverse psychology theory. I guess I'm actually gonna have to play the game and make somewhat reasonable predictions. The Ducks aren't good. Neither are the Predators for that matter. Who knows? I hope Mike Richards can pull his head out of his ass and start producing. Honestly, I hope for a lot of things that I'm probably not gonna get. Is it out of the realm of possibility that I hope for and GET a Kings win?
Record: 1-3
Trackbacks