A Day With The Cup: Justin Williams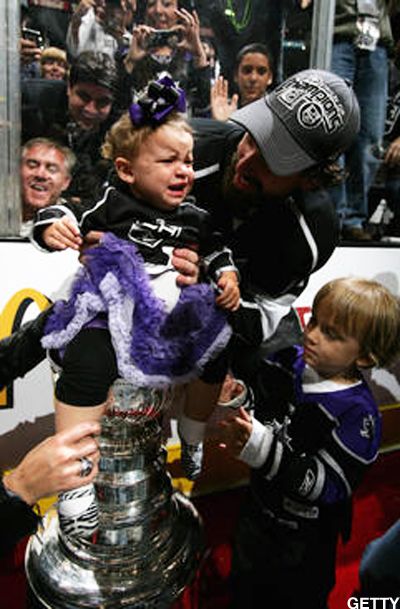 "The first time I won the Cup (in 2006 with the Carolina Hurricanes), I brought it to my hometown in Cobourg, Ontario, Canada, and enjoyed it for that time," Williams said. "And now I spend my summers in this area. So I want to show people even though I play hockey thousands of miles away, I'm still kind of part of the community here and I enjoy living here."






Williams' brother-in-law dropped to one knee and proposed to his girlfriend of six years, Dana, during a boat ride with family and friends. Dana said yes — which is always a plus — and the entire crew onboard, including Williams, can now say they witnessed something special. "This is for life," Williams said. "We're a part of the story they're going to tell forever. I'm happy to be a part of it and I'm happy Kelly and I were able to accommodate her brother."






"Your career and life isn't going to go smoothly," he said. "There are going to be bumps in the road. There are going to be times when someone says you're not good enough, and I've certainly had those experiences, but I think all those experiences round out the type of person you become. You can't listen to everybody, all you can do is listen to yourself and the people you care about and never give up."
More videos
Here's more of Justin's brother proposal.
Game on! Justin got the guys back together to drop the puck, street hockey style. CAR!!!
Justin also brought the Cup into a courtroom in Ventnor City Hall.
Finally, Justin took the Cup for a stroll along the Atlantic City boardwalk.
Trackbacks