WCF Game 5: They said it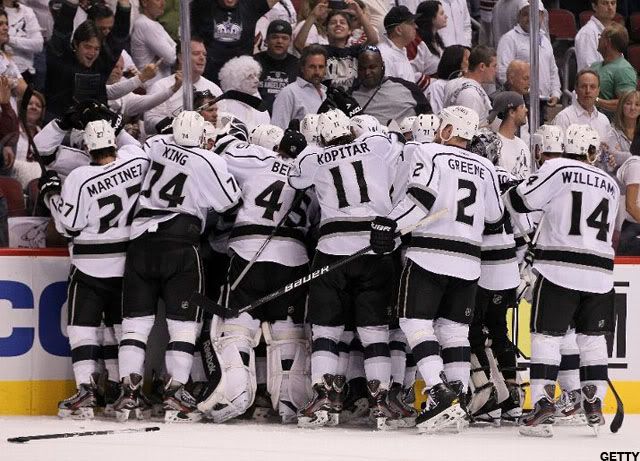 They said it
"Elation. You know, it was after that questionable play in the neutral zone. We had a draw just off center on blue lines. Richards, or Ricky as we call him, second or third effort. Went back to Slava, Slava threw a bouncer off the boards. I watched it hop a couple times, ended up I think it was Yandle's stick. I retrieved it. Threw it to Carter coming down the right side. He threw it on the net. Bounced down a few more times. I just followed the bouncing puck until it was in a good enough position for me to shoot it. – Dustin Penner, on the game-winning play, and the emotions after it.

"Just a big relief. It was just a big relief. They worked really hard. You've got to tip your cap to them. They worked really hard, and made us earn it. Mike Smith kept them in there at times. They scored some timely goals. It's a good team. We're fortunate to be done right now. That could have gone either way. We could be going back to L.A. for Game 6, but we're not. So we're looking forward to seeing who we're going to play next week.'' – Jonathan Quick, on what he thought when he saw the red light go on in overtime.

"It means everything. You grow up your whole life wanting to be in that Stanley Cup Final, and to make it there, (knowing) how very hard it is. You just hear from the older guys who have played, guys like (Willie) Mitchell who've played 13 years in the league and he hasn't been there yet. And to get there for him, and older guys like that, is a great feeling." – Drew Doughty, on what it means to him.

"I haven't really seen a highlight of it. Rozsival was cutting to the middle and I cut across and made contact. Obviously they thought it was kneeing. I felt I got him with my shoulder. My left side and his right side all made contact, from toe to shoulder.'' – Dustin Brown, on his overtime hit on Michal Rozsival.

"We didn't have our game again at the start. It was a pretty open game. There were a lot of line rushes and a lot of odd-man rushes that we didn't want to give up. Our defense were great and Quickie was great. We had some huge kills there and a timely goal.'' – Jarret Stoll, on the fourth win being the hardest

I'm proud of the players. That's the biggest thing for me. Hell of an accomplishment for the players. That's what it's about. They're the guys that sweat and bleed. That's what it's about. I know from being a player. I'm proud of them guys." – Darryl Sutter, on what this means to the organization.
Trackbacks