Game 5: Kings knock off Canucks to advance to second round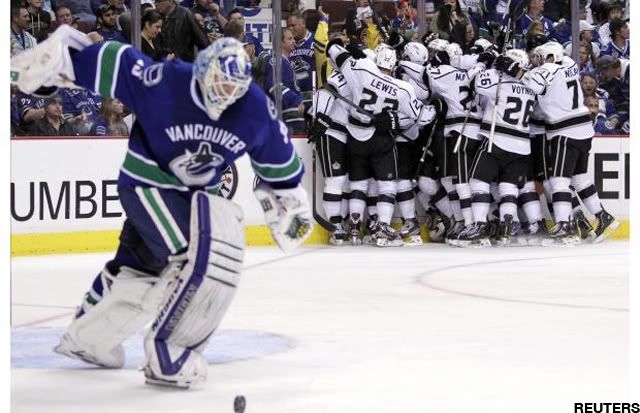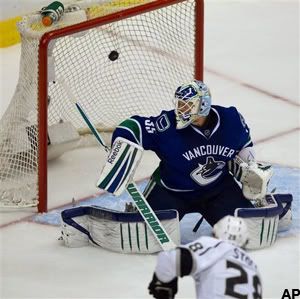 Game 5: Kings 2, Canucks 1
To peep out all the videos online about this game, check out today's Hockeywood Dailies.
• AP:
Jarret Stoll's OT winner helps Kings knock top seed Canucks out of playoffs
With a quick flick of his wrists, Jarret Stoll sent the Los Angeles Kings on to face St. Louis in the second round -- and the Vancouver Canucks into the offseason a lot sonner than they expected after topping the NHL in the regular season.

• LA Times:
Kings eliminate the Canucks with 2-1 overtime win
Richardson, who had gotten a team-low 4:09 of ice time over the first two periods in addition to having taken a penalty, continued to be an offensive threat when he hit the post on a backhander almost midway through the third period, triggering gasps from fans who had become anxious about the tide having turned against the Canucks.

• LA Times:
Kings complete stunning upset of Canucks with overtime win
Dustin Brown had long imagined what it would feel like to be on the winning side of the traditional playoff handshake ceremony in which foes who bash each other for weeks exchange congratulations instead of elbows to the chops.

• ESPNLA.com:
Jarret Stoll pockets game winner, L.A. clinches series
Just more than four minutes into overtime, Trevor Lewis poked the puck away from Vancouver defenseman Dan Hamhuis near the Canucks' blue line and Hamhuis tumbled to the ice. As Stoll scooped in the puck and raced off on a 2-on-1, the Vancouver crowd groaned with displeasure, as they thought Hamhuis was tripped. With rookie Dwight King on his right and Canucks defenseman Sami Salo left alone to defend the play, Stoll chose to shoot the puck from the left faceoff circle, beating goalie Cory Schneider in the top left corner for the biggest goal of his career.

• FoxSports.com:
Kings get over the hump, reach second round
A team that so often wore their opponents down with smothering defensive play continued the franchise's tradition for dramatic endings.
With the amount of poise they've showed during their five consecutive playoff road wins, their current advancement is practically being sold by The Most Interesting Man In The World, pardon any advertisements.
"We don't always advance. But when we do, we do it dramatically."

• NHL.com:
Stoll's OT goal eliminates top-seeded Canucks
So much for the Presidents' Trophy-winning Canucks -- their season is over just five games into the playoffs against a Kings' team that barely qualified. But it was the way Los Angeles made the playoffs that paid off in Game 5.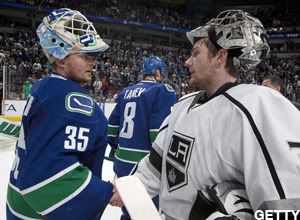 They said it
"I was seeing a little bit of room up there, and short-side, maybe that's something that they're not expecting. I was definitely shooting all the way. Lewie did a great job on the turnover, just forcing their D-man. I was just at the right place at the right time and had a nice little transition 2-on-1.'' – Jarret Stoll, on his goal.

"It's huge. I've been here for eight, nine years, and this is a pretty good feeling for a lot of guys in here, especially the guys who have been here for an extended amount of time. It's been a work in progress. This team has worked hard, and in saying that, we've got to enjoy it but get ready to go again.'' – Dustin Brown, on getting to the second round.

"I feel we've played them well in the regular season. They're a physical team, great goaltending, great defensive system. They're going to be quite a test for us. We're looking forward to it. We're looking forward to the challenge. Hopefully it turns out the same way this one did.'' – Jonathan Quick, on facing St. Louis.

"I thought, early on, they carried the play. We started to get some life in the second but took some penalties, got in some penalty trouble. Then I thought, in the latter half of the third and obviously in overtime, we pressed pretty well and created a lot of chances and found a way to get one by." – Willie Mitchell, on the game.

"To win a playoff series when you haven't played in one, or won one, that is significant for them. They will relish that and learn from it and move on again. It's good for Jonathan Quick. Him and Schneider, over the years, since their young days, have done that a lot.'' – Darryl Sutter, on his young players winning a playoff series.

Trackbacks