Game 4: Canucks show some pluck vs. Kings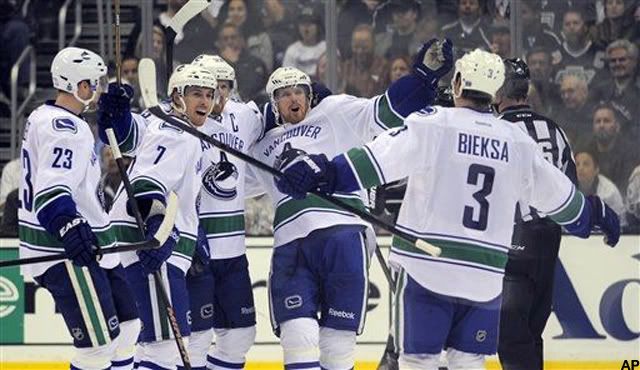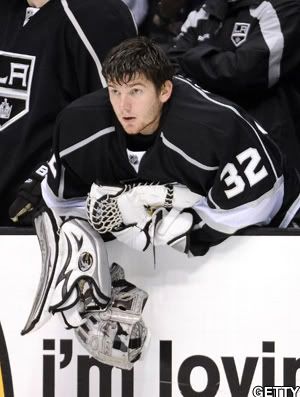 Game 4: Canucks 3, Kings 1
•
To peep out all the videos online about this game, check out today's Hockeywood Dailies.
• AP:
Canucks avoid elimination, beat Kings in Game 4
With their backs against the Staples Center glass, the Canucks got a boost from leading goal-scorer Daniel Sedin, who returned from a 12-game absence because of a concussion and contributed an assist to a power play that went 0 for 14 in the first three games.

• LA Times:
Kings can't close out deal in 3-1 loss to Canucks in Game 4
The dust was being blown off NHL record books. Potential alliterations trotted out -- Vancouver Vanquished? -- and then discarded. The next step was thinking about measuring space for a Dustin Brown statue in front of Staples Center.
There was one small matter: The Kings had to go and play the second period Wednesday night.

• LA Times:
Canucks need stops, so Cory Schneider tends to it
The good news for the Kings is that they will have three more chances to win this series, starting with Game 5 on Sunday at Vancouver's Rogers Arena.
The bad news is that a star was born at Staples Center on Wednesday, and he wears a Vancouver uniform.

• LAKings.com:
The Key Three
SCHNEIDER STANDS TALL: How would a relatively inexperienced goalie, making his third NHL playoff start, respond in a game that had the potential to end his team's season. Quite well, actually. Vancouver

• NHL.com:
Canucks stay alive by beating Kings 3-1
L.A. is trying to become the 10th eighth-seeded team to upset the No.1 seed since the League went to its current playoff format in 1994. Another boisterous sellout crowd was poised for the first sweep in franchise history before a classic shift in momentum unfolded in the third period.

• ESPNLA.com:
Vancouver scores twice in second period to take 2-1 lead
The good: Although they lost the lead in the second period, the Kings are still playing a solid all-around game. They out-shot the Canucks, 18-9, in the period and have a 31-16 advantage overall. Jarret Stoll is 8-0 in the faceoff circle to help the Kings to a 21-18 advantage on the drop.

They said it
"I just think we didn't have as much composure in the second period. We were throwing pucks away and they ended up making plays and we gave them too much space, which, with that team you just can't do. They have some good players that are going to make good plays if you give them time and space. That was the case tonight.'' – Anze Kopitar, on what happened in the second period.

"We've got to push harder. I thought we played a pretty good game. Schneider was really good in net. We've got to push harder. If we want to win this series, it's going to take more, from this room, to do so.'' – Dustin Brown, on the game.

"I don't like the big break. It's a long time in between games, and we certainly didn't want to do this. Now we have three more days of interviews to do. On the other side of it, we're going to have good time to regroup, refocus and try to close this out in five now.'' – Justin Williams, on the long break before the next game.

"I don't see it as a dangerous situation. It's going to be a fun situation, to be able to close them out, hopefully, in front of their home fans. It's going to be another task at hand. It's going to be one that we would love to do, so we're going to play as hard as we can in the next game, and make sure we do everything we can to top it off.'' – Drew Doughty, on being in a dangerous situation, having to go back to Vancouver.

"I didn't think either team did much different than they did (before). Obviously it was a big lift for them, getting guys back. Quite honestly, it's a fine line. We're not a team that scores a lot, and you've got to score on your opportunities. We had a borderline-whistle non-goal and we missed a penalty shot. We could be standing here talking about a totally different thing right now. There's not much difference.'' – Darryl Sutter, on what changed for the Canucks.

Trackbacks