Game 3: Quick deals shutout to reeling Canucks, Kings up 3-0 in series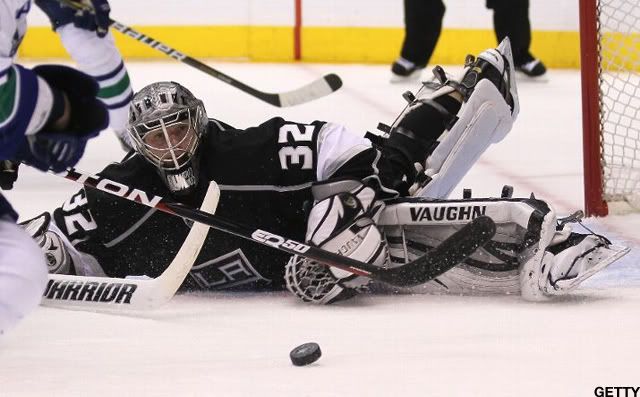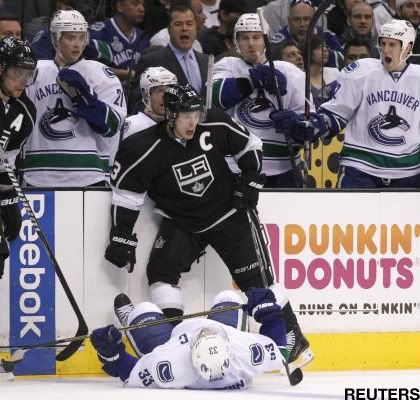 Game 3: Kings 1, Canucks 0
• Please note: To peep out all the videos online about this game, check out today's Hockeywood Dailies.
For the view from Vancouver, check out Across The Aisle. For the Canucks videos from this game, view the Hockeywood Dailies: Canucks Edition. And to do some star watching, take a look at Game 3's Hockerazzi coverage.
• AP:
Kings blank Canucks on way to 3-0 series lead
Jonathan Quick made 41 saves, Dustin Brown scored on a long rebound with 13:30 to play, and the eighth-seeded Los Angeles Kings pushed the Vancouver Canucks to the brink of elimination with a 1-0 victory in Game 3 on Sunday night.

• LA Times:
Kings almost have series zip-locked down
But Quick, who has stopped 111 of 115 shots in three games -- a .965 save percentage -- insisted he and his teammates weren't worthy of lavish praise. Always a critic, he said he could have done a better job controlling rebounds Sunday and said the team can't afford to lose its focus.

• NBCSports.com:
Gauging Kings' chances for a Cinderella run
Depending upon whom you ask, Quick may just hold the trump card over every West goalie not named Pekka Rinne. As you've probably heard a lot of times in your hockey-loving life, a hot netminder can make all the difference.

• ESPNLA.com:
Dustin Brown making Canucks black and blue
The team captain and longest-tenured member of the Los Angeles Kings laid out the star player for Vancouver with one of his biggest hits of the season, then threw a wrench in the Canucks' postseason hopes with a third-period goal that stood up as the game winner Sunday night in the 1-0 victory at Staples Center.

• ESPNLA.com:
Kings change the hockey culture in L.A.
Anyone who has been to a Kings playoff game at Staples Center will tell you it's where stereotypes about West Coast hockey go to die. It is unlike any other sports event in Los Angeles. Whereas fans arrive two minutes into the game when the Los Angeles Lakers play, they arrive two hours before the game to see the Kings.

• FoxSportsWest.com:
Kings on the verge of writing team history
Wayne Gretzky never experienced this. Neither did Rogie Vachon, Marcel Dionne or Luc Robitaille. The Los Angeles Kings are now up three games to none in a playoff series for the first time in franchise history after Jonathan Quick stopped all 41 shots in a white knuckled 1-0 win over the Vancouver Canucks Sunday night at Staples Center.

• NHL.com:
Kings put Canucks on brink with 1-0 win
With the win, L.A. has a commanding 3-0 series lead. It is trying to become the ninth No.8 seed to upset a No.1 seed since the NHL went to its current playoff format in 1993. Game 4 is in Los Angeles on Wednesday.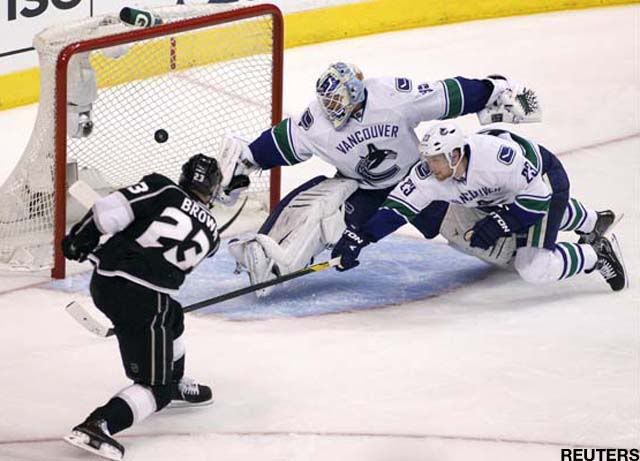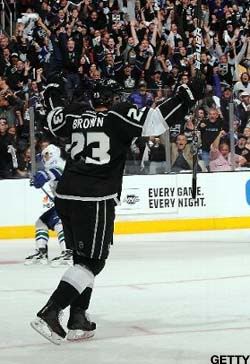 They said it
"That's what I was saying earlier, not a lot of pucks got through on the ones I was unable to see. Guys sacrificing all over the ice and making sure they weren't getting through. They've been doing it all year and they did a great job tonight. That's something that everybody expects out of each other and it's something they've done really well." – Jonathan Quick, on the Kings' ability to block shots.

"He's a hard player, an elusive player to hit, and one of the top players. I just got a chance to finish my check, and I did. I think they reacted like any team would, when one of their better players gets hit like that. It's part of playoff hockey. He returned and kept on playing, and that's just how it goes.'' Dustin Brown, on his hit on Henrik Sedin.

"Yeah, not too shabby. [laughs] We need him to keep going like that. (His physical play) means everything to us. That's what he has to do on a daily basis to be a force out there. Obviously, he wants to do it and we need him to do it, so tonight was probably one of the best games he's played in a long time. I guess the one in Vancouver was not too bad either. We need everybody to play like that." – Anze Kopitar, on Dustin Brown's playoff surge.

"We know we've been there plenty of times before, and he's been there with us. We just have that feeling with him, him with us. It's just a battle. We got out there and we battle our butts off for him, and he does for us, and we know he's going to make big saves when he needs to, and he did tonight. We need to be better in front of him, for sure.'' – Jarret Stoll, on the Kings' confidence with Quick in net in a tight game.

"We can't take our foot off the pedal. We've got to keep going. We've got three days off, and we have to make sure we're refocused. We have to start focusing on the next game at hand. It's another must-win game. We don't want to give them any momentum by winning one game in our barn and then taking it back to theirs. It's a huge game, and a must-win.'' – Drew Doughty, on leading 3-0 in the series, with two days off coming up.

"There is a composure factor that has to come into it, if you want to be a good playoff player or a good playoff team or a good playoff coach. There is a composure factor there and if you can spread that around a little bit that's good." – Darryl Sutter, on staying composed, with penalties.

Trackbacks