Quick for the Vezina? Unquestionably!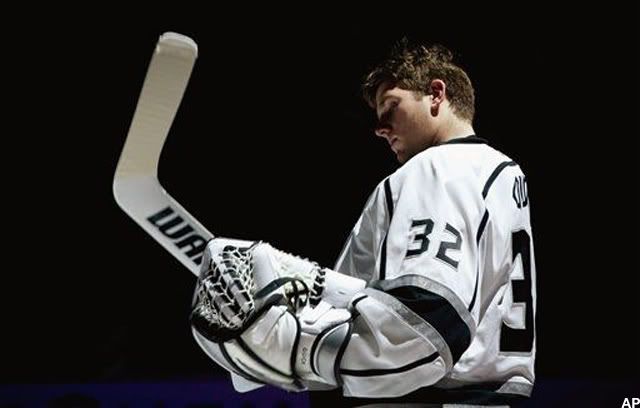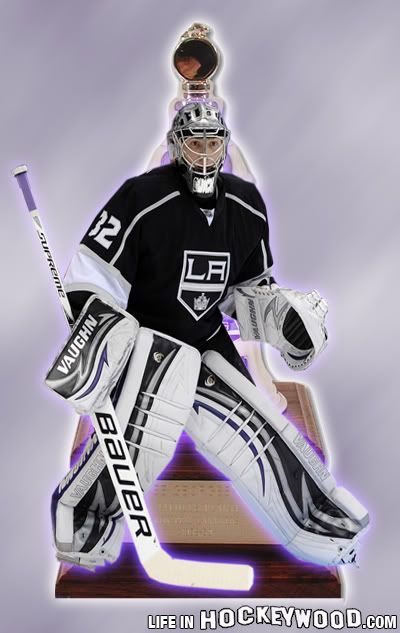 Now that Jonathan Quick has registered his league-leading 10th shutout on the season, it's time to crank up the machine to tout the virtues of L.A.'s most valuable player.
The past two seasons, I've been able to write about two players on the Kings' roster that were deserving of postseason trophies. In 2010,
Drew Doughty was a finalist for the Norris Trophy
(Best Defenseman). Last season,
I made a case for Anze Kopitar
to at least get mentioned for the Lady Byng Memorial Trophy (showing high levels of sportsmanship and playing ability).
This year, I actually get to write about the Kings' All-Star netminder, Jonathan Quick, making a case for one of the most storied trophies in the history of the NHL, the Vezina. And no offense to Drew or Anze, but this argument easier to make.
Game in and game out this season, Quick has been The Man. Heck, he's been the man since he rose from the depths of the 2006-08 Kings' goaltending carousel. He's been very impressive, setting Kings records for wins on a season (39 wins) during his breakout season of 2009-10. That was the season he played in 72 games (another record). During that season, he became the quickest (pun slightly intended) King goalie to reach 20 and 30 wins, as well as set a Kings record for his nine-game win streak.
Last season, Quick was money in the shootout: 10-0 when the Kings went to the extra frame, tying the NHL record. He also improved his save percentage and was really the only reason why the Kings were in the playoffs.
When I tried to explain why I was pumped after a Quick shootout win to a friend who is non-hockey fan (I have a few of those), I explained it was akin to the streak closer Eric Gagne had with the Dodgers when he had 84 consecutive saves over two seasons. (Sort of). I explained Quick is the Kings' closer, was was easier to explain than why regular season games are decided with a skills competition rather than play out to a final score.
This season, Quick was named to his first All-Star game, and was teammates with the Rangers' Henrik Lundqvist (More on him later). He set a franchise record with a shutout streak of 202:11 in October. That's 92 saves, people.
He has become the first Kings goaltender to register at least 30 wins in three seasons. And his goals against average is sick; barring a huge breakdown, he'll set a franchise record this season (which he set last season with 2.24).
Obviously, Quick is making a case for becoming the best goaltender in Kings history. But like so many have pointed out, the Vezina is not a career accomplishment award. It's the award for the best goaltender in the league in a particular season.
In my opinion, no other goaltender means as much to his team than Jonathan Quick does.
The only goaltender who stands in the way is the Rangers' Lundqvist, a player who can only be referred to as a "media darling."
As early as January
, some of the media had all but etched Lundqvist's name on the trophy. I guess the same guy who named him King also decided LeBron James was royalty. I just don't see it.
And I'm sorry St. Louis, but having tandem goaltenders skews the stats. I don't recognize any goaltender with less than 50 games under their belt.
Basically, the argument is going to come down to East Coast vs. West Coast. And that's pretty funny, considering Quick is from New York. I doubt he would have ever thought, growing up, he'd be going up against a netminder who plays for the same team as Quick's idol, Mike Richter.
The fact that it's East vs. West doesn't bode well for Quick. Lundqvist plays on the best team in the East. His numbers are admittedly impressive. And this has been a down year for the other big two East Coast netminders, Tim Thomas and Martin Brodeur. All those writers have been DYING to crown their King Henrik, and this may will be the season.
Since the Rangers is in a time zone where most general managers pay attention, I'm sure their blind allegiance to an east Coast netminder will finally allow them to award the Vezina to Lundqvist. And that is wrong.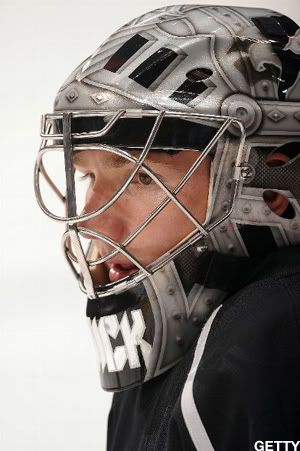 That is what you call playing the East Coast Bias card.
How do I know there's an East Coast bias? Think
all the way back to Game 1
. The Kings beat the Rangers, 3-2, in Stockholm, Sweden. Quick out-duels Lundqvist in net in "The King's" own home country, but it's Henrik who gets named the second star of the game. Huh? Lundqvist got beaten badly by Johnson, yet he rates better than Quick? A little hometown cooking?
How do I know there's an East Coast bias? Just two weeks ago,
Lundqvist was interviewed by Bryant Gumbel
for HBO Sports, where the motto is "There's Nothing Out Of Bounds." The only thing out of bounds was Gumbel's bromance for Lundqvist, where he did his best to make him look like Bradley Cooper.
How do I know there's an East Coast bias? This is the most damning evidence I could come up with: Since 1988, only three players outside the Eastern Time Zone have won the Vezina (Calgary's Miikka Kiprusoff in '06, Chicago's Ed Belfour in '91 & '93 and Edmonton's Grant Fuhr in '88).
Compared to "King Henrik," Quick has a better goals-against average, shutouts and games played this season. And he's done all this while not getting any scoring support from the under-achieving offense of the Kings. Lundqvist has been able to post more wins, thanks to the Rangers' 11th ranked offense. L.A.'s offense is an embarrassing 29th.
Has there ever been a goaltender who has had the same amount of shutouts as being shut out? Only two other players had registered 10 shutouts in a season since 1997. Lundqvist did it last season and Brodeur did it four times. That's pretty heady company.
Quick is better than Lundqvist this season because he's
HAD
to be. Any miscalculation by Quick any given night could result in an unsurmountable goal. All the while, he continually dons the pads and hits the crease. He credits his defense when he wins, and takes the blame for himself when he loses.
So really, there's little to discuss. While both players are deserving of the prize, Quick edges Lundqvist in the categories that matter the most, including balls.
How great would it be if these two teams happened to play one another for the Stanley Cup? Never mind the two largest markets in the final dance. It would be Quick vs. Lundqvist in a goaltending smackdown rarely seen in the Finals.
What they are saying
• LAKings.com:
Jonathan Quick deserves Vezina Trophy consideration
• NHL.com:
Vezina: Quick gets our nod in a photo finish
• NHL.com:
Quick deserves Vezina Trophy consideration
• ESPN.com:
Debate: On Stamkos heroics, playoff wobbles
• Yahoo.com:
Why Quick should overthrow Lundqvist from the Vezina Trophy throne
• The Hockey News:
Jonathan Quick for the Vezina Trophy
• The Throne Room:
Vezina or Bust for Quick
• ProHockeyTalk:
Doughty says Quick would win Vezina if he played in a different market
• CBS Sports:
Quick overtakes Lundqvist for Vezina
• The Hockey Writers:
Kings' Quick for Vezina…and Hart?
• Rant Sports:
Is Jonathan Quick The Favorite For The Vezina Trophy?
• NationalPost.com:
Quick, who is the league's best goaltender?
Supporting videos
Trackbacks