The Anz says "Sit on it!"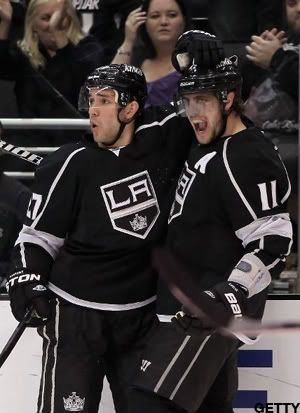 Ever since I saw this picture last night, I've been saying the same thing: Ayyyyyyyyyyyy.
Never mind that people outside of Los Angeles have no clue how to pronounce the Slovenian's first name: (Ahn-jay). It's just become Kings fans' cross to bear, politely correcting anyone who calls him "Ann-zee."
With two goals and four assists in four games this season, Kopitar definitely has shown that, like The Fonz, The "Anz" not afraid to jump the Shark. In his career, Kopitar has 12 goals and 19 assists against San Jose since his rookie campaign. He probably would've had more had he not gotten injured down the stretch last season and missed the playoff matchup.
So his on-ice contributions definitely bodes well for Los Angeles, considering the Kings play the Sharks twice more this season. But the good news doesn't stop there.
The Kings also play the Oilers twice more this season and Anze has enjoyed success against them as well, scoring 6 goals and 12 assists since 2008. Not eye-popping numbers but certainly something to note.
The Canucks have been a thorn in the Kings' side for a long time, but Kopitar has found he thrives when he plays Vancouver as well, tallying seven goals and 16 assists, which includes two goals and three assists during their playoff series in 2009.
The Blues may have the best record in the NHL, but that hasn't fazed the Slovenian Stunner, registering nine goals and 19 assists against St. Louis. Kopitar also runs wild when he skates against the Wild, scoring seven times while assisting 11 other players for goals. He also stampedes against Calgary, lighting the lamp 9 times and collecting seven assists.
Finally, the Kings and the defending Stanley Cup champs Bruins may only cross paths sporadically, but Anze has four goals and two assists when he ships off to Boston.
Crunch the numbers and you'll find that 33 percent of Kopitar's goals AND assists in his career have come against these seven teams. Talk about cool.
So with nine games left, look for the Kings' alternate captain to lead the way. After all, he seems to be playing with a little more Swagger. He told Dan Arritt of ESPNLA:
"It's fair to say the scoring has come around and even the playmaking ability is there. I'm a lot more relaxed than I was before and that certainly helps."

And as we've seen in the last four games, a relaxed Kopitar is a deadly Kopitar.
Trackbacks