Kings run Rinne and L.A. pounds Predators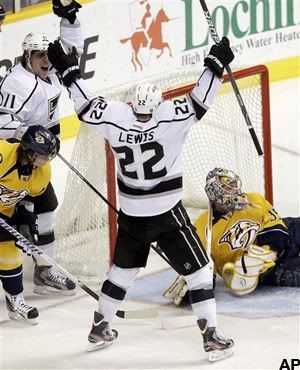 Game 66: Kings 5, Canucks 4
To peep out all the videos online about this game, check out today's Hockeywood Dailies.
• AP:
Williams scores twice as Kings beat Predators
With the score tied 3-3 after two periods, Greene put the Kings ahead at 1:15 of the third on a slap shot from the right point. Lewis had a tap in from just off the left post at 3:00 to make it 5-3.

• Tennessean:
Los Angeles Kings bully Nashville Predators
The last thing the Predators expected was to be pushed around offensively by the defensive-minded Los Angeles Kings. That was exactly what happened, and the team that averages barely more than two goals per game found the holes in Nashville's defense and made the Predators pay.

• LAKings.com:
The Key Three: March 6
The Kings scored five goals? On the road? Against Nashville? Against Pekka Rinne? Jonathan Quick struggled but got bailed out by the Kings' offense? The Kings and Predators scored nine goals? It was, perhaps, the hardest-to-figure game of the season, and it started six-plus minutes into the game, when Justin Williams shot from below the blue line and Rinne did his best Lionel Messi impression as the puck slid across the line. Give credit to the Kings. On a night when they lost a lead three times, and their goalie wasn't sharp, they kept coming. Quick, countless times, has kept the other 18 guys in the game. Last night, they returned the favor.

• NHL.com:
Kings hold off Predators for 5-4 win
Captain Dustin Brown continued a five-game point streak and has 6 goals and 5 assists in his last seven games. Anze Kopitar had an assist, giving him points in four straight (2 goals and 3 assists). Los Angeles, the lowest-scoring team in the League, began the day in ninth place in the Western Conference, just one point out of the eighth and final playoff spot and scored 5 goals for the first time since Jan. 9.

They said it
"We wanted to try to make Rinne work tonight. We felt, the last few games, we hadn't gotten as much shots to the net as we should have, whether it be missing the net or getting blocked, whatever it was. We tried to put as many as we could at him. That first one, I just threw it at his feet. We were just trying to get him as much work as we could.'' – Justin Williams, on the difference from last week's game at Nashville.

"I think it was to not sit back, and just keep going at them and playing like we were, trying to get on their D and trying to turn the puck over, and not sit back and relax. I think we did a pretty good job at that, so we have to keep going here.'' – Trevor Lewis, on the message in the second intermission.

"At the same time, you've got to play in the present. You have to take one game at a time. Those games behind us don't mean anything when we step on the ice against Columbus in two days. As soon as they drop the puck there, it's about getting two points there, and that's it.'' – Jonathan Quick, on the Kings winning four of the last five.

"For us to make the playoffs, it's pretty simple. Your best players have to be your best players. It's not that hard to figure out. It's not about singling anybody out, or anything like that. That's a fact.'' – Coach Darryl Sutter, on Williams' two goals.

"They are desperate for the playoffs because they're in that mix. We were there last year and we had to go like 12-3-2 in our last 17 games or something like that. I can't exactly give you the numbers, but just to get to where we were and that desperation and that full commitment every game has to be there." – Predators coach Barry Trotz, on the Kings mindset.

Trackbacks