Kings, Bernier completely dismantle the Wild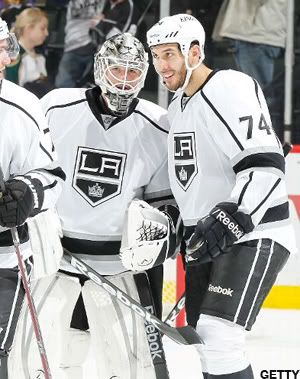 Game 65: Kings 4, Wild 0
To peep out all the videos online about this game, check out today's Hockeywood Dailies.
• AP:
Kings' Bernier shuts out Wild, 4-0
The performance came at a crucial time for Los Angeles (29-23-12). After losing five of six games, the victory over the Wild allowed the Kings to move into a tie with Dallas and Colorado for the eighth and final playoff spot in the Western Conference.

• LAKings.com:
The Key Three Feb. 28
For all the talk about systems and certain players' streaks and slumps, the Kings would be exponentially better on offense if they could do one simple thing with regularity: go to the net.

• NHL.com:
Kings cruise past Wild, 4-0
The victory was a big one for the Kings, moving them into a three-way tie with Dallas and Colorado for the final playoff spot out west. A home game Saturday against Anaheim now has critical importance before the Kings head back onto the road for a road trip including Nashville and Detroit.

• Star-Tribune:
Wild piled on: Shutout loss, Koivu shut down
With 1:22 left, defenseman Justin Falk got burned trying to defend Kopitar's pass to captain Dustin Brown. Kopitar skated inside of Falk, lost him and buried Brown's goalmouth pass for a 3-0 lead.

• Pioneer Press:
Minnesota looks flat in important game
With a chance to gain ground on another team they're chasing, the Wild came up similarly flat Tuesday. They outshot the Kings 26-15, but a retooled group of defensemen had a rough night, and Niklas Backstrom gave up several soft goals.

They said it
"It's funny how that works. Last night, we even had more chances to score more goals than we did tonight. It was a big game for us tonight. Obviously to split these games on the road is huge, and now we've got to build on this. We scored four goals and now we've got to continue improving and continue scoring. That's just the bottom line.'' – Anze Kopitar, on getting four goals after last night's frustration.

"We kept everything to the outside. On that (power play) in the second period, I knew that was a big (penalty kill) for us and the boys did a heck of a job. From there after, we had a lot of confidence and we shut the door." – Jonathan Bernier, on the game.

"We thought we played really well last night and we didn't get nothing for it. Tonight, we got a break early and that probably was the difference in the game. That team over there has made a lot of changes in the last few days, and they're playing without their captain. It's hard, once you get down.'' – Darryl Sutter, on getting four goals after last night's frustration.

Trackbacks