Dustin Penner's problems exceeds pancakes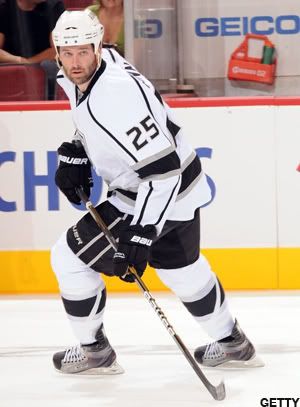 To say Dustin Penner has been a disappointment since his arrival to the Kings would be an understatement.
But now, thanks to those media vultures over at TMZ, we might garner some understanding to as why Penner has played so scattered the past year.
Let's break it down: On Jan. 29th of last year,
Penner got married
actress Jessica Welsh. Less than a month later,
he gets dealt
from Edmonton to L.A. Then he
hurt his back
eating pancakes in Jan. of this year. Follow that up with being
called out by head coach Darryl Sutter
, who said he'll need to earn his way back into the lineup. After scoring only two goals in Feb., he spent three games in the press box, and returned to action Feb. 25th. Now, according to TMZ, his wife has
filed for divorce
.
So, how has your year been?
Look, you don't need a degree to understand the guy has undergone a ton of changes. The life of a hockey player is rigorous, but so is the life of a newlywed. Hell, married life has just as many challenges as traversing three time zones to play 60 minutes of the world's most brutal sport.
As an outsider looking in, I'm not entirely sure how married players like Dustin Brown do it. Married life is hard enough, add to it the expectations playing for a new team and fan base, and you have the ingredients for disaster.
All I can say is this: many fans have NO idea what players go through in their private lives. They judge these guys by their actions on the ice, not taking into consideration the type of turmoil these guys undergo when they are off the ice.
Hopefully Penner can forge through this latest test a stronger individual and find his mojo back on the ice soon.
From the
TMZ story
:
L.A. Kings goal scorer Dustin Penner's aspiring actress wife has filed for divorce ... and TMZ has learned it's her SECOND failed marriage to a pro hockey player.

Her name's Jessica Welch -- don't bother looking up her IMDb profile -- and she was married to former NHL star Richard Zednik from 2005-2009 ... the guy who accidentally got his throat slit with a skate in 2008. The couple had one daughter together.

Two years later in 2011, Jessica married Dustin -- who won the Stanley Cup with the Anaheim Ducks in 2007.

Now, Jessica has filed for divorce AGAIN in L.A. County Superior Court -- citing "irreconcilable differences." Dustin and Jessica have no children together.

Watch your sticks, boys.
Trackbacks