Kings strike down Lightning to even road record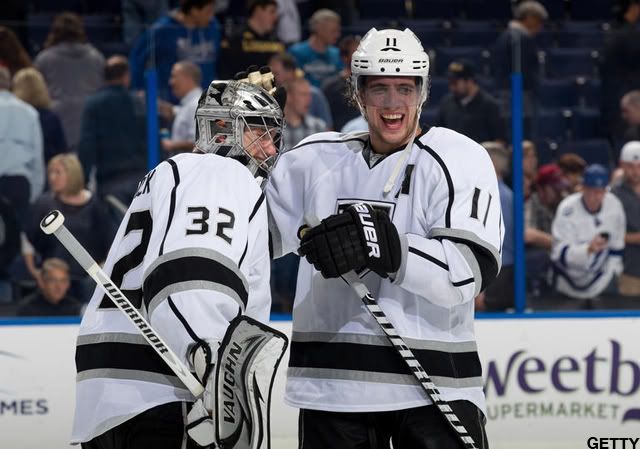 Game 54: Kings 3, Lightning 1
The Los Angeles Kings are nearly unbeatable when scoring at least three goals. Too bad for them it's happened only 16 times this season. Kyle Clifford and Dustin Penner had second-period goals to lead Los Angeles past the Tampa Bay Lightning 3-1 on Tuesday night.
• LAKings.com:
The Key Three: Feb. 7
The three-goal effort came against a Tampa Bay team that has allowed the most goals per game in the NHL this season. Still, things have to start somewhere, and the Kings did a nice job converting the chances they did get.

• NHL.com:
Kings cool off Lightning in 3-1 win
Getting to three has been the Kings' problem; they've done it just 19 times in their 54 games. But on Tuesday, they got second-period tallies from a couple of unlikely sources -- fourth-liner Kyle Clifford scored his fourth of the season and third-liner Dustin Penner had his fifth.

• ESPNLA:
Bad offense beats bad defense in Tampa Bay
The Kings are 19-4-5 when scoring first this season. In the last 81 games, when leading after two periods, they are 76-0-5. When scoring three or more goals this season, their record is 15-0-1

• LA Times:
Kings fans may have to be more patient as upgrade chances dwindle
The Kings' goals-per-game average shrank to 2.09 after they started a six-game trip with a 1-0 loss at St. Louis and 2-1 loss at Carolina. Only the Dustin Brown-Anze Kopitar-Justin Williams line has been reliable. They've gotten none of the secondary scoring they anticipated from Dustin Penner (four goals), Scott Parse (hip surgery) or Simon Gagne (concussion). Mike Richards, their best player in the early going, has no points in eight games and one goal in his last 18.

• Tampa Tribune:
Stingy Kings defense too much for Lightning
Kyle Clifford came racing out of the penalty box and took a long pass for a clean breakaway. His goal through the legs of Dwayne Roloson midway through the second period helped Los Angeles to a 3-1 victory, snapping the Lightning's string of seven consecutive games with at least a point (6-0-1) and dropped Tampa Bay below the .500 mark.

• Tampa Bay Times:
Tampa Bay Lightning loses 3-1 to Los Angeles Kings
Tampa Bay (23-24-5) lost its 6-0-1 points streak to the league's lowest-scoring team and fell nine points behind the first-place Capitals in the Southeast Division.

They said it
"Scuds made a great heads-up play there. He's a great D-man out there and he's got great vision. It was just a great play by him." – Kyle Clifford, on his goal.

"I knew he was coming out of the box, but it was more of an area pass than anything. Cliff did the rest. He was real smart, by going to the middle of the ice. I kind of threw it out there, but I think it mostly him getting under it." – Rob Scuderi, on his pass on Clifford's goal.

It was a solid team game. Three lines put up goals on the board, and that's what you need after a rough start, I guess, to the road trip. You need a solid team game, and I thought we brought it tonight and it paid off." – Anze Kopitar, on an efficient win.

"Every team. The first goal, in the NHL, pretty much sets the tone, when you look at it. It makes a huge difference to every club. If you're a young club, even more so." – Darryl Sutter, on the importance of the first goal to the Kings

"Their goaltender stands on his head. That's the story of their team. I know they're looking for more scoring, but the reality is they've been winning their games 1-0, 2-1, 3-2, and they're having a party." – Lightning coach Guy Boucher, on Jonathan Quick.

Trackbacks