Clifford paces Kings' superiority over Senators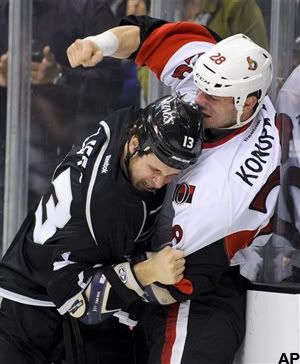 Game 49: Kings 4, Senators 1
To peep out all the videos online about this game, check out today's Hockeywood Dailies.
• AP:
Kings blast Senators 4-1, move into 1st place
Although every other NHL team has scored more goals than the Los Angeles Kings this season, they're still in a first-place tie in the Pacific Division.

• LA Times:
Kings' Kyle Clifford gets 'hat trick' in 4-1 win over Senators
One of the captains in the upcoming All-Star game, the Senators' Daniel Alfredsson, ruined Jonathan Quick's shutout bid with a power-play goal at 8:37 of the third period.

• LAKings.com:
The Key Three: Jan. 23
The way things have been going for the Kings of late on offense, getting a second goal is something to celebrate. Four goals? That's a scoring blizzard. Give the Kings credit for not letting up after the second goal. They were playing good defense, and as usual, Jonathan Quick was solid in goal, but the Kings did not go into a defensive shell. They kept pushing and drew a couple penalties, then took advantage of them as they scored a 5-on-3 goal. The clinching goal came in the final minute, as the Kings crashed the net and drew a penalty shot -- albeit thanks to a highly questionable call -- and Trevor Lewis converted with a goal.

• NHL.com:
Clifford leads Kings past Sens
Ottawa suffered consecutive regulation losses for the first time since Nov.9-11 and fell to 1-11-1 all-time in Los Angeles. The Senators' only win here came in January of 2000.

• Ottawa Citizen:
Kings rule listless Senators in L.A. clash
Looking to rebound after a 2-1 loss in Anaheim on Saturday, the Ottawa Senators instead got buried 4-1 by the Los Angeles Kings. It was so bad the Kings chased starter Craig Anderson after he allowed four goals on 26 shots through two periods. Alex Auld finished.

• Ottawa Sun:
Kings dominate Senators in L.A.
The lowest scoring team in the NHL, the Kings won McFlurrys for everyone in the sellout crowd of 18,118 by netting more than three goals for the first time in five games.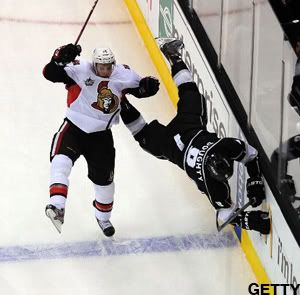 They said it
"It's great for our team. We've got a lot of confidence here, and we've got a great group of guys, so coming off a win, going into the break, none of these guys are going to be relaxed. We're going to keep focused here. We're going to take a little bit of down time here, but when we come back Monday, we're going to come right back to work." — Kyle Clifford, on going into the break with a win.

"That's going to happen throughout the season. We're going to go through ups and downs like that, and have a couple games where you don't put up many, then you're going to score a bunch. We've been getting points consistently in the last 15 games, so that's a plus and we're looking to carry that into the second half." — Jonathan Quick, on finally getting some offensive support.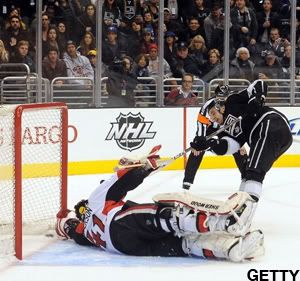 "On the bench, I said, 'Who should take that?' Because it has to be somebody from the ice. Both Mike Richards and Brownie turned around and said, 'Lewie.' So it was good to see. After the fact, it's easy to say, 'Oh, you picked the right guy,' right? He's had three shootout chances and he has made good moves on all of them, so it was good to see him score." — Coach Darryl Sutter, on Trevor Lewis' penalty shot goal.

"I thought it was a big part of the hockey game. We get the benefit of replay, and it shouldn't have been a penalty shot. We get the benefit of replay one and two and three times. I don't think it's reviewable in Toronto on that kind of a call. That's just the way it is." Ottawa coach Paul MacLean, commenting on the penalty shot.

"They lead the league in finished checks and we were prepared for that," Phillips said of the Kings physical play. "We sat in the box too much tonight and (they) capitalized on that. It just got away from us." – Chris Phillips, on the Kings' physical play.

Trackbacks