Thrifty Kings eke out 1-0 win against confounded Coyotes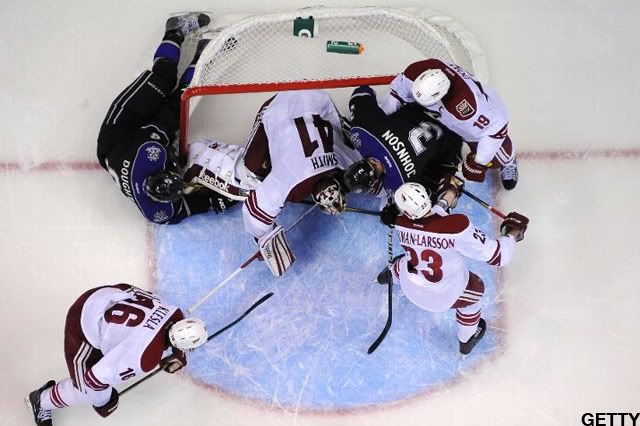 Game 41: Kings 1, Coyotes 0 (OT)
To peep out all the videos online about this game, check out today's Hockeywood Dailies.
• AP:
Quick leads Kings past Coyotes 1-0 in overtime
They finally got a goal 38 seconds into overtime from defenseman Drew Doughty during a goalmouth scramble Thursday night, and Quick tied a career best with his NHL-leading sixth shutout in a 1-0 victory over the Phoenix Coyotes.

• LA Times:
Kings defeat Coyotes, 1-0, in overtime
Yes, there are places and buildings where multiple goals are actually scored, but Staples Center was not one of them on Thursday night.

• LAKings.com:
The Key Three: Jan. 5
Where would the Kings be without Jonathan Quick? That's not a rhetorical question. The simple, honest answer is that they would be hanging out at the bottom of the Western Conference with Columbus and Anaheim. Quick, without question, is the first-half MVP for the Kings.

• NHL.com:
Kings top Coyotes 1-0 in OT
While it's not the ideal blueprint for a win, Los Angeles continues to taste success with Sutter. The Kings hit the 41-game mark just one point behind first-place San Jose in the Pacific Division.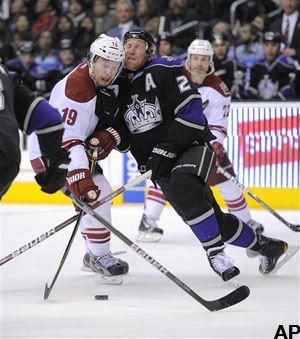 They said it
"…Video review upheld the referee's call on the ice that the goal posts were completely on the pegs when the puck crossed the goal line and the puck went into the net in a legal fashion." – The NHL, explaining its decision of Doughty's goal on its website.

"It should be no goal. It's not a matter of fact that the puck went in the net. The puck did go in the net, but it should be goalie interference....It's a blown call that should be no goal."— Coyotes coach Dave Tippett, disputing the NHL's ruling.

"One-inch goal. It's good. In 30 years, he'll say he went in and deked him out, and went under him. We made some great plays in the third period. Brownie [Dustin Brown] made two great plays from both wings, one where he cut in and one where he made the play over to (Anze) Kopitar. Those are prime chances, and thankfully we were rewarded."— Darryl Sutter, on Doughty's OT goal.

"We definitely got to start putting some pucks in the net during regulation and stop giving other teams points and going into overtime. But we got the two points, and that was the biggest thing. I'm hoping we can get some more goals, because that's what hurting us right now."— Drew Doughty, on the Kings' lack of scoring.

"Well, it seems like it has happened frequently, but every game brings its own challenges on for a goalie. Sometimes you're going to have to make 40 saves. Sometimes you're going to have to make 18, and a few of them are going to be real quality. Sometimes your team is going to score four goals for you."— Jonathan Quick, on whether he has become accustomed to tight, low-scoring games.
Trackbacks