Brown does it again, as Kings snap scoring slump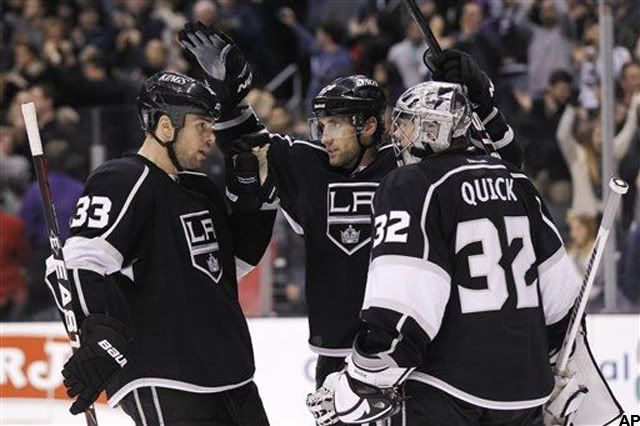 Game 37: Kings 4, Coyotes 3
To peep out all the videos online about this game, check out today's Hockeywood Dailies.
• AP:
LA Kings break scoring slump, beat Coyotes 4-3
Rob Scuderi hadn't scored a goal all year long for the Kings, while Willie Mitchell and Brad Richardson were only one goal ahead of him on Los Angeles' sparse season scoresheet. The Kings needed every improbable contribution they could get to end one of the worst scoring droughts in franchise history.

• LA Times:
Kings end slump with 4-3 victory over the Coyotes
The Kings had scored two regulation goals or fewer in 14 consecutive games and were one period away from No. 15 before Mitchell's wrist shot from the right circle beat Coyotes goalie Jason LaBarbera on the glove side at 1:48, making it 3-2. Dizzy with that success, the Kings added another goal. They took a 4-2 lead and chased LaBarbera, a former King, from the game when Brown scored at 7:06.

• NHL.com:
Kings break through with 4-3 win against Phoenix
Call off the search party. The Los Angeles Kings' offense has been found, at least for one night. Los Angeles snapped a 14-game streak in which it did not scored more than two goals in regulation, a slump that dated to before Thanksgiving.

They said it
"For our team to be successful, it's about work. We didn't have our best second (period). We came out and rebounded with a really good third. The work ethic was there and we found the back of the net twice. At the end of the day, that team was two points ahead of us and it was a huge two points for us to get at home." Dustin Brown, on the game.

"I think it was just a fluke. I'm sure, watching some of the goals, he'd like to have a couple of those back. He's been a goalie in this league for a long time. Those aren't ones that usually go in. He made some big saves for them. Maybe he shouldn't have come up with some of them that he (did). But I think it was more of a fluke than anything, that they all happened to go in from that side.'' – Rob Scuderi, on scoring from the right side against LaBarbera.

"I think everybody's confidence is improving. We know we can play a puck-possession type of game. We did a good job this time." Anze Kopitar, on the game.


"Well, point shots. Holding their line, patience at the blue line, instead of being overaggressive and forcing offense. A good play down low. I thought, in the first period, we did a really good job of that down low, and going low to high.'' – Daryl Sutter, on the scoring from defensemen.
"We were hanging around the whole game, right until the end. I think there were a couple of goals in the third that Barb would like to have back. Those were tough to overcome. I know (Brown's goal) went up short side on him, and you don't like to see a goal scored on the short side." – Phoenix coach Dave Tippett, on the performance of Jason LaBarbara.

Trackbacks