Kings start slow, finish strong vs. Blue Jackets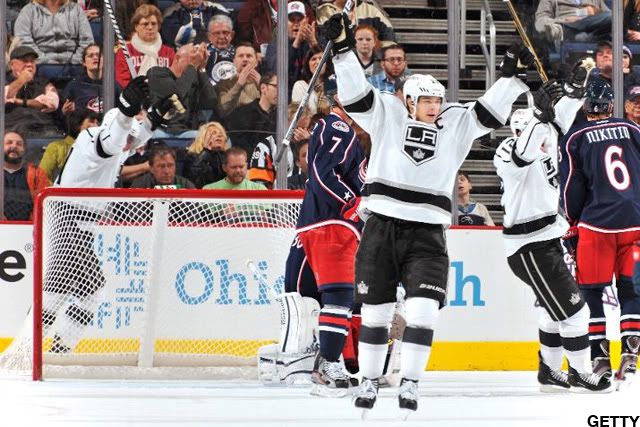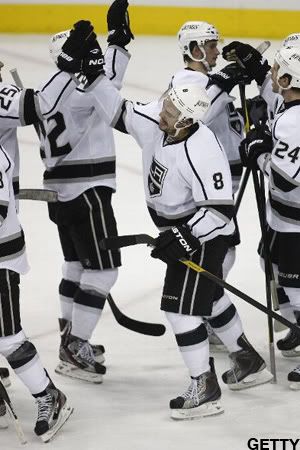 Game 31: Kings 2, Blue Jackets 1

To peep out all the videos online about this game, check out today's Hockeywood Dailies.

• AP: Brown has goal, assist as Kings top Jackets 2-1

Dustin Brown scored on a redirect midway through the third period and Jonathan Quick had 24 saves to lead the Kings to a 2-1 win over the Columbus Blue Jackets on Thursday night, ending a five-game skid and giving interim coach John Stevens his first victory.

• LA Times: Kings are held to two goals, but this time it's enough

These days, a two-goal performance is a goal-fest for the Kings. But center Anze Kopitar had the grace to acknowledge that their third-period rally Thursday in a 2-1 victory over the lowly Columbus Blue Jackets did not mean the Kings' problems had ended, though they did end a five-game losing streak.

• LAKings.com: Dustin Time

Stevens, elevated from assistant, was serving his second game as interim coach. The Kings have not scored more than two goals in any of their last 10 games since Thanksgiving and came in averaging a league-worst 2.17 goals.

• NHL.com: Kings beat Jackets 2-1 to give Stevens first win

The win ended a five-game losing skid for Los Angeles (14-13-4), and the breakthrough came from the unlikeliest of sources. Defenseman Davis Drewiske scored his second career goal – and his first since Oct. 6, 2009 – at 4:33 of the third period to jump-start the Kings' slumping offense. Dustin Brown redirected a long shot past Sanford 3:39 later to give Los Angeles the lead for good.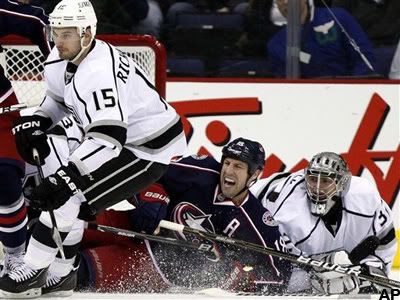 They said it
"I guess the floodgates are not really quite open yet. It's a crack, and now we've got to build on that and get it going." – Anze Kopitar, on finally getting a win.

"It's funny how the game of hockey works, really. We've struggled to score goals, and it's a result of people not being around the net. We got two dirty, greasy goals tonight, and we need more guys around the net consistently." – Dustin Brown, on getting goals thanks to net presence.

"That's all the matters. Throughout the game, I thought our whole team, from the first line to the fourth line, from the first D pair to the third D pair, and the goalie, everyone worked so hard. We want to be the hardest-working team in the league, and tonight I thought we did a good job of that. – Drew Doughty, on ending the losing streak.

"We had a great first period there, where we did an awful lot of good things and didn't score. Then we got behind with what amounted to a very lucky play. It kind of bounced in off a couple guys. I thought the fact that they came out the way they did, and found a way to win a hockey game, was a really good sign of the guys and the perseverance that they have. They were determined to get the job done, and that was terrific." – Interim coach John Stevens, on the team's performance.

Trackbacks