Quick's shutout, Kings' defense scuttles Sharks attack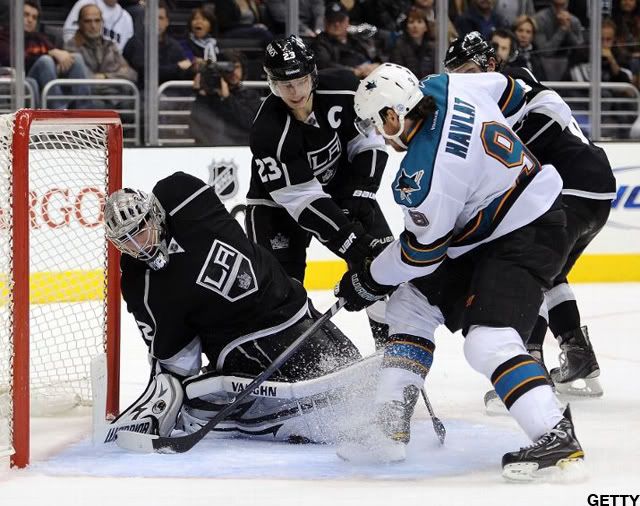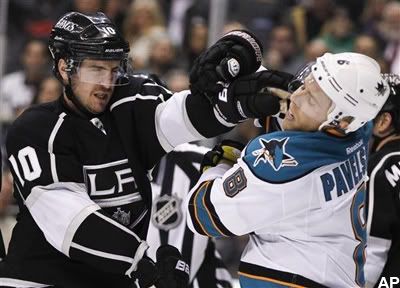 Game 24: Kings 2, Sharks 0
To peep out all the videos online about this game, check out today's Hockeywood Dailies.
• AP:
Quick lifts Kings to win with NHL-best 4th shutout
Quick earned his NHL-leading fourth shutout in his 200th regular-season game, a 2-0 victory on Monday night. He made 33 saves, coming up big numerous times during two short-handed situations in the final 4½ minutes of the second period en route to his 18th career shutout.

• LA Times:
Quick saves Kings again in 2-0 win over Sharks
Terry Murray's shakeup of his top three lines didn't produce a flood of goals, but the Kings scored often enough Monday — and got strong enough goaltending from Jonathan Quick — to defeat the San Jose Sharks and pass them in the Pacific Division standings.

• NHL.com:
Richards, Quick lead Kings past Sharks
Los Angeles was previously 0-4 against San Jose, Chicago, Detroit and Vancouver. Any extra meaning they took from the victory carried the subplot that Monday was the first meeting between the teams in Los Angeles since San Jose eliminated L.A. in Game 6 of the conference quarterfinals.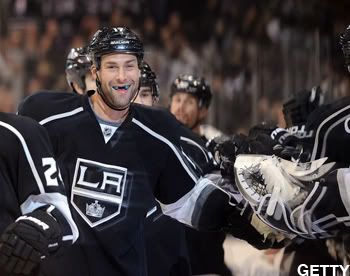 They said it
"Them being a division rival, that's always a big game. That's one of our goals this year, is to win the division, and if we're going to do that we have to beat this team. It's two points. We've got to move forward. It's a nice win, but tomorrow is going to be a new day and we have to start over and get ready for the next game.'' – Jonathan Quick, on beating the Sharks.

"I thought we created a lot, especially early in the game. Before the penalties kind of took over the flow of the game, I thought we were doing a really good job of keeping everybody involved and everyone was contributing and getting a lot of shots. Then Quickie [Jonathan Quick] took over when we needed him to." – Ethan Moreau, on the game.

"We got some secondary scoring tonight, with Chop [Ethan Moreau] getting his first, and then you've got to be good defensively, no matter what. Quickie had to be good tonight, and probably kill a few too many penalties, more than we wanted, but we got the job done and that's all that matters.'' – Matt Greene, on the game.

"Well, he has come to me a couple times over the last week or so and reminded me that he can play left wing. You take a look at his game, quite frankly, and when he's on the attack and he is the right winger, he does end up on that (left) side of the ice often. ... He's comfortable, he liked it, he made a great play on the goal, on the disallowed goal." – Terry Murray, on the game.

"Zero in the first two periods because we didn't have any chances. It didn't matter who was in goal for them. We didn't create anything. But he played very well in the third period." – Sharks coach Todd McLellan, when asked how much influence Quick had on the game.

"This is a big game for us to measure where we're at it. With the team we have now, we're pretty similar in talent." – Drew Doughty, before the game.
Trackbacks