Kings keep rumbling as Ducks keep stumbling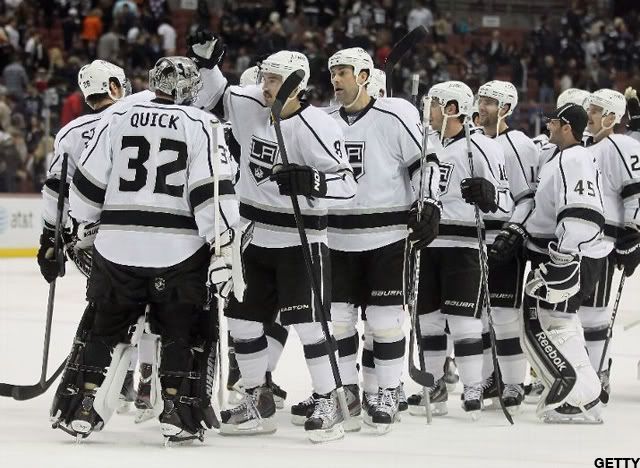 Game 19: Kings 5, Ducks 3
To peep out all the videos online about this game, check out today's Hockeywood Dailies.
• AP:
Kings beat Ducks 5-3, complete 2-game sweep
Mike Richards' short-handed, empty-net goal traveled nearly the length of the ice and hit the back of Anaheim's net with a slight ping, effectively signaling the end of the Los Angeles Kings' early-season struggles.

• LA Times:
Kings keep Ducks stumbling in the dark in 5-3 win
There was a 17-minute delay to the start of the third period when some of the lights did not go back on at Honda Center on Thursday night. Mood lighting might be fine for listening to music but not for, say, Ducks goalie Dan Ellis facing a blast from the blue line. Then again, the Ducks were struggling in good lighting.

• LAKings.com:
Freeway Express
The lights went out at Honda Center, and things only got more strange from there. Once order, and full power, got restored, a tight game turned wild in the third period. The Kings took a two-goal lead, then lost it, then got it back, then scored a 140-foot shorthanded goal. After everyone exhaled, the scoreboard said the Kings had a 5-3 win over Anaheim before 15,412 on Thursday night.

• NHL.com:
Kings complete sweep of Ducks with 5-3 win
One of the more puzzling trends for the Los Angeles Kings this season is the lack of 5-on-5 offense: The Kings are among the NHL's worst teams in that category despite the offseason additions of Mike Richards and Simon Gagne. So L.A. got creative on Thursday night.

• Orange County Register:
Few bright spots for Ducks in another loss
A tying goal in the third period a year ago usually would have propelled the Ducks to victory. But Andrew Cogliano's score with 6:25 remaining only delayed the inevitable losing feeling, one that has occurred during a horrific 2-8-4 skid that leaves the Ducks 6-9-4 overall.

• Orange County Register:
Ducks get competitive, but hole deepens
Perry, Ryan Getzlaf and Bobby Ryan, the Bottom Line and the Ducks' three highest-paid players, were supposed to be just as expansive as expensive. They would spread themselves wide enough to cover up all the question marks below it.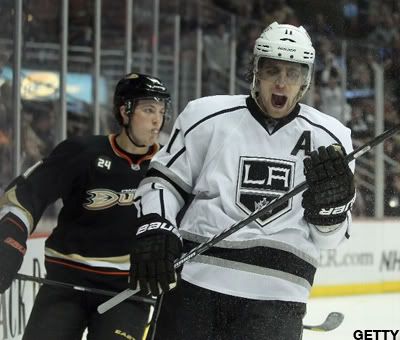 They said it
"Obviously you don't want to give up any points. At the end of the year, the three-point games are going to be all over place, so you don't want to give up points if not necessary. Last night was a big win for us, and then coming in here, we knew we obviously had a good chance of winning. We've always played pretty good in this building, so we just came out and got the job done.'' – Anze Kopitar, on holding on for the regulation win.

"I think it's just a real good team effort from us, in here, to turn it around. I think we were maybe playing 40, 45 minutes in the last five, six games ago, and that's not enough to win in this league. I thought the last few games, we've really had a team effort, really talking about a lot of stuff in the locker room, to play the right way, play for 60 and give ourselves a chance, and I think we're seeing that now.'' – Rob Scuderi, omn the back-to-back wins.

"They're very big points. Any time you play a rival team, a division game like this, it's critical that you come and play your best, that's for sure, give yourself an opportunity to get those points. I think, in both games, both teams played very hard. There were stretches in the games where both teams had good things happening in the offensive zone. They tied the game up; they had a big push. They really came at us hard. Quicker held his ground defensively. I think we competed hard in front of our net, just to get things calmed down. Made it exciting at the end. They tied it up and it was an exciting finish.'' – Terry Murray, on getting back-to-back wins for the first time since Oct. 22.

Trackbacks