Kings shoot down Ducks in first game of SoCal Salchow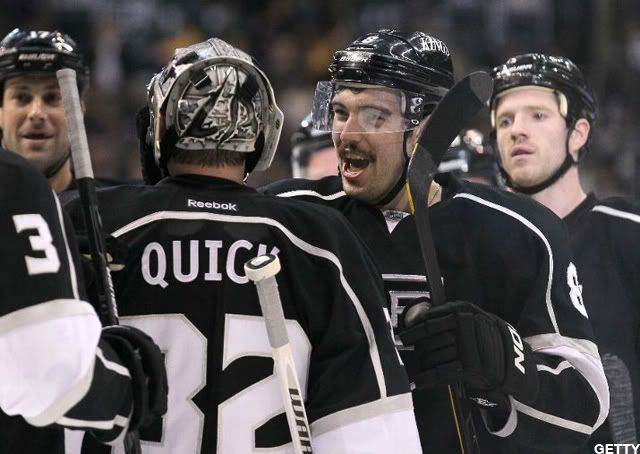 Game 18: Kings 2, Ducks 1 (shootout)
To peep out all the videos online about this game, check out today's Hockeywood Dailies.
• AP:
Quick's strong shootout leads Kings past Ducks 2-1
Jonathan Quick made 23 saves before stopping six of Anaheim's seven shootout attempts, and Justin Williams atoned for his costly penalty late in regulation with the winner in the last round of Los Angeles' 2-1 victory over the slumping Ducks on Wednesday night.

• LA Times:
Kings defeat Ducks, 2-1, in shootout
For the Kings, the power play has been a remarkably consistent asset. They have scored a power-play goal in five straight games.

• OC Register:
Goal-starved Ducks lose to Kings, 2-1
The law of averages would figure to be on the Ducks' side in an offensive drought that has lasted since the puck first dropped in Finland some 5,600 miles away. For most of the night Wednesday against the Kings, the Ducks' great chances were either flubbed, shot wide or found their way into Kings goaltender Jonathan Quick's midsection.

• LAKings.com:
Kings will a win over the Ducks
By all accounts, the Kings certainly deserved the two points. They outshot the Ducks 36-21 in regulation and played a strong two-way game, and it seemed as though Mike Richards' second-period 5-on-3 goal would hold up, particularly given the Ducks' struggles to score in 5-on-5 situations this season.

• NHL.com:
Kings top Ducks 2-1 in seven-round shootout
L.A. won back-to-back games for the first time since Oct. 20-22. The win was just the third in nine games for L.A., but Kings coach Terry Murray didn't mind taking the hard way to two points.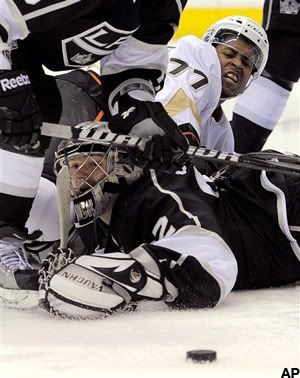 They said it
"It is definitely good to get the two points. We can't too happy about it, because they still got a point out of it. That's a game where we were outplaying them, and we've got to make sure they don't get any points and we get two. They got one there on the power play at the end that I think I could have stopped. That was a little disappointing, but to get two points, it's always good.''– Jonathan Quick, on getting the extra point, after dominating the game.

"We played well. I thought we came out hard in the third and then stepped back a little more than we wanted to. They got that power-play goal at the end but it was nice to see us win the game.'' – Mike Richards, on the game.

"I think most of us on the bench don't want to tell someone to do something, and then they mess it up and it doesn't work. They don't want to be responsible for that. [smiles] But no, I was thinking shot. The ice obviously isn't great, after three periods and overtime, regardless of how good they flood. So I think shooting the puck is probably the way to go, especially for me, because I don't really have a go-to move that I'm going to use out there. But it was nice to get the win.'' – Justin Williams, on whether there was talk on the bench of shooting high in the shootout.

"I thought both were very good. Loktionov, he's on Richards' line and they played against the top lines on Anaheim here tonight. I was very confident in his play without the puck. Both guys are very skilled with the puck. They've got a lot of composure. They see the ice to make some plays, and just settle it down when things get a little hot in the kitchen sometimes. It's a great skill to have, for young players. They're both going to be very good players.'' – Terry Murray, on the play of Loktionov and Voynov.

"You've got to celebrate the little victories. I thought we did a good job taking pucks to the net, especially in the third. We turned our game on and got going in the right direction. We were rewarded for it. I don't know if you want to call it a fluky goal, but a goal that probably is going to be saves most of the time." – Bobby Ryan, on the Teemu Selanne's fluky third period goal that tied the game and forced overtime.
Trackbacks