Weekend Returns: Quick, Kings playing like they are possessed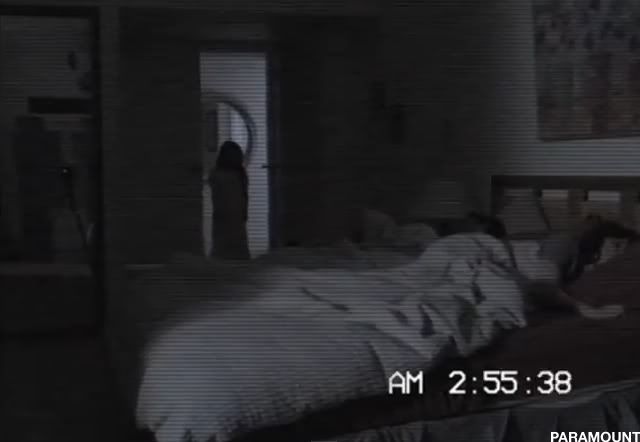 With Halloween around the corner, it only makes sense that a scary movie would dominate the Weekend Returns. But with the Saw franchise gone, and other assorted reboots (Halloween, Friday the 13th, Nightmare on Elm Street) shelved, what's left?

How about a low budget, high intensity thriller that's a prequel to a prequel? That's right, kids. The movie industry has exhausted actual linear story telling, and has decided to tell stories in reverse. Which can never end well. (Right George Lucas?)

The fact is the huddled masses want to have the crap scared out of them, and with no other horror film in theaters this haunting season, Paranormal Activity 3 scared up some awesome numbers. Like enough to grab the top spot for fall openers, according to BoxOfficeMojo.com. However, the guys over at Box Office Mojo also classify this movie in a whole new genre, Found Footage, which finds PA3 at number five... on a list of 10. (Number one is Blair Witch Project, natch.)

I admit, I watched PA2 at home with the lights out, and I was able to get my heart going pretty good. But after I heard a friend complain that the ending of Part 3 sucked, it sort of killed it for me. That and some of the best scenes from the teaser trailers were nowhere to be found in the final cut, including the Bloody Mary bit, where the girls try to summon the urban legend from the mirror, only to find a dark figure standing behind them when they leave. It gives me chills just thinking about it, but that wasn't in the final cut.

The reason why the first Paranormal Activity works was the same reason why Blair Witch Project worked. It had a feeling of a real documentary. But as soon as you experience it for the first time, anything else seems weaksauce. And that's what PA3 felt like to me. Don't get me wrong, there were some good thrills in it. But overall, Paranormal Activity 3 has many booing at the end of it, which is never good.

Awkward transition: the third installment of the Weekend Returns is actually better than the previous two: mostly because of the stellar play of Jonathan Quick's three shutouts. Where will they fall this week? Grab some candy corn and find out:

• ESPN.com's Scott Burnside's Week 3 rating: 3. Last week: 12.

The Kings are the stingiest team in the NHL. They're allowing just 1.29 goals per game thanks in large part to red-hot goalie Jonathan Quick, whose ridiculous .972 save percentage leads all NHL goalies.



• Hockey Night in Canada's Nabil Karim's Week 3 rating: 3. Last week: 13.
The Kings are starting to roll and it's largely thanks to goaltender Jonathan Quick. As our Sr. Hockey Writer Tim Wharnsby mentioned on Hockey Night Online, many people thought Jonathan Bernier was going to take the starting gig in Hollywood coming into this season. Well, the plot hasn't exactly followed the script. Quick is putting in an award winning performance with a 5-0-1 record, 0.81 GAA and silly .972 save percentage. Bravo.



• Sports Illustrated's Adrian Dater's Week 3 rating: 4. Last week: 12.

Jonathan Quick for the Vezina. The young netminder entered the week with three straight shutouts . Two more and he'll tie Brian Boucher's record of five straight in 2003-04. Quick entered Tuesday without having allowed a goal in 188 minutes 10 seconds, surpassing the franchise mark set by Rogie Vachon (184:55) in 1975. "I think he's always been a great goalie. What he's done is no surprise to anyone in here," defenseman Rob Scuderi told the Los Angeles Times. "I think it's all just clicking for him now."



• The Hockey News' Adam Proteau's Week 3 rating: 4. Last week: 8.

Thanks to Quick, Kings haven't allowed a goal since Oct. 15 and can continue that streak with two games against teams (Stars, Coyotes) they shut out last week (plus a meeting with the Devils).



• Fox Sports' Jim Rosen's Week 3 rating: 6. Last week: 13.

Jonathan Quick's shutout streak has reached more than 188 minutes, breaking a club record Rogie Vachon held for 36 years.
• CBSSportsline's Adam Gretz's Week 3 rating: 7. Last week: 17.

Jonathan Quick has started six games this season for the Kings and allowed just five goals. That includes his past three starts where he hasn't allowed any.



• TSN's Scott Cullen's Week 3 rating: 8. Last week: 10.

Jonathan Quick is riding a streak of three straight shutouts and the Kings have done a fine job defensively even without their ace blueliner, Drew Doughty, who remains sidelined.



Take the average and you get the Hockeywood Power Ranking of:


5.0.


My podcast partner Jesse suggested a little known horror movie to me, but it's not available for streaming on Netflix (which still has my business, regardless of the scores of people leaving.) Check out the trailer:


Trackbacks