Game 7: Quick's performance one for the record books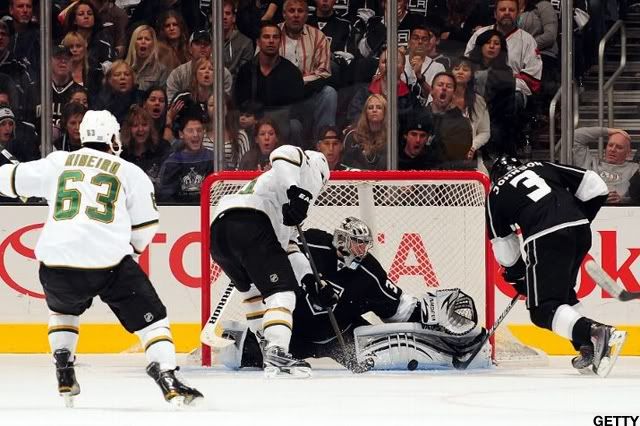 Game 7: Kings 1, Stars 0

To peep out all the videos online about this game, check out today's Hockeywood Dailies.

• AP: Quick gets 3rd straight shutout, 1-0 over Stars

Quick became the first goaltender in the franchise's 44-year history to record three consecutive shutouts and defenseman Jack Johnson scored in the third period of a 1-0 victory over the Dallas Stars on Saturday night.

• LA Times: Kings' Jonathan Quick sets standard in 1-0 win over Stars

In earning the 17th shutout of his career the 23-year-old goalie got some help from a well-placed crossbar on a shot by Michael Ryder early in the third period. Otherwise, Quick was flawless.

• LAKings.com: Quick remains perfect as Kings win 1-0

• NHL.com: Quick makes history in Kings' 1-0 win

Johnson scored on slap shot from the right point at 15:02 for his third game-winning goal this season to send the sellout crowd into eruption. Eight of the past 11 Stars-Kings meetings in Los Angeles have been one-goal games.

• Yahoo: Saturday's Three Stars: Kings' Quick sets record

Quick set a new Kings franchise record with his third straight shutout, and defenseman Jack Johnson's third-period goal — this third game-winner of the season — gave Los Angeles a 1-0 win over the Dallas Stars. Quick previously shut out the Blues and the Coyotes. He's given up five goals over his six starts.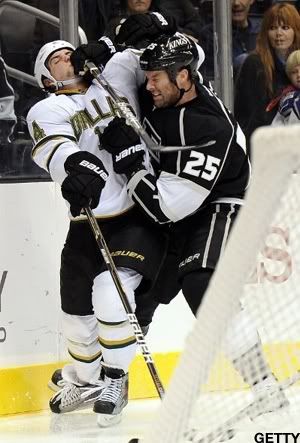 They said it
"It's great. It is a great feeling. I've never been a guy to look at numbers, shutouts, save percentage, that kind of thing. Obviously it's good to have good numbers, but you're judged by if you win or lose. That's always what is most important to me and what is most important to this team. It's just great to get the win. To get it in that fashion, it's just the icing on top.'' – Jonathan Quick, on the franchise shutout records.

"We had talked about it beforehand. Richards had said how he wanted to win it back. It was a set-up play that worked out. … Scuderi, if it was a clean enough (faceoff) win, he was going to slide it over to me and try to set me up for a one-timer. We had tried to set that up all game, and usually they're scrambled plays, but fortunately that one was a clean play and a great play by everyone, really.''– Jack Johnson, on his game-winning goal.

"Concentration. I think his mechanics, his technique, his style is in place. He's a goaltender who is instinctive. He reacts to the play. But he does have a good foundation. To me, sometimes playing a lot of games, you lose your concentration for a short period of time sometimes. Right now, he's dialed in.'' – Terry Murray, on the biggest part of Quick's game, when he's 'on'.
"He's a stud. It's no secret in here. We all know it. He's a stud. He's been doing it for a long time now for us, and it's just fun to have him there. He allows guys to play their game without a lot of fear. You never want to turn over pucks as a D-man, but at the same time, it's always nice knowing he's back there. You've got an ace in hole.'' – Matt Greene, talking about his goaltender.
Trackbacks