Game 5: Kings find their offense, mojo vs. the Blues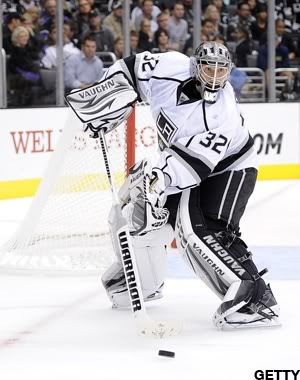 Game 5: Kings 5, Blues 0

To peep out all the videos online about this game, check out today's Hockeywood Dailies.

• AP: Kings blast Blues 5-0 in home opener

Kopitar also has returned on top of his formidable game. After missing the playoffs last season with an ankle injury, the Slovenian scorer has nine points in Los Angeles' first five games, including four multipoint games.

• LA Times: Kings' fans help make home opener a breeze

In less than five minutes, the Kings managed to transform an ordinary-looking game, almost January-like, into something special on their way to a 5-0 victory over the St. Louis Blues before a sellout crowd.



• LAKings.com: Homecoming Kings triumphant with win over Blues

There was some karma at work. Jarret Stoll made a nice pass that led to Gagne's first-period goal, then Stoll got rewarded with a second-period goal. Dustin Brown made a brilliant, backhand centering pass on Stoll's goal, and then Brown got rewarded with a 5-on-3 second-period goal.



• NHL.com: Gagne's pair leads Kings past Blues

The victory ended a four-game losing streak against St. Louis, which swept the series last season and had won eight of the previous nine meetings.



• Daily News: Kings feeling right at home

Voynov and Mitchell were paired together during the preseason while Doughty was locked in a contract dispute with the Kings, so there was some history between them. They were on the ice together when the Kings scored their first goal Tuesday.



They said it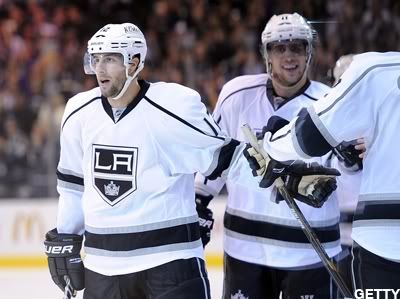 "You've just got to keep working, keep going. If you work hard enough, the bounces should go your way. Tonight, I was lucky enough to get one and just contribute any way you can, any way possible to help the team get a win and keep this thing going.'' – Jarret Stoll,

on making a nice pass, then getting rewarded with a goal

.

"It's been really good. The long road trip, sometimes it gets too long and you can have trouble focusing a little bit, but I thought the guys battled through that long trip really well. I thought it showed tonight, that everybody was ready to get the home opener out of the way. The fans were excited and we delivered tonight.'' – Anze Kopitar,

on getting points in four of the first five games



"Yes, but at the same time it's still early. It's only five games into the season. We like what we see, but we still have a lot of work to get where we want. It's a tough league now to make the playoffs. We all know that, especially in the West. Right now we like the way we play but at the same time we still have a place for improvement. It's a good start and we'll take that, that's for sure.'' – Simon Gagne, on the team's potential.

"It's just kind of icing on the cake there. At the end of the day, it's two points. That's all it is. We've got to just build off what we did here today and just continue. It's a long season. We're going to take it one game at a time and keep going here.'' – Jonathan Quick, on getting the shutout.

"I don't want to say I'm surprised. I was expecting it. Sometimes it takes a little bit longer than what you would like, and other times it happens right away. I think with Kopitar, Gagne and Williams, you know, Gagne and Williams have been together on a team, so they have a pretty good feel. When you have good players, smart players, they usually make the adjustment very quickly, and I think that's what we're seeing.'' – Terry Murray,

on if he's surprised by the early first-line chemistry

.

Trackbacks