Game 3: Kovalchuk quells Quick's shootout mastery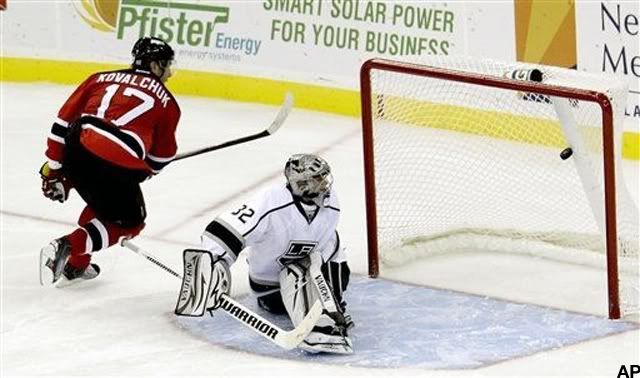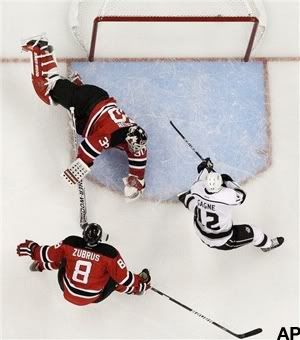 Game 3: Devils 2, Kings 1 (shootout)
To peep out all the videos online about this game, check out today's Hockeywood Dailies.
• AP:
Kovalchuk, Parise score in shootout, Devils win
Quick gave the Kings a chance to get to overtime and shootout with a brilliant third period and overtime. He stopped Petr Sykora and Ilya Kovalchuk on good chances in the third period and made a late save on Elias in overtime.

• LAKings.com:
Point taken as the Kings get stopped in shootout
In the game's opening minutes, the Kings brought great energy and intensity, scored a goal and threatened several other times. By the end of the game, though, the Kings seemed spent, emotionally and physically, and only the play of goalie Jonathan Quick allowed them to salvage one point.

• NHL.com:
Devils top Kings 2-1 in shootout
The Kings had several opportunities to add to the lead but couldn't beat Brodeur. With less than eight minutes remaining in the period, Martinez's wrist shot from the point was stopped by Brodeur with an incredible diving blocker save. Brodeur immediately began favoring his right arm and shoulder area following the denial but he remained in the game -- he skated to the Devils bench to get checked before returning to the crease to chants of "Marty."

• Star Ledger:
DeBoer tells Devils to turn on offense and 'go ' in 2-1 win
The Kings scored their only goal with the help of a bad line change by the Zach Parise-Elias-Petr Sykora line. Then, rookie defenseman Adam Larsson left the front of the net open. "There were two or three mistakes. The line change was one of them and we didn't play the 3-on-2 properly," DeBoer said. "We didn't recognize it was a 3-on-2. It was a comedy of errors."

• The Record:
Brodeur hurt in Devils 2-1 shootout win over Kings
The Kings took advantage of a bad line change by the Devils to take a 1-0 lead on Simon Gagne's 3-on-2 goal only 1:47 in. The Devils tied it with a rebound goal by Patrik Elias with 6:57 left in the first and controlled play for much of the rest of the night, outshooting the Kings, 37-27.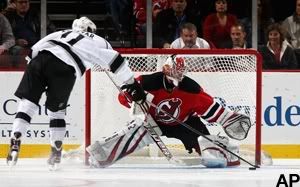 They said it
"I don't think so. We came out pretty strong and we were all over them. Then things kind of shifted in the middle of the first. Other than that, I didn't think we were sluggish or slow by any means. We've just got to work for 60 minutes.'' – Anze Kopitar, on any fatigue, coming back from Europe.

"Obviously it's good to get a point, but at the end of the day we want two, so we came up a little short. We have to figure out what we did wrong and what we have to do better, and we'll be better.'' – Jonathon Quick, on getting one point in the first game back from Europe.

"He showed that last year. He got us big points last year. I think that maturity is the right word. He really understands that now we're coming from overseas and it might be hard here, coming into a building that is very hungry. Going through what they went through last year, they're going to be ready to play, and they come out with a lot of energy and really competed hard. So he understands that now, as a young goaltender, and he battled through a lot.'' – Terry Murray, on Quick's ability to "steal'' a point in a tough game.

"I kind of tweaked my shoulder when I dove down for that shot and I lost strength in it, so didn't feel comfortable continuing. I tried to stay in but during the breaks, it started to swell a bit in the shoulder. I should be fine for Saturday (against Nashville). I just need a couple of days to rest and get swelling down. It's OK … I've tweaked it before but this was a little tougher." – Martin Brodeur, on his injury.

"The shootout is always a tossup but it's exciting. I try and keep a little mental book on the guys. I've seen Gagne before; he's very skilled so you have to prepare for anything. Kopitar beat me a few years ago, so I try to be patient and outwait them and have them make the first move." – Johan Hedberg, on facing the Kings in the shootout.

Trackbacks