The Drew Doughty You Know Phenomenon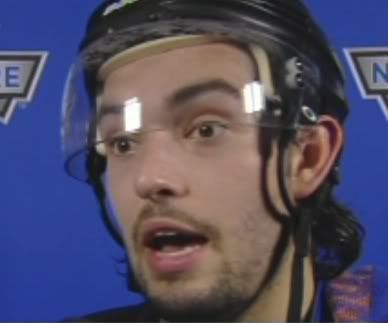 During the first game of the season, someone pointed out to me that Drew Doughty has a habit that plagues many public speakers: the use of too many 'you knows.' And now that I'm aware of it, I won't be able to stop noticing.
Believe it our not, there's actually a name for these "verbal hiccups": discourse markers.
The international encyclopedia of linguistics
defines discourse markers as "a set of linguistic items in the cognitive, social, expressive, and textual domains." In a
paper published in 2004
by Stephen M. Croucher from the University of Oklahoma, he contends that two particular markers "you know" and "like" are likely (no pun intended) the result of watching adolescent TV programs and movies in the '80s and '90s, particularly Fast Times at Ridgemont High, Melrose Place and Beverly Hills 90210.
Considering Drew was born in 1989, I doubt his use of "you know" has anything to do with Valleyspeak. All I do know is as soon as YOU notice it, you'll be in the same boat as I.
So instead of all of us writhing around in pain every time the $56 Million Man has an in-game interview, let's have a little fun. Drinking game anyone?
Trackbacks