Game 1: Kings clobber Rangers in overtime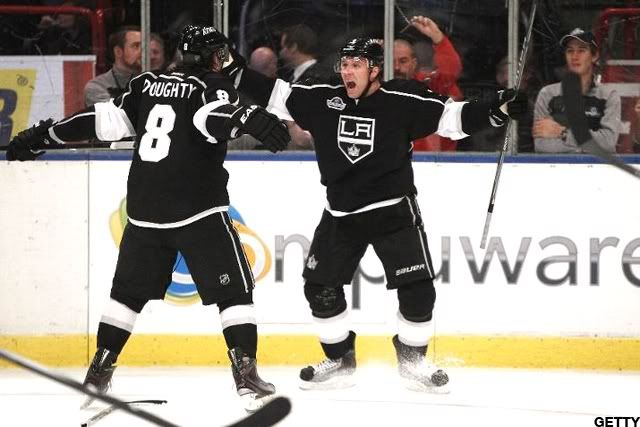 Game 1: Kings 3, Rangers 2 OT


To peep out all the videos online about this game, check out today's Hockeywood Dailies.
• AP: Kings top Rangers 3-2 in OT in Sweden

The sell-out crowd had cheered wildly for the Rangers and goaltender Lundqvist, a legend in hockey-loving Sweden, though the performance by Kopitar— who moved to Sweden when he was 16-years-old to train—didn't go unnoticed and was also appreciated by local fans.



• LA Times: Mike Richards stars as Kings beat Rangers in Sweden

With the Kings on the power play, Richards took a pass from Anze Kopitar and fed Jack Johnson, who had driven low on the left side. Johnson spoiled Rangers goaltender Henrik Lundqvist's homecoming with a quick shot four minutes eight seconds into sudden-death play.



• LAKings.com: Johnson's OT winner gives Kings a 3-2 win

The Kings were the designated home team, but the majority of the crowd favored the Rangers, mostly because of native son Lundqvist, who helped Sweden win gold in the 2006 Winter Olympics. Lundqvist was extremely sharp early, as the Kings peppered him in the first period and oustshot the Rangers 13-4. The Kings took a 1-0 lead, but it could have been more, as they failed to score on two early power plays and also were robbed by Lundqvist on a couple point-blank chances.



• NHL.com: Johnson nets overtime winner to boost Kings

With a full arsenal of talent and enough chances to get it right, the Kings are eventually going to score a power-play goal. The New York Rangers fell victim to that inevitable equation at the worst time Friday night.



From across the aisle, the Rangers viewpoint

• NY Times: Breaking Down the Rangers' Overtime Loss to the Kings

3. Drew Doughty: Proving training camp is overrated – at least for some – the contract holdout played a superb 26:54 for the Kings with less than a week of practices under his belt. That was 5 minutes more than any other skater on the team.



• N.Y. Daily News: How Swede it's not! Rangers drop season opener to Kings in OT

The Rangers (0-0-1), who got goals from captain Ryan Callahan and Marian Gaborik, narrowly escaped defeat in regulation, killing off a Kings power play after Brian Boyle took an interference penalty with two minutes, two seconds remaining and the score tied 2-2.



• Blueshirt Banter: New York Rangers Recap: OT Loss On Opening Day

Henrik Lundqvist was absolutely outstanding today, stopping shots all over the place. Lundqvist allowed three goals on thirty shots, while Kings goalie Jonathan Quick allowed two goals on twenty six shots against.



They said it
"I did play in Sweden for three years, so I feel good here. It was good to get that first (goal), to get it out of the way—for me and for the team" – Anze Kopitar, on scoring the first goal of the season for the Kings.

"I think we had confidence the whole game, really. I thought, in the first period, we really played extremely well. The second period, some things didn't quite go as well. I didn't get the sense that anyone was frustrated. I think this is a really confident group. We're really excited about what this team can do." – Jack Johnson,

on maintaining confidence despite the third-period deficit

.

"I think that's going to be the biggest thing that's going to take a little bit of time, just trying to get chemistry and where we want to be with each other on the ice. We had a couple missed chances early in the game, and it was nice to get that one." – Brad Richards,

on breaking through with the power-play goal.



"Down 2-1, you've got to get something going with your top lines. Brad Richardson used his speed wide, and you've got a guy like Richards driving through to the middle of the net. It's just one of those plays, one of those goals that happen in the NHL." – Terry Murray, on getting goals from his top two centers.

"We put ourselves in a (position) to win having a lead late in the game, but penalties killed us tonight. We can't take penalties that late in the game. It's going to catch up to you." – Rangers captain Ryan Callahan, on how penalties hurt his squad.

"It smacked us right in the face. I think we should feel good about our second and third periods, we played the way we needed to play. But to take a stupid one at the end of the third, kill that off, and then take another stupid one in overtime -- you're not going to win." – Rangers coach John Tortorella, on his team's performance.

Trackbacks