Bernier, Westgarth endure the Full Monty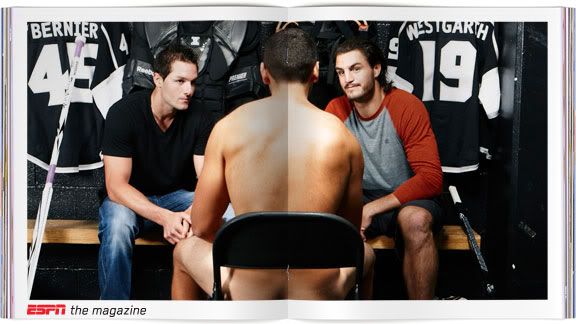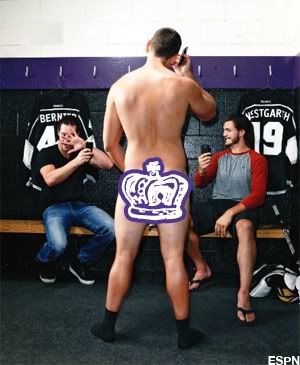 ESPN the Magazine just put out their annual Body Issue, with is basically soft core sports porn. But they had a funny feature that reminded me of a situation I was in a few years back.

The article is called Nude Awakening, and the hook is interviewing nude jocks is part of a reporter's job. So they sent Morty Ain, a reporter in nude to interview two athletes, in this case Jonathan Bernier and Kevin Westgarth of your Los Angeles Kings.
Friends often ask what it's like to deal with nude jocks in a locker room. It's not that difficult to find out for yourself. Go to your gym and stalk the biggest guy there; as soon as he exits the shower, shove a tape recorder in his face and start barking questions. You could wait for him to get dressed, but then you might not get the interview. So yes, it's awkward. You have to remember that you're invading their private space -- even when they seem casual about it.



I've been in the locker room after games at Staples Center and I have yet to be subjected to any players in the buff. That's because the locker room is more of a staging area. Wood paneling, carpeted floor, quite the opposite of what you would expect. (Just remember not to walk on the Crown in the middle of the room.)

But I wasn't so lucky when I went to a Frozen Fury a few years ago. The arena at MGM Grand doesn't have a fancy staging area for players to shed equipment and talk with reporters. It's more like your high school locker room, with flimsy chairs and showers around the corner.

I was shuttled in and was instantly met by an unnamed player who had just turned the corner from the shower. There was that initial awkwardness, but it's basically understood eye contact is key. Which was brought up in the article.

The players quickly adjust to their surroundings. Their steady, unbroken eye contact -- I think they can tell the circumference of my pupils -- calms my nerves. In fact, Bernier tells me, eye contact from a player to a reporter in the locker room is the telltale sign that it's an okay time to talk. "Wait until a guy is on his own and clearly does have a minute," adds Westgarth, who majored in psychology at Princeton.



There is an unspoken agreement between reporters and players. Both have a job to do, and it's best to get in and get out quickly. Morty Ain sums it up perfectly.

I can see what Westgarth means; this isn't that big of a deal. As the interview progresses, I actually feel more in control of the situation in the locker room than I ever have. Maybe the topic encourages them to let their guard down, or perhaps my being naked has established some bizarre kinship among us, as I am the one showing I have nothing to hide. Whatever the case, we are all respectful of the fact that clothed or not, both sides have a job to do. Ultimately, that tacit agreement is the key to any successful locker room interview.



Check out the article over at ESPN.com.

Trackbacks