Hockeywood's Top Five Road Games To Watch in 2011-12
Perhaps in all the hype surrounding the just-concluded Hockey Fest, fans may have missed the team's official broadcasting announcement on Friday. I know I did, because I live for that particular announcement with bated breath every off-season. Even more so this season.

That's because Daddy got a brand-new 55-inch HD flat screen installed in the Matt Cave. And while it has been getting a lot of mile logged on this summer with incessant episodes of Spongebob Squarepants (as well as the occasion game of NHL 95 on the Sega.), this TV was made for one thing and one thing only: to finally watch the Kings in high definition.

And this season, I shall get my wish. Turns out, 75 of the Kings' 82 games will be broadcast in glorious HD, thanks to Fox Sports and Prime Ticket.

But with this announcement of awesomeness, it was tempered with disappointment. Turns out Kings' sideline reporter and all-around great gal, Heidi Androl, did not re-up her contract with Fox Sports and will be "undertaking some exciting new ventures." And while I am bummed about Heidi moving on, I'm also stoked to find out she's still working with the team, as well as the NHL Network. From all of us here in Hockeywood, I'd like to wish Heidi the best. You're a peach, kid.

Since I'm planning on being glued to my new toy all season, I thought I'd break down the top five games I can't wait to watch in retina-melting clarity:


• Oct. 15: Kings at Philadelphia, 4 p.m., Fox Sports West
Just the fourth game of the season, the boys head to Philly to take on former teammates Wayne Simmonds and Brayden Schenn, as well as the return of Jaromir Jagr.

It's the last game of a worldwide whirlwind trip for the club, which is once again starting the season overseas.
Thankfully for the Kings, they will get a five day break before their North American debut in New Jersey.

I was a bit concerned about how the travel would weigh on the team, but was relieved to see the boys held their own back in 2007, when they split their first two games in London against the Ducks. They proceeded to reel off a 8-3 record in October. For Game 4, I plan on sitting on my couch, slack-jawed in amazement of my new TV.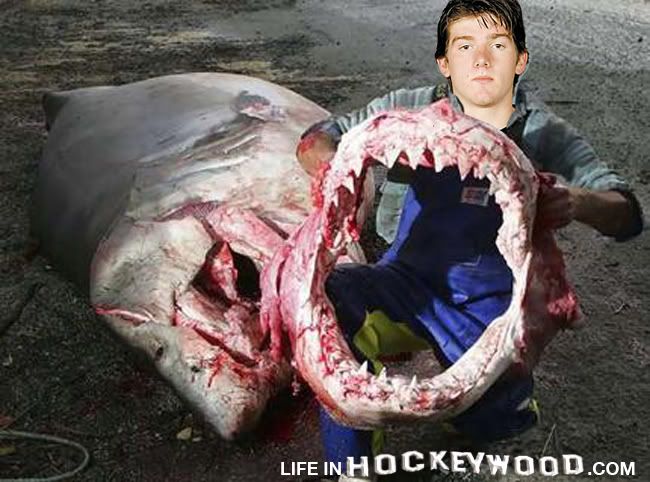 • Nov. 7: Kings at San Jose, 7:30 p.m., Fox Sports West
For two years now, the Kings have made the playoffs, which has breathed life into their schedule. Because now, instead of the usual rivalries (like against Detroit, Anaheim and Colorado), any game vs. their opponent from the previous postseason now has added importance. Last year it was the Canucks, this year, the Sharks.

The Kings took San Jose to six games in 2010, becoming the first inter-California playoff series in the NHL. Even though I secretly hoped it would've been the Kings and Ducks to square off in the first SoCal Salchow that actually meant something, I'll accept this renewed rivalry. However, this time, the Kings head into their first matchup against the Sharks with (hopefully) more weapons.

That's right, the Kings got a bigger boat. (Ugh, I feel dirty now.)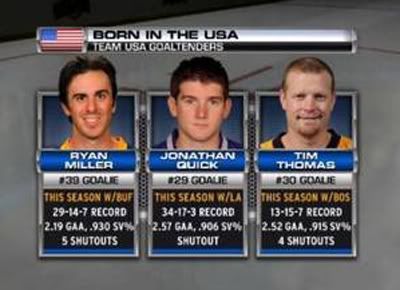 • Dec. 13: Kings at Boston, 4 p.m., Fox Sports West
The Bruins get a nod in my top 5, for two reasons. The first: defending Stanley Cup champions, duh. The second: The second matchup between stellar goaltenders Jonathan Quick and Tim Thomas.

Over the past three seasons, these two guys have matched up four times, and Quick has come out on top (one shutout win in regulation, one in OT and two in the shootout.) Last season, both Quick and Thomas led their team with 35 goals.

It's a storyline that may elude the average fan, but eventually the torch will be passed from Thomas to Quick as the top goaltender for USA Hockey. Don't forget, the 2014 Olympics in Sochi are right around the corner.


• Dec. 29, Kings at Winnipeg, 4 p.m., Fox Sports West
Do you know how long I've been waiting to see this matchup? The NHL hasn't played in Winnipeg since 1996, so to see a team actually return to Canada is refreshing. Don't let the new logos, jerseys, and hometown fool you; the Jets should be a decent team this season. And I know I'm not the only one whose excited about the 'Peg being back in the NHL.

Don Cherry said back in August that he's got a special jacket ready to go, and he's bringing his own picture of Queen Elizabeth II when he hosts a special Coaches Corner on their season opener. (In the old Winnipeg Arena, a 5 meter by 7 meter painting of QE2 gazed down on fans.) While I commend him for wanting to keep it old school, perhaps he should upgrade and bring a picture of another royally hot lady, Pippa Middleton.

• Feb. 7, Kings at Tampa Bay, 4 p.m., Versus
The fifth game I can't wait to watch at home is also a Southeast Division team, but one that is ultimately way more talented. The Blots took the eventual champs, the Bruins, to seven games in the Eastern Conference Finals. The Lightning are stacked with talent, with the one-two punch of Martin St. Louis and Steven Stamkos. Maybe by this game, the Kings will have signed their stud from the 2008 Draft, Drew Doughty. But mostly I want to see what Steve Downie will do to top his last game against the Kings.

That's it: my Top 5. What games are you looking forward to? (And no, you can't say the Winter Classic.)


Trackbacks