Playoff Game 2: Kings, Quick render Sharks toothless in shutout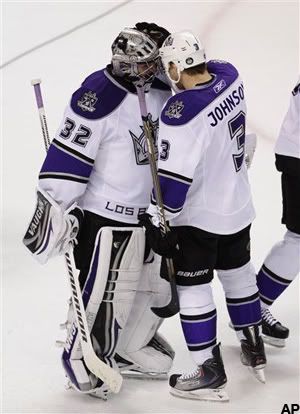 Game 2: Kings 4, Sharks 0
To peep out all the videos online about this game, check out today's Hockeywood Dailies. Also take a listen to the Game Two edition of The Hockeywood Insider podcast.
Anze Kopitar out with a broken ankle, Jarret Stoll suspended one game, reports of John Zeiler back in L.A. The outlook for Game Two didn't look very good for the Los Angeles Kings. Until something remarkable happened...
The team found their swagger.
To be honest, they always had it. Game One's result was disappointing, sure. But the Kings were right there, matching the Sharks in goals, and sent it to overtime. They played what I thought was the perfect game in Game One, matching the high-octane offense of the Sharks with their now trademark scrappiness and defensive prowess.
But I was wrong. Game Two was perfection personified. And the hero of the day was goaltender Jonathan Quick, who stood on his head in Game One with 42 saves, turned around with another stellar effort, turning away all 34 shots to earn his first playoff shutout. And while doing that, he joined some heady company.
According to the stat guys on Fox Sports, the Kings have registered six playoff shutouts. Terry Sawchuk in 1965 against the North Stars, Rogie Vachon in 1976 against the Atlanta Flames, then Felix Potvin registered three (twice in 2001 vs. Colorado and again in 2002 vs. the Avs.)
It was Quick's second shutout against the Sharks in HP Pavilion, where the Kings won't have to win again if they take all three games at Staples Center. But let's not get too far ahead of ourselves.
Quick was a big reason for the win, certainly. But the entire team shout get credit for their defensive play. At the final count, the team had 22 blocked shots, which means Quick could have easily faced over 50 shots. Led by Drew Doughty, who also scored two goals, the Kings are sure to have plenty of sore ribs Sunday morning.
Speaking of Doughty, how good was he and fellow defenseman Jack Johnson? Someone had to step up in the absence of Kopitar, and who thought it would be Doughty? Starting off the season, it looked as if he was finally going to hit his sophomore slump.
Guess he was just biding his time until the playoffs. He led the Kings once again in ice time, had two goals and two assists. Pssssst, hey Dean... you know what you need to do if he keeps this up, right?
And for the second game, the Kings' power play reared its' head. To me, that was the most confounding thing about the Kings this season. Their power play percentage was just crap. Their defensive game was solid, but they couldn't put the puck in the net. It got so bad, some fans were jokingly considering petitioning the NHL to allow a team to wave off a penalty.
Two guys had quiet games but their presense was felt throughout the game. The first was Dustin Penner. Playing on the line with Dustin Brown and Michal Handzus, Penner looked more comfortable out there and actually got into the shooting mode. He also had no giveaways and played well.
Kyle Clifford also tallied his first playoff goal, got an assist on Doughty's second goal and also got a roughing penalty. Clifford is slowly turning into a force right before our eyes, although the seemingly ever-present shiner under his left eye never seems to heal.
The Kings head back home with the series tied, 1-1. Hmmmmm,
when have we seen this before
? Oh yeah, that's right. The Kings will get Stoll back, but the same questions remain. Who is going to step up in Game Three? Will Drew Doughty continue his torrid pace in the postseason? Can Dustin Penner find his touch? Can Ryan Smyth and Michal Handzus continue to be a handful? And can L.A. do the unthinkable? We shall see.
• AP:
Doughty leads Kings past Sharks in Game 2
The Sharks took too many undisciplined penalties and were unable to generate many good offensive chances against Quick, drawing the ire of their usually supportive fans who booed the home team sporadically throughout the game. Antti Niemi allowed the four goals on 23 shots to lose for the first time in four postseason starts at the Shark Tank.

• LA Times:
Kings power up to tie series with Sharks
Drew Doughty tied a club playoff record for defensemen by recording four points in a 4-0 victory over the Sharks that tied the teams' first-round playoff series at one game each and was a reminder of the dominant force he has too rarely been this season.

• LAKings.com:
Never a Dought as Kings beat Sharks
Drew Doughty had two goals and two assists, Jack Johnson had one goal and one assist and Kyle Clifford had a game-clinching goal early in the third period as the Kings evened the series 1-1 heading into Tuesday night's Game 3 at STAPLES Center.

• Mercury News:
Sharks stumble to 4-0 loss to Kings in Game 2
Instead of playing the kind of hockey that vaulted them to the No. 2 seed in the Western Conference over the past three months, the Sharks on Saturday night looked more like the disjointed squad that struggled through early January.

• NHL.com:
Kings even series by beating Sharks 4-0
The Stanley Cup Playoffs can turn into a coming-out-party for a player who has been performing under the radar -– not that Drew Doughty hasn't already earned a reputation as one of the NHL's elite defensemen in just his third season.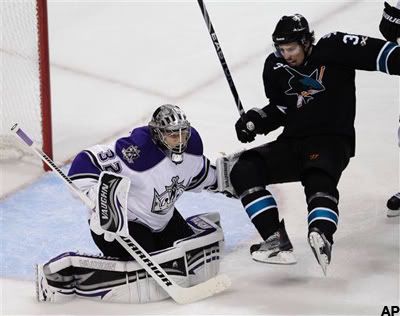 They said it
"I was definitely a little more motivated. I was a little upset when I messed up on that one goal in the first game. Not that I was going to over-do it and try to make up for it too much, but I definitely wanted to, and I thought i played a good game tonight. We're just really looking forward to taking this momentum back to L.A." – Drew Doughty, on his game, coming off Game 1.

"We know what kind of character we have in this locker room. With a couple guys out, we've still got to do the same thing, even if they're in the lineup. That's when our team plays best, is when we play from our system, strong defensively, and then we get our chances from there. The power play had some great opportunities and scored a few big goals for us early on. It's only one win. We've got a long way to go. We're looking forward to Game 3." – Jonathan Quick, on the Kings' effort.

"Our m.o. is, we want to be a good defending hockey club. I think you've got to be a good defending team in order to win in the National Hockey League during the regular season, and it becomes highlighted even more in the playoffs. This was a game that we needed that back end to step up and really do a job for us. Quick, those seven guys back there, did a tremendous job, moving pucks whenever the opportunity was there, just getting out of trouble. At the other times, big penalty kills, blocking shots and just everybody dug in. Scuderi with his big stick. Mitchell, he's got the same kind of stick, tremendous range, and I thought discouraged a lot of shots. They were able to break up a lot of passes through the seams." – Terry Murray, on the Kings' defensive game.

"I'm disappointed in our team. It's hard to find two or three guys who really competed at the level they needed to. We need to be better in a lot of different areas." – Sharks coach Todd McLellan, on his team's effort.

"We had dumb penalties in the first. We saw them all and the replay on all of them and they were all pretty stupid. Whether it's being too pumped up or not, you have to control your emotions out there. Two power-play goals, that isn't very good." – Sharks defenseman Dan Boyle, on the Sharks' defensive breakdown.

Trackbacks