Game 82: Kings limp to finish line with some big questions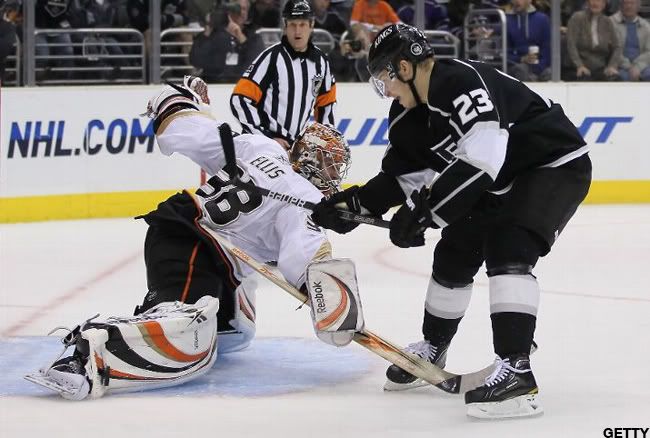 Game 82: Ducks 3, Kings 1
To peep out all the videos online about this game, check out today's Hockeywood Dailies.
In true rollercoaster fashion, the Kings regular season rolled slowly to a stop Saturday night after being handed a deflating loss by crosstown rival Ducks.
Deflating in the the fact that the Kings started the game in fourth place and ended being leaped over by the suddenly dangerous Ducks and Phoenix. And, instead of getting home ice advantage, they now have to wait to see if they need to bring their passports or just their duffel bags.
If the games were decided on effort, the Kings would have won Saturday. They looked like a team that knew it needed to step up. But they were bringing plastic knives to a gun fight. Only six teams had a worse goals for average, all of which are nowhere near the playoffs.
Having a killer defense is one thing, but you need to put the biscuit in the basket if you hope to win. As I had mentioned earlier, there was one team in the last decade that won the Stanley Cup with a weak goals per game average. That was New Jersey, back in 2002-03 with their 14th-ranked offense, playing in front of one of the greatest goaltenders of all time.
The turning point of the game was the short-handed attempt by Dustin Brown, who was able to sneak behind the Ducks' power play for a shot attempt on the Ducks' Dan Ellis. Not only was he stonewalled by Ellis, but the Ducks grabbed the puck, skated down and made it 3-0 on a Francois Beauchemin goal. Ouch.
The Kings had a ton of chances to strike during Saturday's game, especially when Ryan Smyth drew a four-minute major for getting smacked in the mouth with a Beauchemin stick. Out of seven chances, the Kings only connected once, and that was done by Smyth. Captain Canada has the dubious honor of scoring the first and last Kings goal at Staples in the 2010-11 regular season.
Things got punchy in the third period, literally. And I witnessed something that I swore I've never seen: Teemu Selanne threw down. And not with some scrub, but Brad Richardson. Old man held his own. It's hard not to respect the Finnish Flash.
Other than that, the game ended with a disappointing thud, and the Kings have to wait to see where they are going to play. My wish to meet up with the Red Wings was dashed, since they are locked into third. The Kings could conceivably finish in eighth place, which would mean a second date against the Canucks. But far more attractive is a matchup against the San Jose Sharks. It would be the first time two West Coast teams would square off in the playoffs.
Not that there's anything wrong with pausing to reflect on the season the Kings have had. Like I mentioned earlier, they had a tremendous penalty kill, and their defensive game was the main reason for their success this season. They did have five 20-goal scorers (Brown, Anze Kopitar, Justin Williams, Ryan Smyth and Jarret Stoll) and added a sixth when they got Dustin Penner.
They finished with 46 wins, which ties the franchise record. There were money in the shootout, especially when Jonathan Quick was in net. Quick was great all season, finishing the season by being tied for fourth with Washington's Semyon Varlamov.
There's plenty of hockey to be played in California, so sit back and strap in. The mood and game changes in the postseason. Maybe the Kings can find their stroke in the first round.
• AP:
Ducks beat Kings 3-1 to seize No. 4 seed in West
Just two days ago, the Anaheim Ducks didn't know whether their six-week sprint to the regular season's finish line would even get them into the playoffs. With two bruising victories over their crosstown rivals this weekend, these remarkable Ducks are in, all right—and they even get to stay home for their first two postseason games next week.

• LA Times:
Ducks, Kings are headed in opposite directions as regular season ends
The Kings, whose lone power-play goal in seven chances Saturday was their only man-advantage goal in their last seven games, can finish no higher than seventh place, a dispiriting end to a season that was supposed to cement their status as an up-and-coming league power.

• OC Register:
Ducks get a lot accomplished with victory
Two questions surround the Ducks as they start to prepare for Game 1 of a quarterfinal-round series: Who will they play in the first round? And who will start for the Ducks in goal?

• LAKings.com:
Kings stopped by the Ducks
The regular season is done and the first round of the playoffs awaits, and with it will come a significant question: how are the Kings going to score enough to win? It's a challenge they will have to meet, and they didn't seem to have many answers Saturday night as they lost to the Anaheim Ducks 3-1 before a standing-room-only crowd of 18,203.

• NHL.com:
Ducks grab home ice by beating Kings 3-1
Anaheim's win, combined with losses by Phoenix and Nashville, secured the fourth seed for the Ducks in a profound turn of events for the Southern California rivals.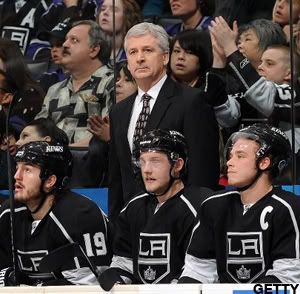 They said it
"We need 20 players every night. We don't have the type of team that can get by if we don't have everyone. We need everyone going, and secondly we need to find ways to score goals. The first one kind of leads to the second one. If we have everyone going, it kind of makes it easier on everyone to produce chances and goals. We need 20 players." – Dustin Brown, on what needs to improve going into the playoffs.

"The opportunity was there early in the game. We had a couple of power plays, we had some pretty good momentum there. We're not scoring on the power play, but at least some things are starting to go on the offensive zone, and we take a too many men on the ice, and that was a tough one. Kills the momentum, I thought, and now they end up with a 5-on-3 coming out of that. It's a tough situation to start off at home. That was just a disappointing part of it at the start." – Terry Murray, on the game.

"...We got a lot of pucks to the net. Ellis made some big saves for them and possibly stole the game for them. ... They battled through a lot of adversity to get to where they are. At the end of the day that's where we wanted to be." – Jonathan Quick, on the effort from his team.

"They really brought it tonight. It wasn't that the initial shot was dangerous but they had lots of traffic. They're always in front of the net and make it difficult to see. You've just got to try to look around them and make a good block and hope it hits you." – Ducks goaltender Dan Ellis, about the Kings.

Trackbacks