Game 76: Brown just brings it as Kings celebrate Shutout Day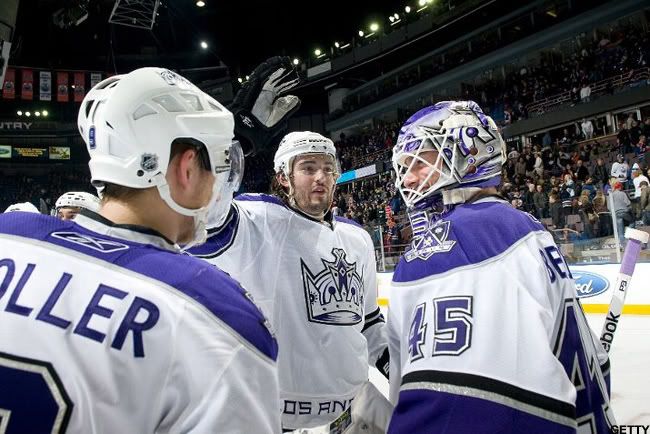 Game 76: Kings 2, Oilers 0
To peep out all the videos online about this game, check out today's Hockeywood Dailies.
2011 Anno Kopi (or the beginning of the era without All-Star center Anze Kopitar) got off to an encouraging start when the Kings skated into Edmonton and blanked the Oilers, 2-0.
For the first time in 330 games, the Kings were without the w
ünderkind Kopitar
, who was striken with a broken ank... er, lower body injury on Saturday against the Avalanche. And a lot of the speculation revolved around the Kings' 23-ranked offense. What were the lines going to be? Who was going to step up and score? Will the Kings fold like a cheap card table and fall out of the playoff race?
Well as expected, the Slovenian Stunner was replaced by the Slovakian Steam Train, Michal Handzus. He joined the top line of Dustin Penner and Oscar Moller. Trevor Lewis stepped into the second line with Dustin Brown and Ryan Smyth. Jarret Stoll centered the line between Wayne Simmonds and Alexei Ponikarovsky, while the hard-hitting fourth line featured the Legion of Boom: Brad Richardson, Kevin Westgarth and Kyle Clifford.
The first period didn't seem promising. The Kings drew three penalties, but were unable to crack former Long Beach Ice Dog (LOL) Nikolai Khabibulin. 18 shots were thrown at the 'Bulin Wall, and they were all rebuffed. It looked as if it was going to be that kind of night for the Kings, lose embarrassingly to a cellar-dwelling Oiler squad minus all their injured young talent.
But, the Kings would not be denied, and finally overwhelmed the Oilers in the second period. It wasn't pretty, but it was effective. The Captain Dustin Brown, who has been on fire for the past month (6 G, 4 A), smacked a beautiful pass from Lewis past Khabibulin to put the Kings up, 1-0. Later in the period, Brown and Lewis hooked up again for a short-range strike to give the Kings a 2-goal cushion.
After that, it was all Jonathan Bernier, who was getting the start in place of Jonathan Quick. Bernier turned away all 32 shots he faced, allowing him to celebrate
Shutout Day
for the third time this season. Turns out Brown and Bernier heeded the call and stepped up.
It was a solid win against the really bad Oilers, currently in the throughs of a 10-game losing streak. This is also a franchise that has seen plenty of former players leave for Los Angeles. On Tuesday, both Dustin Penner and Captain Canada, Ryan Smyth, returned and left those fans pining for their scrappy play.
Fortunately for L.A., the Oilers weren't as stacked as their next opponents, the Vancouver Canucks. By winning on Tuesday, it should provide a boost to this club. They can with with defense and goaltending. It all hinges on whether or not the offense can start to click. But Brown can't do it on his own. He'll need players like Penner, Moller, Lewis, Simmonds, et al. to carry the load and keep the Kings viewed as a multi-headed hydra rather than a one-line wonder.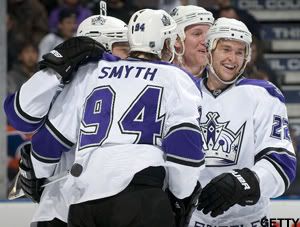 • AP:
Brown and Bernier, Kings top Oilers 2-0
The Kings have won four straight and are 8-1-1 in their last 10 games. They moved out of a tie with Nashville and remained one point behind fourth-place Phoenix in the Western Conference.

• LA Times:
Kings' life without Anze Kopitar begins with a victory
Without the inventiveness of forwards Anze Kopitar and Justin Williams, the Kings on Tuesday relied on grit and defense. They killed both penalties called against them, created scoring chances through hard work rather than sleight of hand and got solid goaltending from Jonathan Bernier, who stopped 32 shots for his third shutout this season.

• LAKings.com:
Bernier strikes Oil as Kings beat Edmonton
Oh, Canada, it was a good night to be an American-born King. Dustin Brown and Trevor Lewis are the only American forwards on the Kings' active roster, and they combined on two outstanding goals as the Kings earned an important 2-0 victory over the Edmonton Oilers on Tuesday night at Rexall Place.

• NHL.com:
Brown's pair leads Kings to 2-0 win over Oilers
The win gives the Kings a sweep of the four-game season series against the Oilers. It's the first time since Edmonton joined the NHL for the 1979-80 season the Kings have swept a season series from the Oilers.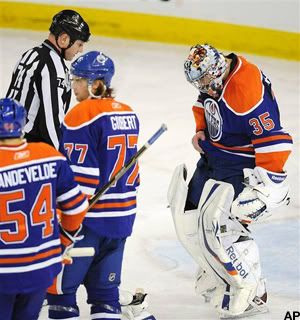 From across the aisle, the Edmonton view
• Edmonton Journal:
Edmonton Oilers lose 2-0 to Los Angeles Kings
It was hard to say who would have relished a win more: The voice behind the microphone for 37 years or the 38-year-old in front of the Edmonton Oilers net. In the end, it didn't matter because Los Angeles Kings captain Dustin Brown made them both blue.

• Edmonton Sun:
Oilers blanked by Kings
The Oilers were shut out for the seventh time this season (nearly 10% of their games) and have been held to one goal 17 times. Clearly, offence is a problem.

• TSN.ca:
Kings improve playoff position with win over Oilers
Edmonton's Nikolai Khabibulin was the busiest of the two goalies during the scoreless first period. Khabibulin faced 18 shots, the best of which was a partial breakaway stop on Kings captain Brown.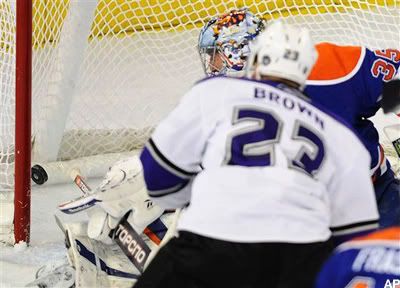 They said it
"I think this was an important game for us, as a team, considering everything that has happened in the last week with injuries. I thought we had the right attitude coming out. Coming into this game, that was the one thing we were concerned about, was how we were going to react to the adversity that we're going to have to go through, and I thought we played a real solid game." – Dustin Brown, on the importance of the win.

"We're a good defensive team and that's going to have to remain a constant for us to have a chance to win games. It's going to have to be like this the rest of the way for us to give ourselves a chance." – Rob Scuderi, on the rest of the season should be like.

"I just come in with the same attitude, and a checking mindset, and some things come naturally when you're playing with a little more offensive guys. I've just got to keep going." – Trevor Lewis, on playing the same type of game, in a new role.

"Everybody should have a bit more pressure on them. When you lose two guys like that, as a team you have to play better offensively. We are pretty sound defensively and in net but it looks like we will have to score by committee now." – Dustin Penner, on feeling the pressure to step in in the absence of Kopitar and Williams.

"His game is real good here, in the last half of the year, since the All-Star break. I think his composure, his aggressiveness, he's already out on the shooter, so he doesn't have to overreact. He just looks so composed and compact and makes it, at times, look like a real fundamental play, when actually it's a hard save." – Terry Murray, on Jonathan Bernier's game.

Trackbacks