Weekend Returns #23: Kings' upside is seemingly 'Limitless'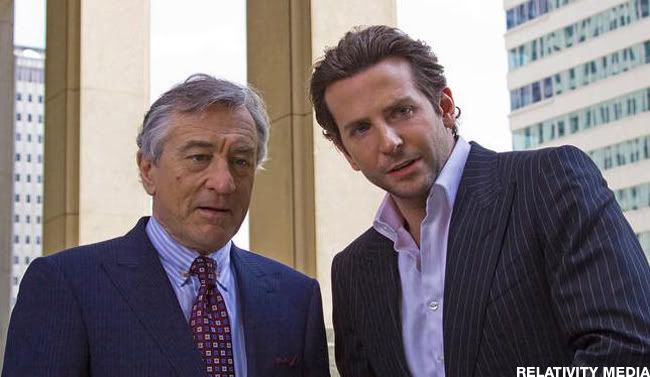 The number one movie at the box office this weekend was, surprisingly, Limitless. The thriller, starring The Hangover's Bradley Cooper and überstar Robert DeNiro, actually only made around $19 million, which was less than thrillers from previous weeks, like
Unknown
and
The Adjustment Bureau
. If fact, it makes you wonder if Matt Damon's
Bureau
would've nabbed top spot had they waited a week so it wouldn't have gone head-to-head with Rango last week.
It was also surprising, because I thought for sure Rango was going to take it for a second week. But I actually saw Rango and was left with a weird after-taste in my mouth. Like dark chocolate. I went expecting something, got something else entirely and left wondering if I liked it or not. It was a bizarre movie. The only thing I can say that I truly didn't like was the use of "H-E-double hockey sticks" and the other word of "Heck."
Believe me, I am no prude. I have been known to curse like a sailor. But I also try to curb that around my kids. This was a movie put out by Nickelodeon, I wasn't expecting to hear a chameleon drop words like that. Even my daughter looked a little taken aback. Other than that, Rango is... interesting.
Back to Limitless... I feel a little vindicated that it did well since I featured it way back on Week 12 of the Weekend Returns. Part of it has to do with Bradley Cooper, whose smarmy, boyish charm is not unlike a certain blogger. But part of it also is sometimes, just sometimes, people want to see a good drama. And for all intents and purposes, Limitless was that this past weekend.
Something that wasn't in limitless supply this past week was wins for the Kings. Going 1-2 might drop the Kings out of the top 10. Did they? Let's look, shall wee?
• TSN's Scott Cullen's
Week 23 rating
: 6. Last week: 6.
One regulation loss in the last seven, which is fairly remarkable given the lack of secondary production the Kings are getting – most notably from LW Ryan Smyth and C Jarret Stoll, who have combined for two assists and a minus-14 rating in those seven games.

• CBSSportsline's Wes Goldstein's
Week 23 rating
: 6. Last week: 6.
The PK unit continues to be a key to the Kings success. The unit has stopped its last 29 chances and 72 of the last 77.

• L.A. Times' Helene Elliott's
Week 23 rating
: 9. Last week: 8.
Clutch shootout victory over Calgary on Monday ended a four-game home winless streak.

• Fox Sports' Robert Picarello's
Week 23 rating
: 10. Last week: 9.
A 4-0 loss to the Blues last week was a twin-killer for the Kings, as the defeat put an end to a four-game winning streak and a five-game points streak. L.A. closed out the week with a crucial division loss in overtime to the Ducks.

• ESPN.com's Scott Burnside's
Week 23 rating
: 11. Last week: 13.
The Kings produced a terrific, four-game sweep on their road trip, then dropped two home losses. They'll welcome Calgary on Monday night and San Jose on Thursday night.

• The Hockey News' Adam Proteau's
Week 23 rating
: 11. Last week: 8.
Kings haven't lost more than two in a row since mid-January.

• Sportsnet's Scott Brophy's
Week 23 rating
: 13. Last week: 9.
After wining four straight, the Kings drop a pair including an embarrassing 4-0 decision to St. Louis, where they were out-shot 13-2 in the first period and 17-4 in the second.

Take the average and you get the Kings' official Hockeywood Power Ranking of...
9.4.
A movie that happened to catch my attention on the side of my Facebook page, of all places, is called Hanna. It's the story of a girl who was raised an ex-CIA agent and trained to be an assassin. And here I thought I was the only one...
Trackbacks