Willie Mitchell is going to have his head examined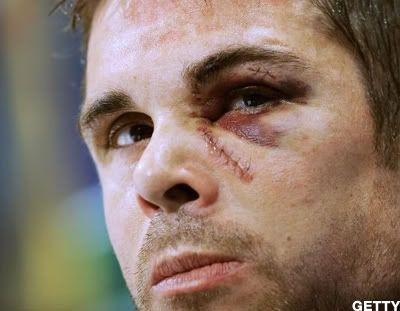 According to a report from
Yahoo!'s Nicholas J. Cotsonika
, the Kings' Willie Mitchell plans on donating his brain to science after he dies to aid in research about the effects of concussions.
Following
the news
about recently deceased NHL fighter Bob Probert had suffered from Chronic Traumatic Encephalopathy (or CTE), a condition brought on by his rough style of play. With 3,300 minutes in the penalty box, Probert took crap from no one. According to the website
hockeyfights.com
, Probert was involved in over 200 fights. The number of concussions? Who knows?
Mitchell has had three, the last one lasted the longest (seven months). He described to Cotsonika what it felt like dealing with a concussion.
"You don't feel right. You're sick. You're sick, right? You get a little snippet into life of feeling like you have a terminal illness. Not the physical aspect, the emotional aspect of it, too. I know what I went through.
"I could hate you. You could have done something to me, it's the worst thing in the world, but I'd never want you to go through what I went through or what those other guys are going through. It's not fun."

After his experience and learning Keith Primeau plans on donating his brain when he passes on, Mitchell has told his wife what his wishes were.
"Why not do something like that?" Mitchell said. "Science is relatively unexplored on concussions. We're learning as we go. We don't know protocols. We don't know all that stuff as far as healing it yet. And so any little bit of information that they can get that helps the situation would be great."

Mitchell recently got a scare when he took a puck off his face against the Coyotes' Kyle Turris. Other than getting 40 stitches,
he was relieved
when he was cleared to play. Even though he hasn't started the formal process of signing over his gray matter, it's encouraging to read about anyone who hopes to further science through his traumatic experience in the hopes of helping others.
Trackbacks