Game 62: Kings hopefully learn valuable lesson vs. Avs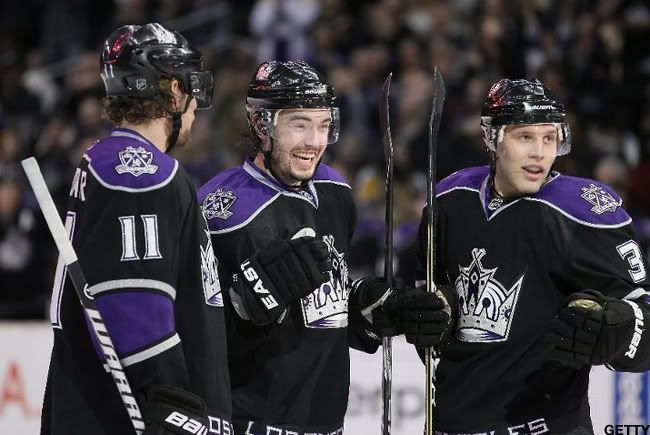 Game 62: Kings 4, Avalanche 3
• To peep out the Hockeywood Dailies from this game, click here.
For some games this season, the Kings played catch-up the whole game to their opponents. Other times, they would start strong in the first, slip in the second and finish strong again in the third. Still other games, the Kings have been completely dominant throughout.
But on Saturday afternoon, the Kings did something original this season: they played 50 dominant minutes and built a 4-0 lead, only to allow three goals in the final 10 minutes, but yet hold on for the win. You have to give the Kings some credit: they like to keep it interesting.
L.A. continued their torrid February, going 8-1-3, and are riding an 11-1-3 streak that started in January. And it seems some of the Kings' key cogs are starting to contribute.
Anze Kopitar has a goal and assist in the game, to join Luc Robitaille as the only King to score at least 20 goals in their first five seasons in L.A. The player that Dean Lombardi was implying would become the offensive juggernaut when Ilya Kovalchuk snubbed the Left Coast is on fire. He now has four goals and six assists in his last eight games.
The Kings continued to dominate all game, outshooting the Avalanche 42-17. The Kings scored not one, but two power play goals (Doughty and Stoll). And for the third straight games, a Kings' defenseman potted a goal, when Martinez scored in the second.
Even though L.A. scored with a man-advantage, they struggled with the two-man advantage. Twice in the game, the Kings enjoyed a two-man advantage, only to see the opportunity frittered away. The more things change, the more they stay the same.
When the Avs made it 4-3 with 30 seconds to go, it was nervous time in Staples Center. But the Kings were able to hang on and tallied another two oh-so-important points in the wild Western Conference. More importantly, by dodging a bullet that late in the game, the Kings hopefully have learned there are no loaf plays/shifts/periods. All out, all the time.
• AP:
Quick, Kings hold on to beat Avalanche 4-3
The Avalanche had totaled only 14 shots before Kings defenseman Matt Greene was sent off for interference with 8:53 remaining. Stoll joined him in the penalty box 13 seconds later for hooking. Jones scored his first goal on a power play, and the other came one second after Stoll left the box.

• LA Times:
Kings hang on for a 4-3 victory against Avalanche
The Kings didn't miss Sturm on Saturday in a 4-3 victory over the Colorado Avalanche at Staples Center, controlling the game until Colorado rediscovered a shred of pride in the third period and scored three times, with the first goal coming on a five-on-three advantage.

• LAKings.com:
Photo finish as Kings beat Avalanche 4-3
The question now becomes whether the Kings will add a forward before Monday's trade deadline. With exactly six weeks left in the regular season, every victory is huge, but on Saturday afternoon the Kings turned what should have been a laugher in a nail-biter.

• NHL.com:
Kings hang on to beat Avs 4-3
Despite the late scare, the Kings now have 74 points, fifth in the West and one in back of fourth-place Phoenix, which has played one more game.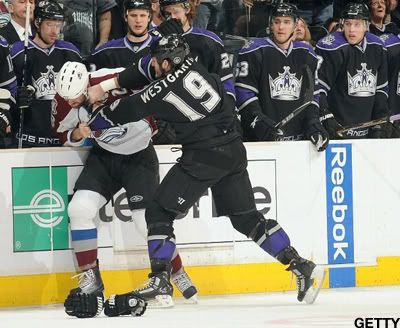 They said it
"Obviously we're pretty happy with the game we played today. We dominated pretty much the whole thing, but obviously not happy with our lapse at the end there. Good teams shut things down, and we didn't do that today but we can in the future." – Drew Doughty, on the game.

"We came down here and saw the lineup on the board and that was it. I've played with Richie and Simmer, not too long ago, so it wasn't too hard. I think they know what my skills are and I know what their skills are, so it's not that big of a secret." – Anze Kopitar, on adjusting to the late lineup change.

"There have been zero conversations with Dean and I about any player that's out there. That's not my job. My history, with all the teams that I've been around, is that if there's something that's almost definite, now we can talk and, `What do you think?' I like our team. I like the way it is right now. We've got a great chemistry, and that's so important, to have that chemistry. You can put a lot of different people into the dressing room and if it doesn't work, boy, you're very frustrated as an organization, and heading down the wrong path because, probably, you're going to have to blow a lot of it up in order to get it back together again. We've got a good group of guys that play hard for each other." – Coach Terry Murray, on his conversations with Dean Lombardi about potential trades.

"I think Dean has to be happy with what we've got going now, but who knows if he wants to add or subtract or what he wants to do?" – Matt Greene, on what he thinks Dean Lombardi might do before the trade deadline.

Trackbacks