Weekend Returns #19: Long-term effect of L.A.'s point streak Unknown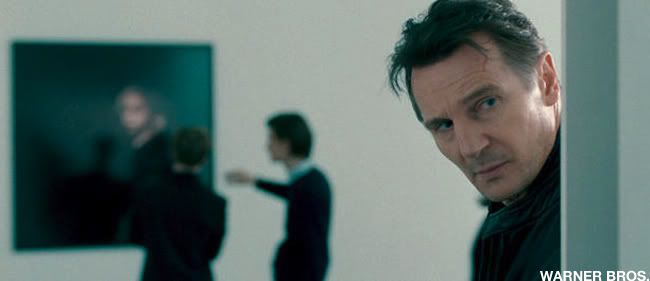 The number one movie at the box office this week was
the Liam Neeson action thriller Unknown
. And what is unknown for me is this: when did Liam Neeson get elevated to the status of action hero, alongside other stars like Matt Damon, Brad Pitt and Jason Statham?
Look, it's not an age thing: I'd buy Harrison Ford or Pierce Brosnan in action roles. But, Neeson's dramatic turns in serious fare like Schindler's List, Nell, Kinsey and Rob Roy earned him rave reviews.
But I think it was his roles as Qui-Gon Jinn in Phantom Menace and Ra's al Ghul in Batman Begins that revitalized his action street cred. Add his recent turns as Hannibal in The A-Team and Zeus in Clash of the Titans (RELEASE THE KRAKEN!) and you have to give the dude some props.
Don't forget, one of Neeson's first roles on the silver screen was
Keegan in the movie Krull
. (One of the first
video games
tied in with a movie, BTW. I was a big fan.) He was also Darkman, the cult film by Sam Raimi. which Little known fact: Neeson was considered for James Bond in the movie Goldeneye, but lost it to fellow Irishman Brosnan.
More surprising than the fact Neeson is now considered an action star was the fact that the movie beat out two Disney movies, Gnomeo and Juliet and I Am Number Four. On any other weekend, either of those could've easily topped the charts. But it seems moviegoers wanted more substance for their buck this weekend, and that's always encouraging.
Something else that's been encouraging has been the Kings' impressive point streak in February, that was finally snapped by the lowly Islanders. How would they fare in the Weekend Returns? It's unknown, until now...
• TSN's Scott Cullen's
Week 19 rating
: 6. Last week: 7.
5-1-3 on a nine-game road trip, the Kings have one more away from home, but Anaheim is barely far enough away to be considered a road game, is it? In the last six games, the Kings have managed just one power play goal, but have only allowed one, so even-strength is the name of their game.

• CBSSportsline's Wes Goldstein's
Week 19 rating
: 8. Last week: 7.
Cap space, assets and coming off a solid road trip. Time for L.A. to make a move.

• ESPN.com's Scott Burnside's
Week 19 rating
: 10. Last week: 6.
Losses in Long Island and Manhattan slow down the Kings a little.

• Fox Sports' Robert Picarello's
Week 19 rating
: 11. Last week: 14.
The Islanders shut out the club 3-0 on Feb. 19 at the Nassau Coliseum. The Kings come into play this week 6-1-3 in their last 10 games.

• L.A. Times' Helene Elliott's
Week 19 rating
: 14. Last week: 13.
Their point streak was snapped at 11 (8-0-3) in a listless loss to speedy Islanders. It was the last game of a long trip but the Kings have been streaky all season and can't afford to slump again.

• Sportsnet's Scott Brophy's
Week 19 rating
: 15. Last week: 15.
What a league. The Kings were rolling along nicely with an 11-game undefeated streak and then they get skunked by the Islanders. Go figure.

• Versus' Brian Metzer's
Week 19 rating
: 21. Last week: 20.
Are the Kings chasing Ales Hemsky? Can they afford the Oil's asking price? Of note: Kings haven't allowed a power play goal in their last six games.

Put them all together, average them out and you get the Kings' official Hockeywood Power Ranking of...
13.1.
This weekend, the new Farrelly Brothers film, Hall Pass, is being released. Their recent films have paled in comparison to their two biggest flicks: Dumb And Dumber, Kingpin and There's Something about Mary. But after seeing this red band trailer for the movie, it seems they are going more raunchy in their approach. And it might rival The Hangover as recent rauncy buddy pictures go. (Be forewarned, this trailer is a red band, so it's NSFW. but it's worth a look...)
Trackbacks