Game 55: Washington crumbles under Kings' attack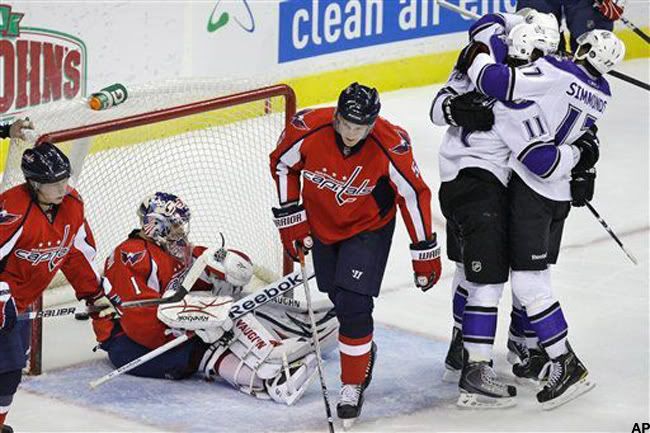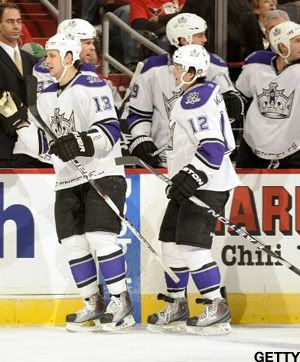 Game 55: Kings 4, Capitals 1
• For the Hockeywood Dailies of this game, click here.
First off, I want to apologize for the delay of the recap. Life happens, and I had a ton of stuff to do on Saturday, from our watch party in Long Beach, to some family stuff throughout the day, culminating in a trip to Ontario to watch the Kings' affiliate, the Reign, take on the Elmira Jackholes with my podcast partner Jesse Cohen and some good friends. Thanks again, Bill, for the great seats. Reign hockey rules!
Back to the game at hand: Kings v. Capitals... The Kings needed that. And more than that, Anze Kopitar needed that. I mean REALLY needed that.
You see, Kopitar has been struggling putting the puck in the net. In the last 20 games, he had only scored twice. Sure, he had 16 assists during those games, but for him to be the total package he's expected to be, he's been gripping the stick a bit. And his funny aside he told Helene Elliott was indicative of where his head was at.
"My shoulders got a little rusty because I haven't had my arms in the air for a while now," Kopitar said with a smile, "but I'm ready to get that rust off often and celebrate a little more."

And when Kopitar is clicking, the team is clicking. When Kopitar scores, the Kings have a 12-3-0 record. Plenty of room for improvement, I'd say.
Not only are the Kings still undefeated in regulation during February's Frozen Foray, they are outscoring teams 21-13 in their last eight games, dating back before the All-Star Game. It's safe to say the team might have found their stride.
Coach Terry Murray juggled his lines, much to the chagrin of many fans. Which baffles me, because coach Murray is a professional, while some bloggers who have never picked up a stick or laced up a skate think they know better than someone whose made his living in professional hockey. That's why I'll never express frustration over which lines work and which don't, rag on coaches for their power play or bang my head against the wall over the more mundane aspects of the game. It's wasted energy, and I find it ever more time-wasting to read.
Because of that point of view, I find it mildly amusing seeing some of this online pundits back-pedaling on their hazing of Muray's play to give Kopitar new linemates. It highlights the cardinal rule of reporting: we are all just observers, passengers on this ride. Try enjoying the ride rather that railing on the driver for the many bumps and curves the journey brings.
Wow, that was a tangent. Sorry, I had to vent. Back to the game vs. the Caps.
The last four games (against the Caps, Penguins, Flames and Oilers) have shown that this club is every bit as deadly as some pundits stated at the beginning of the season. With less than 30 games left, the club needs to fine-tune several things before the playoffs start.
Did I just say the Kings are making the playoffs? Absolutely. Sure, the Western Conference is tight. But there is too much talent on this team to NOT make the playoffs. And I think once they find that groove, they will be even more formidable than the club that took the Vancouver Canucks to six games last season.
• AP:
Kings use big 3rd period to beat Capitals 4-1
The third period was dominated by the Kings. It was only the second time in 15 games since Jan. 6 that Los Angeles was involved in a game decided by more than two goals.

• LA Times:
Kings beat Capitals, 4-1, with juggled lines
When Kings Coach Terry Murray mixes up his line combinations, as happens quite often, players say he's turning on the blender. That blender produced some potent concoctions in an impressive performance Saturday.

• LAKings.com:
Kings beat Capitals 4-1
At practice the day before, the Kings shuffled their line combinations, and coach Terry Murray made no attempt to hide the fact that the changes were designed, almost entirely, to get more production out of Kopitar, At least for one game, it worked.

• NHL.com:
Kings keep rolling on road en route to 4-1 win
Two goals less than 90 seconds apart sealed the victory for Los Angeles. The puck was behind Washington goaltender Semyon Varlamov in the crease with a scrum of bodies in front of him, but Michal Handzus was able to find it and push it across the goal line at 12:28 of the third. Jarrett Stoll completed a 2-on-1 with Justin Williams at 13:56 for his 16th goal of the campaign to end any doubt and send a large portion of the matinee crowd scurrying for the exits.

• Washington Post:
Ovechkin scores early, but Washington falls apart late
The Kings benefited from more time in the offensive zone as the Capitals left space in front of their own net. In the second period, Los Angeles recorded eight shots on goal before Washington managed one with more than seven minutes gone.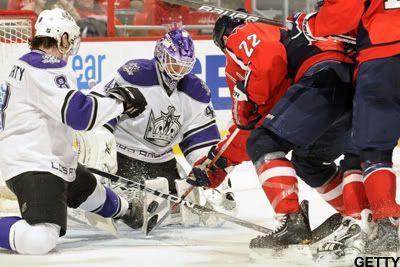 They said it
"It's always nice to get a goal, but most importantly, just to get the win. I thought it was a really good effort. We've had maybe not the best histories with the afternoon games, so to accomplish what we did today, it was huge, and now we've got to build on it and carry it over to tomorrow." – Anze Kopitar, on his goal.

"I think we surprised them a little bit with our pressure sometimes on the half wall. I think that was the biggest thing. They like to have a little more time and make those seam passes, but I think our stick was really good. We were blocking shots, and obviously our PK was really on tonight." – Jonathan Bernier, on limiting Washington's power-play chances.

"They get another goal in that first period then the crowd's bumping. It's like having an extra player on the ice. For us to endure in this game early and to come out late like that, it gives a lot of confidence." – Wayne Simmonds, on coming back from an early deficit.

"When you're around the game and things go off-page a bit, on the offensive part of things, for lines and for players, a change is a good thing. They get refocused and come out and, sometimes, you get a good result like tonight." – Terry Murray, on the balanced scoring from three lines.

"We outworked them in the first, got outworked in the second and all we had to do was outwork them in the third to start off a tough road trip. (The Capitals) looked like they were already thinking about what's going on in the sun." – Washington coach Bruce Boudreau, on the game.
Trackbacks