Game 52: Kings respond well to Oil change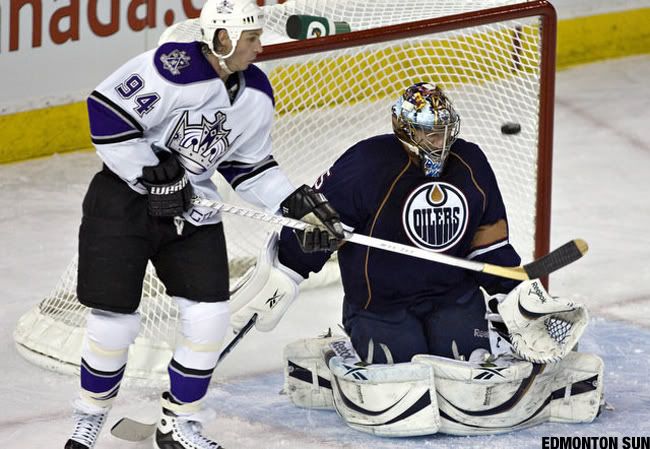 Game 52: Kings 3, Oilers 1
• For the Hockeywood Dailies of this game, click here.
The Kings were able to rebound from
their disheartening shootout loss
against the Wild by beating up on the hapless Edmonton Oilers.
Not that it was easy. Turns out, the Kings were severely jet-lagged, since their didn't get into Edmonton from Minnesota until 2 a.m. And it showed in their play in the first period.
Thanks to the well-rested Jonathan Quick, who sat in favor of Jonathan Bernier in Minnesota, turned away 12 shots in the first period, allowing the Kings to shake the cobwebs loose and get things going in the right direction.
After the Oilers got on the board first, it was all Kings. Ryan Smyth was credited with two power play goals in the second period, even though they were eventually corrected and given to Drew Doughty. Jack Johnson added a security goal in the third period, to help lift the Kings to their fifth consecutive win in Edmonton.
Whoever scored the top power play goals, the important thing was the Kings finally connected with the man-advantage. With the two PP goals, they snapped a 1-for-28 slide. Once they get their special teams clicking, the Kings will really be dangerous. But for now, it's an interesting side note.
One thing is for sure, the power play combo of Doughty and Johnson is shaping up to be an exciting pairing. Reminiscent of the great tag teams in professional wrestling, the two are begging for a nickname. How about the Legion of Boom? The Heart Foundation? The Hardass Boyz? Dunkin' Doughnuts and the Michigan Man? I think I need to work on a better name.
Troubling thing: the Kings forwards are still mired in a slump. Other than Ryan Smyth, who has been a godsend to the team this season, the young forwards continue to disappoint offensively. One can only hope with 30 games left in the season, they'll get it started and start clicking.
The one thing I like about games against Edmonton (other than the wins) are the absolute glut of information online on gameday. I had so much, in fact, that I dusted off Across the Aisle subhead to put all Edmonton-generated content. Good stuff, Maynard.
• AP:
Smyth scores twice, lifts Kings to win over Oilers
Ryan Smyth scored two goals to lead Los Angeles to victory. Jack Johnson added a goal and two assists for the Kings, who completed the second game of a 10-game road trip. Los Angeles improved to 4-0-1 in its last five outings.

• LA Times:
Kings use special effects in 3-1 win over Edmonton
The Kings started the game one for 28 on the power play in their previous 10 games, scoring two goals or less seven times over that span.

• LAKings.com:
Kings drain Oilers
Four years after he left the Oilers, Ryan Smyth is still a favorite son of Edmonton. How beloved does Smyth remain? Oilers fans cheered him during the national anthems, and the official scorer credited him with two goals he didn't score.

• NHL.com:
Smyth's pair leads Kings to 3-1 win in Edmonton
The Kings didn't get into their hotel until 2 a.m. after flying from Minnesota, and it showed in their lack of jump in opening 20 minutes. The Oilers outshot Los Angeles 12-5 in the first period, but didn't get a sniff on three power-play chances as Jonathan Quick made 12 of his 32 saves to get the Kings to the first intermission in a scoreless tie.

From across the aisle, the Edmonton view
• The Hockey News:
Ryan Smyth scores two goals to lead Kings to 3-1 victory over Oilers
Edmonton coach Tom Renney was behind the bench despite the death of his father Tuesday. He said Khabibulin and his teammates can't allow frustration to sink in.

• Edmonton Sun:
Smyth King of power play
"He does a great job on the power play," said Kings defenceman Drew Doughty. "Both of those goals, he didn't let the goalie see them. Whether he tipped them or not, it doesn't really matter, the goals were scored mostly because of him. If the goalie is able to see that puck it's never going to go in."

•Edmonton Sun:
Kings call on inner road warriors
"We're going to play these three games and then get back to L.A. for a couple of days before heading out for six more," Murray said. "Then we'll come back, unpack and play one more in Anaheim. That's the way you have to approach it, you have to look at it in segments. With the young hockey club that we have here, we have to handle it like that."

• Edmonton Journal:
Oilers lacking on the blue-line
Doughty and Johnson did more damage on Wednesday night in the Kings' 3-1 victory over Edmonton. Doughty drew two assists on a pair of power-play goals awarded to ex-Oilers winger Ryan Smyth, who may have tipped the two rockets from the point. Or not.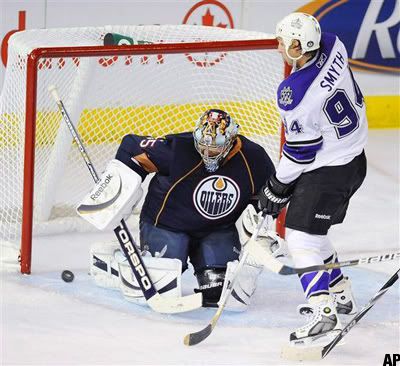 They said it
"Killing off three penalty kills in the first period, that was very demanding, after getting a game in last night and traveling. Back-to-back after the All-Star break, it's a hard, demanding game to play here tonight for us, but guys dug in. We had good pressure on the puck. We were really active and didn't give them too many opportunities to get set up. Whenever we needed him, Quick was there." – Terry Murray, on the improved play after the first period.

"It's obviously nice to contribute on the power play. The power play has been lacking as of late, and that can win you or lose you hockey games. Tonight, we capitalized on two, and it was a big win for us overall." – Ryan Smyth, on the game.

"Me and Jack have wanted to play together for a little while here. We've been on separate PP units, and they finally put us together tonight and you saw what we can do together. Hopefully we can continue to produce like that." – Drew Doughty, on the power-play success with him and Jack Johnson.

"He and I really enjoy playing with each other. We're just kind of reading and reacting, and we have fun doing it. So whatever the coaches decide is best, but I know Drew and I have a lot of fun playing with each other." – Jack Johnson, on his power-play partnership with Drew Doughty.

"It's tough in the NHL when you have extended home stands and extended road trips. I think it's good when you have three at home and three on the road, that sort of thing. "It's much tougher because guys just get tired of being on the road, so you have to be more mentally prepared. For us it's really important to have a good road trip to get ourselves back in the mix, because we dug ourselves a hole at home." – Willie Mitchell, on playing so many games on the road.

Trackbacks