Game 51: Kings get something for nothing vs. the Wild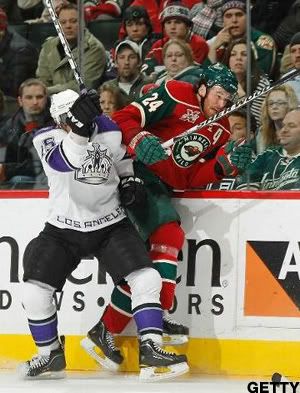 Game 51: Wild 1, Kings 0 (shootout)
• For watch the Hockeywood Dailies for this game, click here.
It's a trivia question that you might hear on Jeopardy.
"I'll take Unusual Sports Results for $200, Alex."
"It's how does a goaltender earns a shutout and a loss at the same time."
"What is be the goaltender who allows a goal in a shootout of a 0-0 game, Alex?"
"Winner winner, chicken dinner." Well, not really.
The Kings and Wild took to the ice after a boozy All-Star weekend break to officially kick off the stretch drive. And while both clubs played a defensive gem, the game ended in a rare 0-0 tie, sending the teams to center ice for the shootout.
The Kings started sluggish, then came on like gangbusters in the second, only to fall back again in the third. Toward the end of the game, there was little offensive push, as evidenced by their four shots on goal in the last period.
Starting in goal was Jonathan Bernier, who hadn't started since Jan. 17 against the Stars. Despite of the lack of starts, Bernier looked extremely sharp. He also benefited from a strong defensive line in front of him.
But has been the case for most of the season, the offense was lackluster. The attack came in spurts, rarely catching the Wild by surprise. All-Star Anze Kopitar led all forwards in ice time, but could only muster two shots. He was a monster in the faceoff circle, winning an Un-Anze-like 76.5 percent of the drops.
The game heading into the shootout, and Kopitar skated the center ice. You could tell his focus was renewed after returning from Raleigh; he wanted to do what he knows he does well. Thing was he lost the puck on the way to the net. Defenseman Jack Johnson was denied by Backstrom in a stellar save that will be sure to haunt Jack for a few days. After Pierre-Marc Bouchard deposited a puck past Bernier, Backstrom nailed the victory down for the Wild by stonewalling Dustin Brown.
Even though the Kings lost, there's really nothing to get depressed about. The West is so tight, that the Kings are only two points out of a playoff spot. The Kings now travel to Edmonton for the second of the back-to-back games. Quick is sure to start, and the Oilers have been horrid this season. Hoepfully the Kings can regain that swagger they had prior to the All-Star break.
• AP:
Backstrom carries Wild to win over Kings
Bernier was even better than Backstrom during regulation and overtime, making several point-blank saves for the Kings, who had their three-game winning streak snapped in the first of a 10-game road trip.

• LA Times:
Kings lose shootout to Wild, 1-0
The win gave Minnesota 57 points, ninth in the Western Conference, while the Kings, who got only a point by going to overtime, are two points out of a playoff berth with 56 points.

• LAKings.com:
Kings suffer Minnesota downing
Every loose puck will be contested. Every player in the corner will be hit. Every penalty, every off-target pass, will be a hold-your-breath moment. And if more of these games don't break the Kings' way, there won't be a second consecutive trip to the playoffs.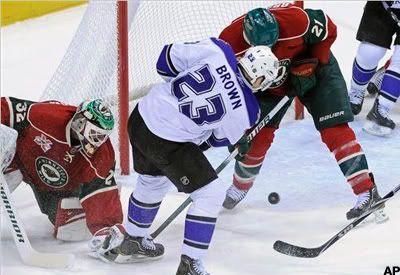 They said it
"I just tried to wait him out. I tried to get him down and thought I had him waited out. He stuck his pad up and I hit him in the toe. I've got to tip my hat to him. He made a great save." – Jack Johnson, on his shootout attempt.

"We'll take it where we can get it. We want that second point, but you get to a shootout, and a shootout is a shootout. … We've got to win games, but if we play like that on a consistent basis, we're going to get our share of regulation wins, I think." – Dustin Brown, on getting one point from the game.

"I just tried to make the first save. I thought everyone was in good position tonight. I thought we had good sticks out there. I thought they got some scoring chances because I gave a bad rebound up in the third. I should have kept it in my chest, and it bounced out. After that, they had a few good looks. Other than that, I thought we played very solid defensively." – Jonathan Bernier, on the pressure he faced in the third period.

"Both goalies made some very big stops. Backstrom, I remember he made a save in the second period, off Kopitar coming down the slot. Bernier was very good there. There was a flurry coming at him, maybe the second half of that third period. He was good. They had some looks, coming down from the blue line, and he looked very sharp." – Terry Murray, on the goalie play.

Trackbacks