Game 47: Unlike Hanzal's stick, Kings' play far below the bar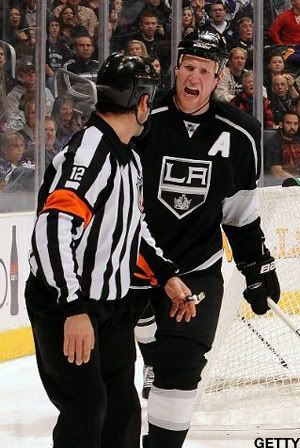 Game 47: Coyotes 2, Kings 0
Can an entire franchise have a sophomore slump?
The Kings had another lackluster game on Thursday, this time at the hands of the Phoenix Coyotes. Oh yeah, and the War Room in Toronto.
You see, the War Room got one wrong Thursday, when they reviewed Martin Hanzal's power play goal because his stick was hovering above the crossbar. Like hovering near the 300 level. Like hovering near Kobe Bryant's ego. Even from across the newsroom, from an odd angle, I could tell his stick was too high.
But it was one of those nights for the Kings, as the ruling came down from Toronto, via
Helene Elliott's Twitter feed
:
"Refs on the ice had it a goal......we felt the views we had were not conclusive. We felt the views we had were not conclusive to overrule the refs call on the ice."--Mike Murphy in NHL war room.

Exactly which cameras they were looking at is beyond me. And I knew that it the call was that obvious of a miss, that the team would respond in some sort of official capacity. Boy did they.
In a
news article by The Hammer
, Dean Lombardi dropped this bombshell:
"When the guy in Toronto making the decisions on the goals, in Ottawa and the one tonight, wanted the G.M.'s job in L.A. and was not happy about not getting it, you have to assume you are going to get those type of calls,'' Lombardi said. "However, we have put ourselves in a position where these calls have a monumental effect on our season, and we're going to have to find a way out of it ourselves.''

Wow. I didn't think Dean would play that card. I knew Murphy played for the Kings, but to hear that kind of accusation, it's surprising.
Lombardi's point at the end is valid. Sometimes, the call goes against you. It's your job to put it behind you, get past it and move on. But, as has happened numerous times this season, the Kings surrender a second goal a minute after allowing the other team to score. Can't blame Murphy for that.
The Kings may have outshot the Coyotes 36-15, and Ilya Bryzgalov may have stood on his head all game and played a gem. But the lack of consistent scoring for this club continues to haunt them. They went 0-for-6 on the power play, which is unacceptable for this club.
The spiral continues, and one can only hope the team will sort it out on their own. There's no trade coming, no coaching change expected (despite what the fans want) and things are only going to get tougher in the coming week. After the road game at Phoenix, the Kings come home to
play the Bruins on Monday
, followed by the always dangerous Sharks. If the team isn't careful, they may find themselves in too deep a hole to dig themselves out.
• AP:
Hanzal's disputed goal helps Coyotes beat Kings
Replays clearly showed that the blade of Hanzal's stick was above the crossbar, and nose-level with Kings defenseman Matt Greene when he made contact with the puck. But referee Justin St. Pierre, standing behind the net, immediately ruled it was a goal. Officials in Toronto upheld the call after a lengthy review, and the sellout crowd voiced its disapproval.

• LA Times:
Kings unravel in 2-0 loss to Phoenix
In a listless effort that included six fruitless power plays, the Kings extended their latest losing streak to three with a 2-0 loss to the Phoenix Coyotes before an unhappy crowd that booed them off the ice at Staples Center. They have lost five of their last six games and 10 of 12 since Dec. 29 and show no signs of being able to end the swoon that may end their playoff hopes.

• LAKings.com:
Kings can't catch a break
The Kings are still only five points out of the eighth and final playoff spot in the Western Conference, but they're in 12th place, tied in points with 13th-place Columbus and ahead only because of the most-wins tiebreaker.

• LAKings.com:
Lombardi and Murray publicly question goal call
"I don't know why we have video replay in the National Hockey League,'' Murray said. "That's all I can say. If the replay is there for review of goals and non-goals… I don't know. You've got a guy who gets credit for the goal. He's 6-foot-6, and the stick is up above his head. Matt Greene is 6-3, and he's batting the puck down his his hand beside his ear, and the net is four feet high. It doesn't add up.'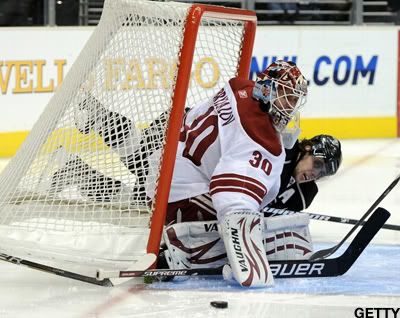 They said it
"When I saw it during the play I didn't think it was a good goal, but obviously they got the benefit of video replay, so they could take a closer look. It's their call. That happens during a game and it was good for them on the scoreboard, so that's all that really matters." – Matt Greene, on Hanzal's disputed goal.

"Obviously the confidence is not the highest but it is what it is. You go through stretches like this in the season and you have to find a way to get out of them. We found a way to get out of one earlier and we're going to find a way to get out of this one. Again, I thought we were doing some good things tonight…and we have to come out on Saturday and win a hockey game." – Anze Kopitar, on the Kings' confidence level.

"Usually, when a goalie has a shutout, you say, `Well, he saw a lot of shots.' And he did, but we've got to establish body position a little bit earlier, because every time we seemed to have a rebound, they seemed to swipe it out of the way. But obviously kudos to him. He seemed to be on his game, but at the end of the day, we need to find a way to break through, because it's been too long. We're sick of it." – Justin Williams, on the game.

"We worked hard tonight, but little mental things happen. We've got to get more traffic, especially against a goal that is on top of his game like Bryzgalov tonight. The power play is awful. We've got to be way better, and take more responsibility as a group of five out there, and then the other unit, and almost challenge each other. – Ryan Smyth, on the game.

"It hurt, absolutely. You can go back over a bunch of games here, through this whole stretch, and the power play could make a difference for you. The penalty killing could lose you a game, and it has. Power plays, in this situation tonight, definitely could have won us the game. We had some real good things going on, with the early power plays, and then as we got deeper into the game, we lost the momentum and the cohesiveness on the power-play groups, to be able to support each other, recover pucks and make plays." – Terry Murray, on the lack of power-play success.

Trackbacks