Game 46: Kings singing same sad song against Blues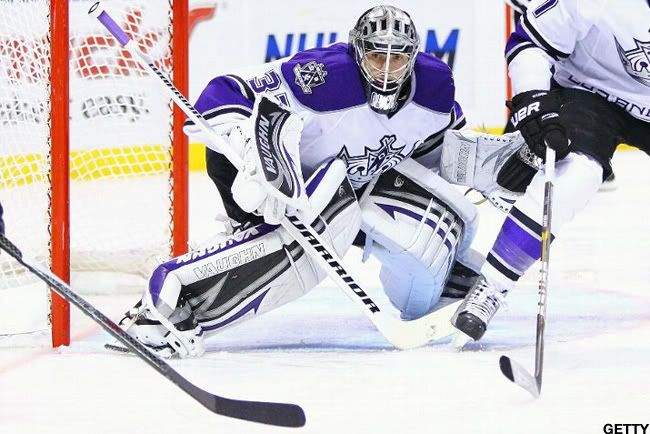 Game 46: Blues, 2, Kings 1
Another game, another one-goal game. Another loss.
Unable to sort out their wildly-inconsistent play, the Kings dropped their third game to the Blues, and are inexplicably continuing their free fall in the Western Conference.
Has there been a team that has failed to meet expectations this season more than L.A.? I don't think so.
After one period, you could tell the team was sluggish. They allowed a third consecutive power play goal over two games, when Patrik Berglund scored to give the Blues the early lead. The Kings could only muster two shots until there was about 5 minutes left.
That's when Kyle Clifford decided to drop the gloves against Roman Polak to jump start the team. After that, the Kings started pumping shots at Jaroslav Halak, but to no avail. After one period, it felt like the team was fortunate to only be down one goal.
In the second period Clifford struck again, this time with his stick. Clifford was credited with his fourth goal of the season to tie the game. Originally, it appeared Matt Greene scored, which is news on its own. It was his first goal in 61 regular season games. With the goal, Clifford was just an assist away from the infamous Gordie Howe hat trick. Too bad that was the last time the Kings would find the back of the net.
Late in the second period, Drew Doughty took umbrage with Vladimir Sobotka after he was driven into the boards. Doughty tried to plead his case, then took matters into his own hands. He went down and slashed Sobotka, and guess what? Yup, he got the box. It's these type of foolish penalties that is proof that something is wrong internally. Instead of playing the team game, players are letting their emotions get the better of them. Fortunately it didn't cost the Kings another goal, but it raises some red flags.
Jonathan Quick started in goal after Bernier lost his spot, thanks to coach Terry Murray's proclamation of "
Win and you're in
." Hopefully, Murray will give Quick a second chance and not ding him for allowing the game-winner. Erik Johnson slapped the puck at Quick from the blueline, who thought he had "smothered" it, only to look behind him and see it in the net. I'm not a fan of platooning goalies, I think it ultimately never works. And besides, Quick has proven he can do the heavy lifting after setting the franchise record for games in net last season.
One-goal games like these are what the Kings should be used to. Exactly half (41) of their games last season were decided by one goal, 23 of which were victories. That's a 56.0% winning percentage. This season, they have had 18 one-goal games, and have only won eight times, which drops their winning percentage to 44.4%.
When Johnson scored on that flakey goal with seven minutes left, you could tell that was the nail in the coffin. The supposed high-powered offense has been largely snuffed out, and the luster is definitely off this crown. Something needs to be done to shake these cobwebs from this team. They've had team meeting after team meeting, and nothing is happening.
Pretty soon, the veterans are going to stop carrying this team and the kids are showing they are still not ready to take the reins of the team. It's disappointing to say the least.
• AP:
Oshie returns from injury, Blues edge Kings 2-1
"I tried to smother it and it got through me," Quick said. "A bad goal at the end of the game cost us." Kings coach Terry Murray concurred, calling it "a play that you've got to have 100 percent of the time."

• LA Times:
Another tough loss for the Kings
Goaltender Jonathan Quick was strong throughout Tuesday, keeping the Kings afloat through a sluggish start and handful of inopportune penalties, putting them in position to salvage a two-game trip. Then, in a flicker, this became another step toward the exit.

• LAKings.com:
Kings caught up in Blues
The Kings, after a wobbly first period, looked to be in line to earn at least a point from the game. Kyle Clifford's tip-in, of a Matt Greene slap shot, tied the game in the second period and the Kings controlled the pace for long stretches of the final two periods.

• St. Louis Post-Dispatch:
Blues find missing spark
The injury bug bit the Blues again in the second period when Drew Doughty's shot caught Carlo Colaiacovo in the head. Making his first start since getting hit in the face with a puck in Anaheim, Colaiavoco departed and did not return.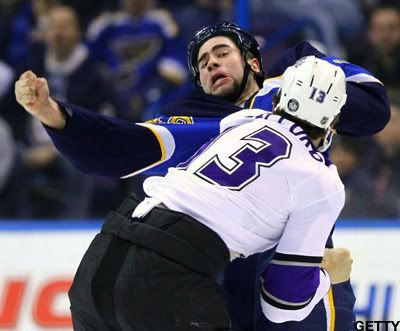 They said it
"No, and maybe that's a good thing. We don't have time to fucking think about it. We've got to find ways to get wins. Other teams are going to find ways, especially down the stretch, and we've got to find ways. We've just got to find a way." – Dustin Brown, on the schedule only getting tougher in the near future.

"We played the type of game we wanted to. It just didn't come out the right way. … I think it's going to come. I think it's going to come here. We just have to stick with what we're doing. We can't get off page. I know we've been saying that for a while, but sometimes you tell yourself that in order to get through some dark times, but right now I think everybody in this room feels like it's coming. We're doing too many good things for us not to get rewarded." – Matt Greene, on the game.

"It's like last night. You get a couple penalties over the glass and then another reaching in. You just can't take those penalties. It's a critical time of the year. The points are so big. And the retaliation, the undisciplined play there by Doughty too, to retaliate about 30 seconds after a hit, you can't do those things in a 1-1 game." – Terry Murray, on the poor penalties.

"But the thing that I want to take back here, after these two games and certainly the one here today, is that you stay with the same thought process. The guys played hard here today. They played a good road game. You'd like to get a couple points, or a point, out of it. We didn't, but we've got to bring it back home and win some games now." – Murray, on what he wants to take away from the game in St. Louis.

Trackbacks