Game 44: Kings throw back Oilers to halt losing streak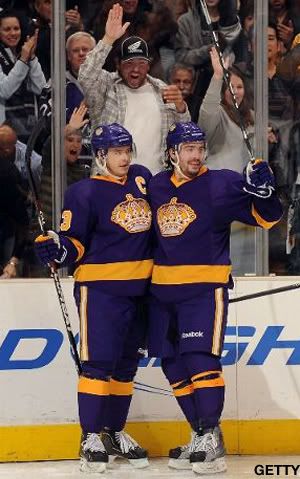 Game 44: Kings 5, Oilers 2
Thank God the Kings are leaving.
In what has been one of the roughest homestands the team has had to endure in the past five seasons, the Kings now have a home record that is right in line with other NHL teams. With only two wins in the past eight home games, the Kings are now 15-8-1 at Staples, tied for the league lead with three other clubs.
On the postgame broadcast, Jimmy Fox said going on the road is exactly what this team needs. Which is what he said when the Kings were heading home at the end of December. At the time, the Kings were on the tail end of a successful December, and the hope was the Kings were going to solidify their standing with a good showing at home. Turns out they didn't really do themselves any favors with their play. But they can also thank the rest of the Western Conference for being so balanced. With the win, the Kings are only three points out of 6th place. (Three teams are currently tied for sixth.)
Eventually, the contenders will separate from the contenders as we approach the All-Star Game, and things will open up a bit.
Marco Sturm is continuing to impress, scoring his fourth goal in 13 games. Placed on the second line with Jarret Stoll and Wayne Simmonds, the "Second Line" has seen a return of some offense focus for his linemates. Stoll has been shooting more since being called out by coach Terry Murray, and Simmonds is starting to look more like the power forward he's shown glimpses of. He scored two goals, including the game-winner in the second and an empty-netter. With five goals in the last six games, Stoll seems to have found his offensive game to match his faceoff success (58.8 is tied fifth overall in the league).
Then 2011 All-Star forward Anze Kopitar, reunited with his linemates from last season, Ryan Smyth and Justin Williams, popped one past Deven Dubnyk for his 16th of the season. He snapped a nine-game goalless streak, thanks to the reuniting with Smyth and Williams. If you recall, that top line was extremely successful until extended injuries disbanded the unit. Now a year later, all three players haven't missed a game. If they can continue their success, the Kings will be able to make some serious headway.
Defenseman Drew Doughty, currently suffering through his belated sophomore slump, played remarkable on Saturday. His hit on the Oilers' prodigal son, Taylor Hall, echoed a certain brutal-hitting defenseman that patrolled the L.A. blueline for 13 seasons. The hit caused the Hockey Night in Canada announcers to openly salivate over their Canadian wunderkind, Doughty.
They even made a suggestion that the reason why Doughty has been playing so poorly was the concussion he endured against the Hurricanes. While on the surface that may seem to be a logical explanation, I prefer to think of it as a normal progression of his development. His first two seasons were a whirlwind, being a Calder candidate in his first seaosn and a Norris finalist in his second. He also won a gold medal with Canada in the 2010 Vancouver Olympics. That's a lot for a young player to adjust to, and it's quite possible he's a bit worn down. But if Saturday's game is any indication, Doughty's production is sure to eventually rebound.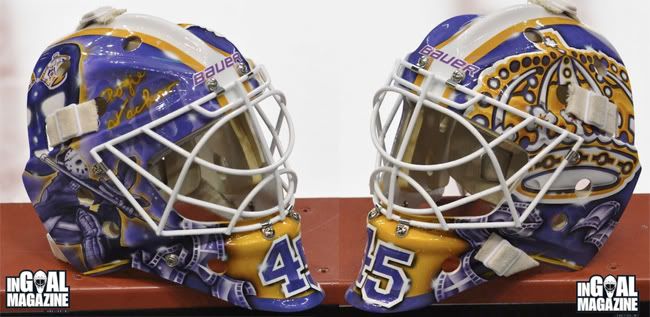 Jonathan Bernier rebounded from a disappointing loss earlier in the homestand to Nashvile, made 24 out of 26 saves to earn his fifth win of the season. I have to say, even though
Jonathan Quick's throwback mask
honoring Rogie Vachon is awesome,
Bernier's mask
is very impressive.
So now, the Kings have two- back-to-back games against the Stars and the Blues, before coming back to Staples for a
game against the Coyotes
. Hopefully, the Kings can start another torrid streak while they are on the road for 13 of their next 16 games.
• AP:
Stoll's 2 goals carry Kings over Oilers 5-2
The Kings lost six of the first seven games on their homestand before winning the finale 5-2 against the Edmonton Oilers on Saturday night. Jarret Stoll led the way, scoring the go-ahead goal in the second period and adding an empty-netter.

• LA Times:
Kings beat Oilers to end nightmarish homestand
Dustin Brown, just out of the penalty box, fed a streaking Jarret Stoll, who broke a 2-2 tie in the second period. Drew Doughty made Edmonton pay for a neutral-zone turnover, scoring on a wrist shot for a 4-2 lead three minutes into the third period.

• LAKings.com:
Kings strike Oilers, 5-2
The Kings also might have dodged a bullet. Wayne Simmonds left the game early in the first period with a lower-body injury, after getting tangled in a post-whistle scrum along the boards, and Simmonds stayed in the locker room for the rest of the game.

• Edmonton Sun:
Kings cash in on tips
With his hands already full dealing with the Los Angeles Kings, the Edmonton Oilers goaltender was the victim of a pair of unfortunate redirections by his own defenceman en route to a 5-2 loss on Saturday night.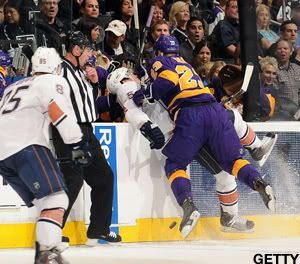 They said it
"My intent wasn't to injure him or anything like that. He was flying through the center with his head down and I saw the opportunity to knock him off the puck, and I did just that, and, you know, hit him as hard as I could. But those things are going to happen in a game and it definitely, our team after that, I thought we picked it up and we were pretty dominant from that point on." – Drew Doughty, on his hit on Taylor Hall.

"The good thing with hockey is, usually, there's always another game. Moping around really doesn't do much. It makes other people miserable around you and it keeps your confidence down. We got on the ice yesterday and had a real good practice. We came and put our work boots on today. What we need to do now is focus on our consistency. We can't get too high. We've got a big back-to-back coming up, and we need to focus on that." – Justin Williams, on keeping a positive attitude.

"Sometimes getting on the road is great. I know we've got a long road trip coming up here, but at the same time, we've just to play games. We've got to play hockey. That's the best thing, to get us out of this funk that we've been in. Get a game like this, and follow it up with a back-to-back here, and keep playing. That's what we've got to do, keep playing good hockey and get on a roll and see what happens." – Matt Greene, on ending the homestand, and a chance for a fresh start.

"We'll just reinforce it. That's meetings, that's video review, showing the good things that we were doing and the reasons why you win hockey games. Most important was advancing the puck. I thought, early in the game, we were a little hesitant to move the puck. We had it on our stick, with our defensemen, a little too long, and as we got going, it was going up faster and we were getting better pressure in the offensive zone. That's the part of it that we'll talk about." – Terry Murray, on how to build on this win.

Trackbacks