Last week for "I'm Down With The Crown" entries!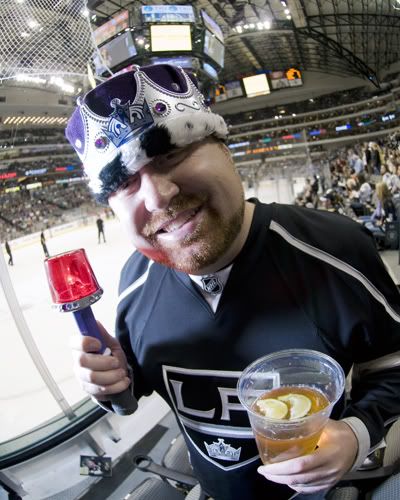 I am truly overwhelmed by you, Kings fans. I've had so many entries for my "I'm Down With The Crown" contest, that I'm having to set a date of March 11th for last-minute entries.
I've had a wide variety of photos sent in, and I'm in the process of setting up a bracket, just in time for March Madness. Entries have been pouring in from all over: Vegas, Colorado, Chicago, Boston... The Monarchy is wide-spread, that's for sure.
You can't deny the power of the throwbacks. This season, the Kings are undefeated while rocking the new old threads, beating
the Canucks
in October,
the Oilers
in January and
the Wild
in February. It's been a hell of a run.
There is one more throwback game on the docket, to honor Kings legend:
Bob Pulford on March 19
. Don't forget, tickets for the
stretch run package
are still available to attend these games.
Just enough time for a final push for entries in the contest. So, here's the deal... All you have to do is snap a picture of yourself wearing any Kings jersey (preferably with a Crown, but we'll accept the Shield, Chevy, Home Plate and, heaven help us,
the Burger King
) and email it to lifeinhockeywood(at)yahoo.com, along with your name and address and your preference of a white or black decal.
In return, I'll send out a limited edition, 3"x5" "I'm Down With The Crown" vinyl sticker, courtesy of
Build-A-Sign.com
, absolutely free. And let me say this right now, I will NOT use your address for any mailing list. I hate, hate, HATE that when you apply for a contest, and your mailbox becomes inundated with crap for years to come. I'll be mailing out these stickers on my own dime (or however much it costs to send mail these days.)
After I compile a gallery of jerseys, we'll have a contest to see who has the best shot. So, take a photo in front of Staples, with an Ice Girl, with Jimmy Fox, Marty McSorley, in front of your Kings shot glass collection at home, with your dog, Zamboni, stained glass lamp... Anything that sets you apart from your fellow Kings fans. Winner gets some swag I've acquired over the past few years as well as an "I'm Down With The Crown" shirt.
One more thing: in the email, please include your name, address and number where you can be reached. I'll use that to contact the winner and figure out what you'd like to get.
Here's some ground rules:
1.) One sticker per address, please. Like I said, I'm sending these out on my own.
2.) Have fun with it. Show everyone just how much you enjoy being a Kings fan. Most fans I know are very creative, so I expect some pretty unique shots. Remember, you need to do something to get yourself noticed!
3.) Please use common sense, good taste and discretion when sending in photos. While I have no problem with scantily-clad photos, The Wife does occasionally check out the blog. So do me a favor and save those shots for Facebook. Then friend me, so I can see them... Wait, what?!?
4.) I can only offer the prize to the continental U.S. and Canada. I have no idea how much it would be to send something to Europe, so I apologize in advance. You can still send in your photos, and I'll post them with a special commendation.
5.) If I don't get enough pics, I'm gonna have to call off the contest. Last time I tried a contest, I got a grand total of three (4) entries. Then I felt like giving everyone prizes for the effort, which I had to decline. Money doesn't grow on trees, especially in my yard where I can't even keep my grass green.
So get snapping, Kings fans. Get a free "I'm Down With The Crown" decal for your car and show everyone what team you root for.
Trackbacks