All hail... The King!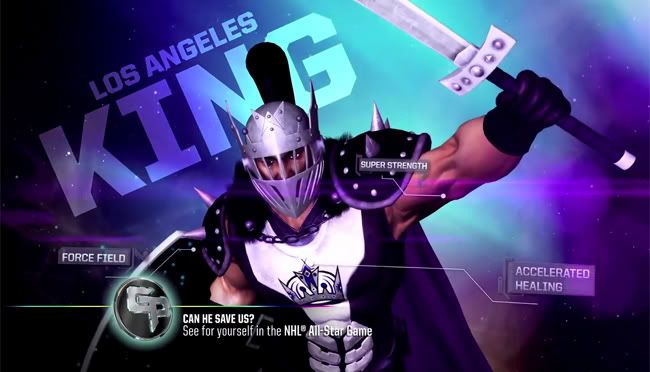 The waiting is over, Stan Lee and the NHL have unveiled... The King from the NHL Guardians.
As we first reported on last year,
The King was a regal ambassador of the City of Angels. On Sunday, more was revealed, including how he actually looks. And it looks like my first assessment wasn't that far off.
The King holds a shield that creates force fields and a broad sword that causes seismic shifts. Now before you start, yes... it's an earthquake sword. When they explained what the characters would be like, they stated each hero would have "super powers that are representative of each team and city."
The Legion of Doom shoulder pads were spot on, and he wears a flowing purple cape. But it was also revealed that he has super strength (and really, what superhero doesn't have super strength?) and accelerated healing (isn't that Wolverine's power as well?).
The mask is truly remarkable, as it's based on the real Kings logo. But rather than the crossed sticks, a long tuft of hair juts out like a long samurai pony tail. It adds to the Mad Max Road Warrior theme of the character.
What do you think? Too corny? Too awesome? Too many ripping abs?
Here's the video that Stan Lee and the NHL released earlier tonight. Try to contain yourselves...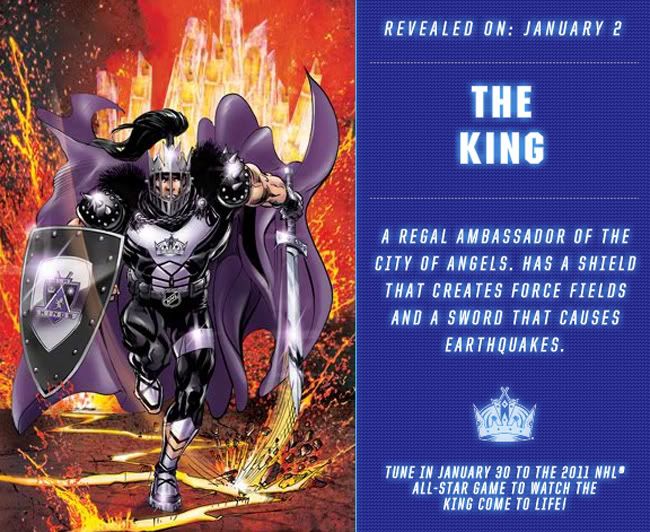 Trackbacks