Game 28: Quick decimates Detroit with rare shutout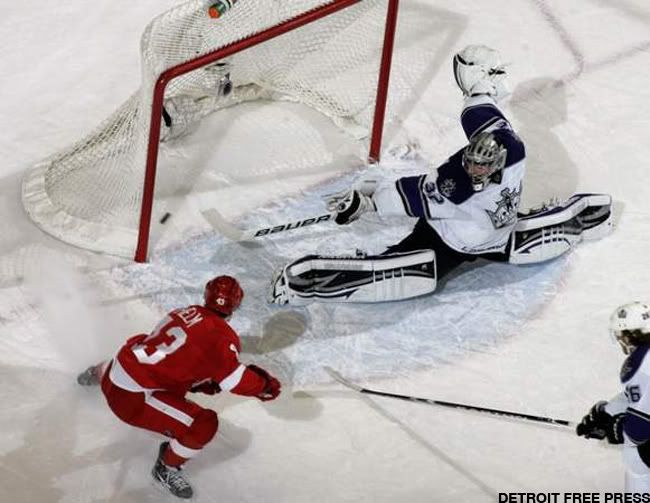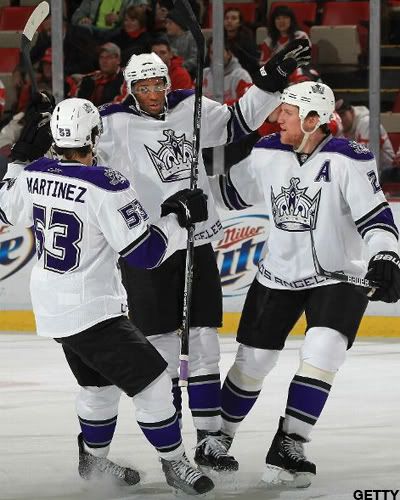 Game 28: Kings 5, Red Wings 0
Say, what do Jonathan Quick and Rogie Vachon have in common. And now, I don't mean
the get-up Quick wore
in the season opener against the Vancouver Canucks as an homage to Vachon.
Both Vachon and Quick are the only two Kings to register a shutout in Detroit. And I'm pretty sure Vachon didn't face 51 shots.
Fifty. One. Shots.
Daaaaaaaaaamn
. He faced 26 shots in the second period alone. The Kings had 26 shots all GAME. The Wings threw everything they had at Quick, and he responded phenomenally.
But Quick's performance was just part of the story. Obviously if a team gives up 26 shots in a period, something is terribly wrong. And that's because the Kings defensive corps were down two key players.
Matt Greene left the game in the first period, and Rob Scuderi took a stick to the Chiclets in the third period, drawing a four minute major penalty on Detroit's Justin Abdelkader. The penalty did result in Jack Johnson's power play goal to make it 5-0. But Scuderi didn't return, after getting his lip stitched up.
So, one could say the Kings beat the Wings with two defensemen tied behind their back. Although technically not correct, it's something you can needle any friends who are Wings fans. While you are at it, you can point out the Kings have a 78-72-31 record against Detroit. Of course, you know said friend will point out the Wings' 11 Stanley Cups which will bring the end of the mocking. But it'll be fun while it lasts.
One of the reasons the Kings could play so well without Greene was the return of Willie Mitchell, back from his wrist injury that caused him to miss 14 games. Mitchell registered an impressive game-high of 27 minutes of ice time, with almost 4 minutes alone on the penalty kill. I'm pretty sure Terry Muray didn't anticipate Mitchell playing that much in his first game back. But Mitchell showed no rust and helped the Kings get back to full strength.
Offensively, the Kings were outplayed through the first two periods of the game. (Again, 26 shots in the second period by Detroit is proof of this.) Wayne Simmonds scored in the first period with a hard-nosed goal to give the Kings the lead that they wouldn't relinquish the rest of the way.
The freshly bearded Oscar Moller scored a heads-up play in the second period to make it 2-0. Moller, back up from the AHL, was playing in his second game this season. There must be a method to the baby-faced Swede's decision to grow some facial hair. Instead of looking like a member of the Swedish junior Olympic team, Moller now has the look of a college sophomore, playing hacky sack in the quad in between classes. Yeah, if he keeps chipping goals like he did Monday, I won't care.
Rounding out the offensive standouts, Drew Doughty had three assists and Anze Kopitar had two goals. it appeared Doughty had scored in the third period, but the scorekeepers awarded the goal to Kopitar after it went off his leg. Michigan native Jack Johnson scored his first goal at Joe Louis Arena, which served as the nail in the coffin. I'm sure it was semisweet for Jack, who grew up in neighboring Bloomfield Hills.
Personally, I found the shutout to hopefully be the harbinger of things to come: the Kings are at full strength. hey are getting balanced scoring and have a deep defense. Factor all that in front of one of the league's best goaltenders in Jonathan Quick, and you have the recipe for something exciting.
• AP:
Kings' Quick makes 51 saves in 5-0 win over Wings
Jonathan Quick bounced back from a shaky performance and handed the Detroit Red Wings their first shutout in nearly a year. Quick made 51 saves for his 10th NHL shutout and defenseman Drew Doughty had three assists in the Los Angeles Kings' 5-0 victory over the Red Wings on Monday night.

• L.A. Times:
Jonathan Quick shuts out Red Wings to lead Kings to 5-0 victory
Quick stopped a career-high 51 shots, 26 in the second period of a still-tight game, to lead the Kings to a 5-0 rout of the Detroit Red Wings at Joe Louis Arena. Despite being down to four defensemen, the Kings did all they humanly could to secure Quick's second shutout this season and 10th of his career.

• LAKings.com:
Quick is the King of the night
Coming off a game in which he made two eye-popping puck-handling errors that led directly to opposition goals, Quick was brilliant in goal as he made a career-best 51 saves in a 5-0 victory over the Red Wings at Joe Louis Arena.

• NHL.com:
Quick shines in Kings' win at Detroit
Before a nationally-televised audience, Jonathan Quick bounced back from a shaky performance and handed the Detroit Red Wings their first shutout in nearly a year.

• Detroit News:
Jonathan Quick amazing, stops Red Wings streak
The sports fans at Ford Field had a much better time, for sure. If you chose to attend the Red Wings game, you made the wrong choice.

• Detroit Free-Press:
Kings blank Wings at the Joe
Playing before half-full stands thanks to inclement weather and the NFL game at nearby Ford Field, the Wings were left flustered and flat by Quick. He stopped 26 shots in the second period alone.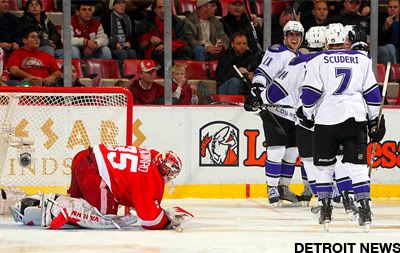 They said it
"Well, it's great to get those saves, but at the end of the day, those two points is all that matters. It felt like one point got away the other night against Minnesota, and it's great to come into this rink (and win). It's a tough rink and a great hockey team, and we had some tremendous goal support. The power play was clicking, the PK was clicking and it was a good team win." – Jonathan Quick, on the game.

"Even though he did make those two mistakes with the puck, he still played a great game last game. At the same time, I was kind of upset in that game, that the fans kind of were cheering for him every time he touched the puck. I feel bad for him in that sense, because Quickie has stolen us probably about 10 games this year. Without him back there, without him playing as well as he can, this team wouldn't be the team we are." –

Drew Doughty

, on Quick being able to redeem himself after Saturday.

"It was great. Obviously it means a lot. I've got a lot of friends and family, and my former coach in the stands, so it was great to be able to score in front of them and to get the fifth one here." – Jack Johnson, on his goal in his home state.

"Opponents do play him harder, closer. They check him. They're taking his time and space away. When he does move the puck, they're skating in front of him, just making him stop and start, making life a little more difficult. But that's a process that you go through as a young player who is going to be a real good player. You just have to figure that out and find another way to do it. His start (to the season) was not the way I would like to have seen it, but as you see here tonight, and in the past couple games, it's starting to turn around." – Terry Murray, on how other teams key on Doughty.
Trackbacks