Game 27: Things get out of hand Quickly in Kings' loss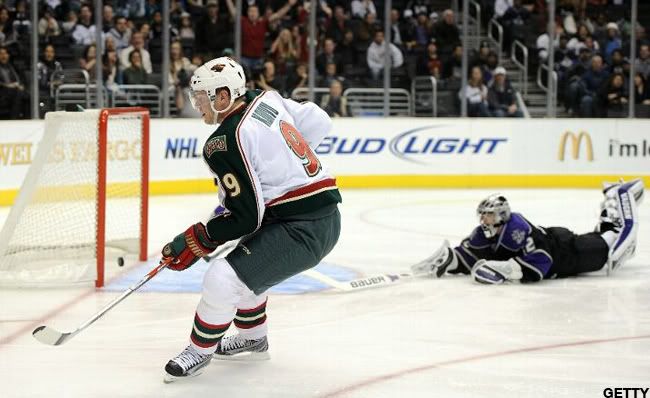 Game 27: Wild 3, Kings 2
In most of the advent calenders, there's always one door that has a crappy piece of candy. Whether it's a semi-melted bar or a discolored milk chocolate bell, you just can't bring yourself to eat it. The offending candy finds its way to the trash, to the dog or to someone with a less-than-discerning palatte.
The Kings' loss against the scrappy Minnesota Wild is that piece of candy.
Despite drawing the Wild into nine (9!) penalties, the Kings could only muster one (1!!) power play goal on the night. And to leave an even more offending taste in the mouth, the Wild scored a power play goal in overtime, serving up a plate of irony as unpleasant as a bowl of figge pudding.
Speaking of unsavory bits, how about Jonathan Quick and his two goaltending miscues that directly to Minnesota goals? Yeah, I don't blame Quick for those. I blame the Clippers.
"Wait, what?" you may be asking. "The Clippers? What the hell are you watching, Baldy?"
Blake Griffin and the Clips took on the Memphis Grizzlies at Staples Center earlier in the day, which left the Staples Center crew scrambling to make the the switch over.
Here's the view
of Staples four hours until game time. They were
finally finished at 5 p.m.
, which left only two hours to prepare the ice. There was no pre-game skate for the Kings or Wild at Staples, they had to practice in El Segundo.
All game, players were losing edges as their skates couldn't grip the ice, thanks to the rapidly deteriorating sheet. Is that the players' fault? No. Is it the Staples crew's fault? No. It's the Clippers fault. And if they were to just go away to Anaheim, where a waiting arena would be eager to cheer for an NBA franchise, we wouldn't have to worry about these quick turn-arounds.
The only team that get directly affected by three tenants in the same arena are the Kings. Think the Lakers or Clippers fall down because their hardwood floor is crumbling during games? No. And when the ice is properly insulated under a basketball floor (as it always is), it can bounce back into a decent playing surface... once there is time to float some water on top and get it to freeze.
Thanks to the Clippers' schedule, the Kings playing surface suffered. Not through anyone's fault but time. And Donald T. Sterling. Never mind the eight failed power plays. Nor the lack of offensive punch in the lineup. Nope.
• AP:
Burns' OT goal lifts Wild over Kings
"It was a gutsy performance by the guys," said Wild coach Todd Richards, whose team killed off eight power plays. "We took too many penalties and made it difficult on ourselves. But Theo made some big saves at some very key times, and obviously we benefited from some obvious miscues from their goaltender."

• LA Times:
Kings can't overcome mistakes in overtime loss to Wild
Here's how desperate the Kings have become for offense: Saturday they traded for a guy with two bad knees who hasn't played a game since last spring. And their first question was when can you get here?

• LAKings.com:
Kings lose to Wild 3-2 in overtime
In truth, the Kings were fortunate to even get to that point, given the mistakes they made, and the opportunities they failed to capitalize on, during 60 minutes of regulation. The Kings had a four-minute power play in the third period and did not record a shot on goal.

• StarTribune.com:
With two Quick assists, Wild wins in overtime
The Wild owes Jonathan Quick a bouquet of roses, some chocolate and a thank-you note.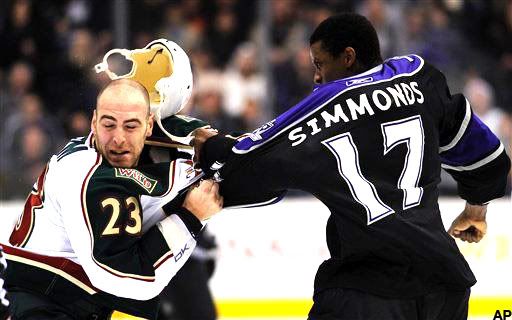 They said it
"I take responsibility for the loss. It's extremely unfortunate. I think we outplayed them for the majority of that game and I think, as a team, we deserved the two points. I've just got to be better. I can't make those mistakes. Those can't happen. When you spot a team two goals, it's tough to get two points out of it." – Jonathan Quick, on his two turnovers.

"It's really about the right decision-making. Sometimes we're making a difficult play when there's an easier play available. Some of the best power plays are just get [the puck] to the point and hammer." – Dustin Brown, on the team's miscues.

Our power play is dropping, percentage-wise, and that has to be good when you play in this league, if you're going to be a good hockey club. We're going on the road now, for five games, in real tough buildings. You're going to get your opportunities for it to be the difference in the game again, and we've got to find a way to get it done." – Terry Murray, about the power play.
Trackbacks